Tangiers unsuccessful on TAO-1 well
PUBLISHED: 13-08-2014 13:47 p.m.
We just got smoked. It was a 1 in 5 chance for a 100 bagger. It was a high risk venture and that it had a 20% chance of success and an 80% chance of failure. It would be binary – strike oil and the share price would explode, hit nothing and return to around cash backing. The odds were not in Tangier Petroleum's (ASX:TPT; AIM:TPET) favour – but pre-spud we chose to make an investment due to the upside possibilities. Unfortunately, Tangier's TAO-1 oil well offshore Morocco did not find oil. Predictably, the share price has taken a big hit and Tangiers is suspended from trading pending an announcement on well costs. Tangiers are in a pretty uncertain position right now – essentially waiting on an update from farm-in partner Galp. This is expected to take another couple of weeks and will determine how much cash Tangiers has left. We have lost money – that can happen when speculating on high risk oil wells. But we only invest what we can afford to lose.

Tangiers' TAO-1 well has come in dry. Well costs are currently being calculated now and TANGIERS is in a trading halt until the company fully understands their cost implications of drilling TAO-1, before advising the market. In the lead up to the drilling there was a lot of market excitement and speculation about the well's potential success and what that could do to Tangiers. The 1 in 5 chance of success equals an 80% chance for failure and only 20% for success. It didn't happen .
Unlucky result for TAO-1
TAO-1 was an exploration well at Tangier's highly prospective Tarfaya Block offshore Morocco which was estimated to hold a grand total of 1.6BN barrels of oil (gross unrisked). Quite a target. The TAO-1 well targeted two features known as Assaka and Trident while a third target called TMA was to be drilled depending on the results at Trident/Assaka. In late July Assaka was intersected and no oil shows were found. But Tangiers pressed on to Trident, the main target. TAO-1 was drilled to a Measured Depth of 3,518m and did not encounter what Tangier's calls "any favourable reservoir quality." In other words, no oil.

Tangiers say the TAO-1 well will now be plugged and abandoned in line with standard industry practice. The exploration results from TAO-1 will be integrated into the regional basin analysis by Tangiers and its co-venture partners to further evaluate and assess the prospects across the rest of the Tarfaya Block. TAO-1 had a 20% chance of success. It was based on compelling geophysical research and if it succeeded then we'd have potentially made 100 times our money. But there was an 80% chance of failure – and the odds won.
The way ahead for Tangiers
Tangiers shares have taken a big hit after the unsuccessful drilling of TAO-1. That's understandable and was widely predicted by everyone in the business in the event of failure. That's the binary nature of oil and gas exploration. Managing Director Dave Wall came to Tangiers when the TAO-1 well had already been selected and the project was very far advanced. It had been brewed up by the previous management. That was a messy time for Tangiers. Its shares were suspended from trading for a long time and Wall had to be a "Mr Fix It". Wall raised $10M at $0.16 a share and led the company to a 32.5 cent share price in the lead up to drilling of TAO-1 on the value upside. But TAO-1 was ultimately a duster. So how does Tangiers recover? How does it get back on its journey to finding next big oil resource – whether it's in Morocco or elsewhere?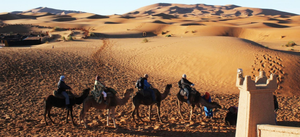 Once the dust settles from TAO-1 and assuming costs didn't go too far over, we expect to see Wall and his new team announce a new plan, with a new asset. This could take some time. Wall had a very limited time to make a material difference to the TAO-1 drilling event, let alone the geology in the Tarfaya Block. Assuming there is enough cash left over following the TAO-1 result, we're backing Wall and his new team at Tangiers to rebuild the company – however ultimately the future is uncertain.
What's next for Tangiers
The past six months have been a crazy time for Tangiers – a board spill, trading suspension, new management team and an exploration well that came up dry. After all the board trouble earlier this year Tangiers came out the other side with a brand new management team led by David Wall who inherited the TAO-1 well and did his level best to make sure Tangiers had every opportunity of succeeding. Unfortunately, the geological odds were against it – an 80% chance for failure and only 20% for success. We are hoping that Tangiers can get out of this alive and come up with something else over the coming months – another asset, more work plans, and hopefully another drilling event and another chance at success. But this could take time.
---