TANGIERS Drilling Now on Potential 1.6BN Barrel Block… Targets Just Days Away
PUBLISHED: 17-07-2014 08:16 a.m.
It's show time.
TANGIERS Petroleum Limited (ASX:TPT, AIM:TPET) has spudded its TAO-1 exploration oil well off the shores of Morocco.
TANGIERS are just days away from reaching their first target and getting a first indication of how much oil is lurking below.
TANGIERS have a 25% share of the Tarfaya Block offshore Morocco, which has the potential to hold 867 million barrels of oil – if you use a P 50 , unrisked recoverable, prospective resource calculation.
If you use a P mean – a mean (or expected) prospective resource calculation – like most other oil companies, the Tarfaya Block swells to a monstrous 1.6BN barrels of potential.
The TAO-1 well in particular is targeting up to 758 million barrels (P 50 ), 25% of which is a working interest to TANGIERS.
Success on this first well could lead to a big market re-rating for this Australia-based oil company and a rapid expansion in the company's offshore operations.
In our first article on TANGIERS we explained the 1 in 5 chance of a 100 bagger opportunity we took up.
We arrived at this conclusion as the geological chance of success is 20% on the current TAO-1 well, and the fiscal regime in Morocco, the shallow water, the big resource size, and TANGIERS low valuation created 100 bagger uplift potential.
Everyone seems to be waiting for the first bit of material news from the drilling, including us.
TANGIERS' TAO-1 well has the potential to be a company making well , one that could establish TANGIERS as a leading oil company in offshore Morocco, some of the world's hottest resource real estate...
Yet they are still capped at a relatively low $60M AUD (for our UK friends, roughly half this value to arrive at a value in £).
Once the first piece of material news comes in, our investment in TANGIERS is sure to move one way or another. This may be a little longer than expected, as the TAO-1 well has been classified as a "tight" well for commercial reasons.
TANGIERS just raised a further $4 M AUD from wholesale, institutional and sophisticated investors.
It now has $22M AUD cash on hand – it's covered for any potential cost overruns on the current drilling. So at The Next Oil Rush , we say...
Drill baby, drill!
The spudding of TAO-1 could not have come at a better time. The $34BN energy behemoth Woodside Petroleum has just entered the exploration game in offshore Morocco.
Maybe Woodside read our Next Oil Rush article on TANGIERS?
Just last week Woodside Petroleum bought a stake in the Doukkala Basin offshore north western Morocco, not far from where TANGIERS is based. Woodside is tag teaming with UK-listed junior Chariot Oil & Gas hunting big oil targets... It's a pity they didn't get the pick of the blocks like TANGIERS did back before the current Moroccan oil rush.
Despite being late, it's no wonder Woodside is getting stuck into Morocco.
Both onshore and offshore Morocco is a magnet for oil and gas companies right now.
This is why giants like Chevron, Cairn Energy and BP are buzzing around Morocco like bees to honey. The big boys don't lift a finger if there's not a chance big profits could be made.
There are indications of massive oil and gas resources, all of them untapped, underdeveloped and crying out for exploration investment. Even better, the usual risks of operating in a place like North Africa are a lot smaller because Morocco is a stable country that wants energy investment.
This is why at The Next Oil Rush we are investing with TANGIERS for the long-term.
With a market cap of just $60M AUD, TANGIERS has a firm grip on a highly prospective oil field in offshore Morocco and it's surrounded by projects controlled by the big players.
All eyes are on TANGIERS now that it's spudded TAO-1.
This is high-risk, high-reward stuff, the sort of thing we at The Next Oil Rush love.
In this article we're going to run you through all of the latest news from TANGIERS and drill down into the details of the TAO-1 well.
Since our last article on TANGIERS back in May, a number of analysts have covered the company and are predicting significant gains based on TANGIERS today – read on to find out more.
The stakes are high and in a few weeks we'll know the whole story and find out if our investment in TANGIERS has paid off.
TANGIERS is staking everything on this one drill, and results will be known within weeks...

We covered TANGIERS not that long ago in the article Drilling Just Weeks Away for Tiny Explorer Targeting 1.6 Billion Barrels of Oil . Drilling of the TAO-1 well is now underway and in the lead up to spudding, TANGIERS' share price has risen as high as 80%: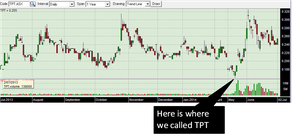 The past performance of this product is not and should not be taken as an indication of future performance. Caution should be exercised in assessing past performance. This product, like all other financial products, is subject to market forces and unpredictable events that may adversely affect future performance. Following the spud, the price has since drifted back down as nervous investors await the results... but we are holding onto our investment and seeing out the drilling event. TANGIERS has a 25% working interest in the Tarfaya Block, offshore Morocco. It shares this block with operator Galp Energia , which paid $40.5M in total to farm in to 50%, and ONYHM – Morocco's National Office of Hydrocarbons and Mines (ONHYM).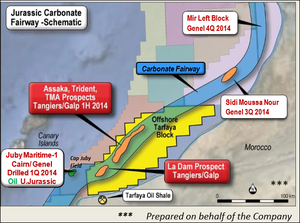 Now we are a several weeks and a few thousand vertical metres away from finding out whether TANGIERS has drilled successfully or not....
Days away from 1 st objective
The TAO-1 well has the potential to set TANGIERS up as a leading oil explorer in offshore Morocco. At The Next Oil Rush we quite literally counted down the days, hours, minutes and seconds until the well spudded: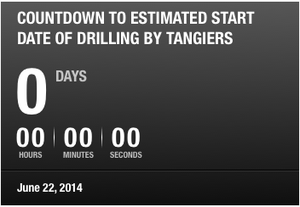 TAO-1 spudded on the 26 th of June. OK, so we were four days out with our countdown clock for TANGIERS' spud... But in oil exploration, that's an incredible result – oil companies are notorious for delays! What is certain is that the day TANGIERS investors had been waiting for has arrived.

Now the TAO-1 well has spud, we are holding our breath until the next piece of material news is released. The most recent update confirmed all is on track with the drilling: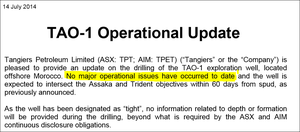 TANGIERS is hoping to hit a total of three objectives on this well – we shouldn't be too far away now from the first, however the well has now been designated as "tight" – so we may have to sit tight for a bit longer until we near any game changing news. This map shows the recent Cap Juby well on the left, and shows the different targets TANGIERS will be looking to hit on TAO-1 – Assaka, Trident and potentially TMA further below: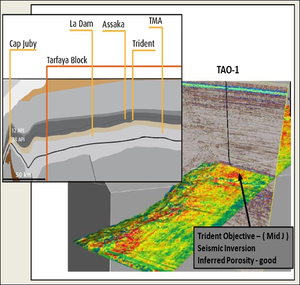 The first target to be pierced will be the secondary objective Assaka in the Upper Jurassic – any day now we expect the drill to hit this relatively shallow target... however as the well is "tight", whether TANGIERS can report detailed information is another story. We may have to wait a little longer for news. After that, probably about 15 to 20 days later, it's straight into the primary objective Trident (Middle Jurassic)... Depending on results, the JV may elect to go deeper still and hit a third objective, 'TMA' (Lower Jurassic). Here is a summary of the targets, remember, unlike its peers, TANGIERS has not published a mean (or expected) prospective resource:

Actually, make that 1.6BN barrels of potential – with a 1 in 5 chance of success
The above targets are gross unrisked P 50 resources – if TANGIERS published the " mean prospective resource" like other oil companies, the numbers would be much larger, in the order of 1.6BN barrels , of which TANGIERS have a 25% working interest. A simple use of Swanson's Mean calculation (which is conservative) gives us this mean of 1.6 billion barrels for the Tarfaya Block. Swanson's mean? This is a calculation of 0.3P10 + 0.4P50 + 0.3P90 , and gives a conservative estimate of the mean values for modestly skewed distributions. Using a gross P mean calculation makes this well one of the biggest targets to be drilled in offshore Morocco in the next two years. The geological chance of success for TANGIERS is 1 in 5 – so in a few weeks, TANGIERS investors will know whether their bet has paid off, and if TANGIERS' Tarfaya Block really might hold 1.6BN barrels of oil... TANGIERS has watched and studied with interest the results in nearby wells in offshore Morocco this year. Whilst the three exploration wells failed to find commercial amounts of oil, the Juby Maritime well right next door to TANGIERS discovered heavy oil, proved a quality reservoir AND flowed at a decent rate...
As for the other two wells, FOUM DRAA-1 and FOUM ASSAKA-1, they may as well have been drilled on the moon for all the relevance that they have for TANGIERS' TAO-1 well. TANGIERS is targeting a different play type, different aged reservoir, different type of reservoir and different source kitchen. The Cap Juby well confirmed the presence of a working hydrocarbon system and the presence of a potentially commercial oil deposit – despite the fact that it was heavy. Heavy oil is just no good for commercial reasons. Light oil was discovered deeper into the well, but not enough to deem the well a smashing success... What they found at Cap Juby was evidence that pesky oil eating bacteria consumed all of the attractive light oil first. But TANGIERS current TAO-1 well is different. Due to a different burial history in the region, that oil eating bacteria is unlikely to have entered the TANGIERS targets. Additionally, the seismic inversion work done indicates good quality reservoir, which can sometimes be an issue for the carbonate rock type being targeted.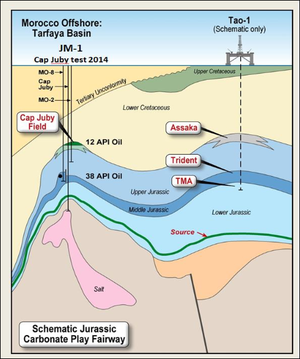 And to top it off four historic wells on the Tarfaya block had oil shows. As for the other dusters in Morocco, they were targeting Cretaceous sandstone plays – completely different to the Jurassic carbonate that TANGIERS is looking to hit a home run with. Again – no relevance at all to the current TAO-1 drilling. All in all, TAO-1 has a 1 in 5 chance of hitting the money zone – we liked those odds given the potential return on investment.
Our Track Record
Regular readers of our sites will be familiar with our long-standing interest in high potential stocks. To note just a few:
The past performance of these products are not and should not be taken as an indication of future performance. Caution should be exercised in assessing past performance. These products, like all other financial products, are subject to market forces and unpredictable events that may adversely affect future performance.
TANGIERS fully funded – $22M cash in hand
Following the original Next Oil Rush article , the interest in TANGIERS was unprecedented – wholesale, sophisticated and institutional investors all piled in, and TANGIERS got the cash it needed to cover any cost overruns on the drilling event:

In total, TANGIERS can count on $22M cash in hand right now. Dry hole cost estimates for the current drilling are $73M. Galp will pick up most of this bill as part of the farm in agreement – it is stumping $33M of this, and after that, TANGIERS will need to pick up 33% of the tab for additional costs. Assuming the well cost does come in at $73M, TANGIERS will need to contribute a further $13M – but with $22M cash on hand, even if the cost of the well is higher, TANGIERS appears to be covered... With favourable weather conditions in the area and a shallow drilling depth, TAO-1 shouldn't run over schedule. And yet if this was to happen, TANGIERS now has headroom for any cost overruns.
NPV $20 / barrel – 100% more than other plays in other regions
The other thing we like about TANGIERS is the potential uplift on success – the current play that TANGIERS has found themselves in equates to an NPV of $20/barrel – normally as a rule of thumb, $10/ barrel is assumed. This uplift on success being twice as much as many other oil companies is due to a number of compounding factors:
Shallow water –TANGIERS is drilling in water of just 200m depth. For the current drilling only a jack up rig is required. If the day comes where the Block moves to production, all the infrastructure costs in getting the oil to market will be significantly less.
It's a large, highly prospective block – remember there could be 1.6 billion barrels down there!
Taxes and royalties in Morocco are some of the most attractive in the world for oil companies – Morocco is desperate to get its hands on some big oil resources and it actively encourages exploration and development.
This combination of circumstances mean that should TANGEIRS strike oil, valuations on the resource will be much greater than in other parts of the world, who are in deeper water, targeting less barrels and paying more royalties... Lucky we are with TANGIERS.
Today's Analyst targets on TANGIERS
Since we first covered TANGIERS, a number of analysts have also studied the company. Whilst their price targets and company valuations vary slightly, they all seem to stress the same thing – an investment in TANGIERS is speculative and binary – success would see significant share price appreciation, whilst failure would see TANGIER's market cap drop basically back to cash backing... Analyst reports aren't the only sources of information we use when making an investment decision – they are just part of our arsenal of tools. But to get an idea of what the analysts are saying, let's go through the three recent price targets put on TANGIERS. UK based Analyst Stuart Amor from RFC Ambrian put a target price on of $0.87 AUD or 48.2 p. That's almost a 250% gain from current levels: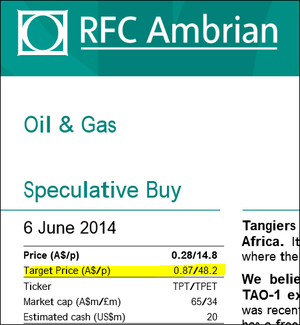 An impressive prediction but remember – he may have got it wrong – also once the drill results come through, this target price will no longer relevant. Analyst Haris Khaliqi from Fosters Stockbroking has allocated a $0.70 AUD price target on TANGIERS – that's a 180% gain from today's levels: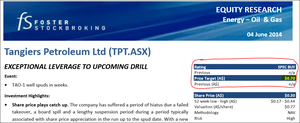 Just in case you can't see his target, here it is up close:
Haris Khaliqi is a very reputable analyst, but there is no guarantee his price target will come through – we don't make investments solely on the back of analyst reports. Finally, Edison oil and gas analysts Will Forbes, Peter Lynch and Ian McLelland also studied TANGIERS, and came to 39p (about $0.70 AUD) price target – that would also be a 180% gain from today's levels:

Again – many circumstances can have an impact on analyst price targets, especially in high risk oil investing. We treat these price targets with appropriate caution. At the same time, it should be noted that these price targets are based on TANGIERS' current situation and don't take into account any of the upsides TANGIERS would experience if the company was to strike oil...
What a blue sky looks like
The above price targets do not account for the upside potential if a discovery is made. The analysts are simply stating what they believe TANGIERS should be trading at today ... without taking into account what affect striking oil in the next few weeks could have on its future share price. Let's take a glimpse at what the analysts' think of TANGIERS could be assuming the TAO-1 well is a roaring success, lots of oil is found, and TANGIERS takes the resource into commercialisation... the ultimate blue sky scenario. Before we take you through this numbers, Remember that there is very big chance this won't happen – so do approach these targets with caution like us. Oil investing is a seriously risky business, TANGIERS could drop back to cash backing levels if unsuccessful. There is a strong chance you may lose all your money... don't say we didn't warn you! UK based Analyst Stuart Amor's extreme upside case is $9.40 / share – that's almost a 4000% gain:

That would be an incredible result, but it's also highly unlikely – remember these are extreme upside targets! Analyst Haris Khaliqi from Fosters Stockbroking has arrived at a blue sky valuation of $7.50 / share – that's over a 3000% gain:

Wow, we would be over the moon if TANGIERS strikes oil and Mr Khaliqi got it right – the truth is, this would be if EVERYTHING went into TANGIERS favour – the chance that this will happen is low. Analysts Will Forbes, Peter Lynch and Ian McLelland at Edison arrived at a 477/p a share unrisked blue sky valuation – that's a gain of over 3,500%:

Again, sounds great – but he's really dreaming – this is a very large target, based on TANGIERS striking a rich oil reservoir that's easy to extract and commercialise... So that is the blue sky potential in TANGIERS – at the same time we know that analysts don't always get it right and that unforseen things can occur which dramatically alters their predictions and valuations .
Woodside goes into Morocco
A little late, but nevertheless, Woodside have finally seen the potential in offshore Morocco.

Perth based Woodside just farmed into UK listed Chariot Oil's block. The companies plan to drill into the JP-1 structure, a four way dip faulted Jurassic carbonate structure which, according to independent consultants Netherland Sewell, has a gross mean prospective resource potential of 618M barrels of oil. Woodside and Chariot will be chasing six more leads in the Jurassic fairway play – this is the same Jurassic fairway that TANGIERS is drilling into right now... Woodside is a major player in the oil and gas market. The company has a market cap of more than $34BN! If the Jurassic fairway play is good enough for them, it's certainly superb for TANGIERS, capped at just $40M. And Morocco seems to be also pretty good for a heck of a lot of other oil and gas companies. At the moment, 40 players are operating offshore in Morocco. About 30 new exploration wells are scheduled to be drilled offshore too. This capital expenditure will amount to more than US$1BN. Offshore Morocco has 11 trillion cubic feet of technically recoverable shale oil and gas resources. A recent Energy Information Administration study says these are mostly within the Tindouf and Tadla basins. Although studies in the area have shown promise, commercial-scale production hasn't yet begun. But companies are already showing encouraging results. Major oil and gas companies like Repsol SA, Genel Energy, Andarko Petroleum, Cairns Energy and Kosmos Energy have all gone to Morocco in an attempt to replicate the riches found in neighbouring Libya and Algeria. Their exploration is being helped by the Moroccan government, which is welcoming them in with very open arms. Currently Morocco imports around 95% of its energy , not allowing it to have much sway over energy prices. By encouraging foreign investors to get in on its home-grown supplies, Morocco is hoping in the future it can get more economic energy independence. And by allowing companies like TANGIERS to drill in its waters, it's helping to create this independence. The Moroccan government is also being very generous towards oil and gas companies too. Chevron and BP joined forces with Kosmos and Cairn, with the Moroccan government taking just 25% – the other 75% revenue share goes directly to the companies. The World Bank has also said it wants to get in on the action. It plans to support Morocco with its pursuits in collaborating with Maghreb and EU countries for energy developments. And oil and gas companies are picking Morocco over previously more favourable investments in Libya and Algeria, thanks to Morocco's relative stability. All these elements are making Morocco look more and more appealing to investors. And all of these positives are giving big ticks next to TANGIERS' investment. The environment is stable and the government is supportive. All TANGIERS needs now is a successful well, we are hoping TAO-1 can take the company to the next level.
What's Next for TANGIERS?
Over the next couple of weeks we will find out whether our investment has paid off. A series of three targets will be pierced one after the other, the first target is due to be punctured any day now. About 40 days after that, the drill bit will enter the primary well objective... If things are looking good, the JV will keep going down into a third target. Remember, the Tarfaya Block that TANGIERS is drilling into right now may hold a monstrous 1.6BN barrels . If success comes then this could mean a big market re-rating for the company and a quick expansion of its offshore operations. TANGIERS' have a 25% working interest in the TAO-1 well it has just spudded and we're counting down until the results are published. The TAO-1 has the potential to establish TANGIERS as a leading oil company in the Morocco region – or a takeover target for majors... Morocco is popular right now. It's stable and the government is all for oil companies to come in and take a slice of its riches. And TANGIERS is in the thick of it, drilling in an area where oil giants like Chevron and Woodside are their neighbours. If the area is good enough for these big boys, it's certainly good enough for tiny TANGIERS. But now, all we're concerned with is the drill. And after the drilling... well we will just have to wait and see – the binary result means the company will be transformed one way or another. Watch this space.
---