SWE Reveals Mystery US$ 36M JV Partner – Now Circling Multiple Oil Leads…
PUBLISHED: 02-07-2014 07:58 a.m.
The mystery partner has been revealed. In March 2014 Swala Energy (ASX:SWE) revealed they had agreed on terms with a farm in partner for their Block 12B in Kenya, pending government approval. This new partner is now paying the bills, plus SWE will get money back from past exploration costs incurred to date – SWE are now in a much stronger position financially than 2 months ago. However until the government approval, the partner had wanted to remain anonymous... Now the Kenyan government has approved the deal – and SWE's mystery partner has come out from behind the curtain. We'll explain who soon. Let's just say they have very deep pockets... As well as the free rides SWE is getting in Kenya, they have just added another highly prospective oil and gas play to its African drilling list – this time in Zambia. Since 2011 SWE has been working hard to secure exploration licenses in Zambia and the government there has just granted its wish – offering SWE Block 44 – one of the three it's been asking for. Zambia desperately wants to join its neighbours and make a huge oil discovery within its borders. SWE also just completed its 2D seismic surveys at Block 12B and has awarded a new contract for more 2D seismic at its Tanzanian plays. Let's get acquainted: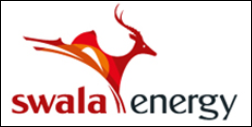 The Next Oil Rush has been covering SWE for some time, it's traded up as high as 150% since our first feature article back in June 2013: The Last Junior Explorer Operating in this Exciting Region with this Same JV Partner went up 800% in a Matter of Months

The past performance of this product is not and should not be taken as an indication of future performance. Caution should be exercised in assessing past performance. This product, like all other financial products, is subject to market forces and unpredictable events that may adversely affect future performance. SWE has amassed a portfolio of 4 blocks across East Africa – a true exploration hot spot of the last few years. If this is the first time you are reading about SWE, you can also find lots of useful information in our previous articles:
And just two months ago SWE stunned the market with a $36M farm-out to an unnamed party at its 12B oil block in Kenya . Now that government consent has been received, the previously unknown partner has been revealed: CEPSA (Compania Espanola de Petroleos, S.A.U.) – a blue chip integrated oil and gas company, 100% owned by the Abu Dhabi government , via a sovereign fund called IPIC (International Petroleum Investment Company). CEPSA are a massive company, and operate at every stage of the oil value chain. Great for SWE as CEPSA will be paying the bills from now on. So Block 12B is now split up as follows:
SWE: 25% net working interest;
Tullow: 50% net working interest and JV Operator;
CEPSA: 25% net working interest.
The deal, with a gross value of $36M, will see SWE have past related costs repaid and be free carried through the first two exploration wells if CEPSA decides to participate, up to a maximum of $7.5 million for each one. SWE's $36M farm-out was quite simply the best on shore deal on a per square kilometre basis achieved to date in Africa. It's valued SWE's 12B acreage at more than $17,700km 2.

This farm-out is testament to the interest companies have in gaining exposure to the East Africa Rift System (EARS). The EARS received major attention when it served up huge oil discoveries, led by Tullow Oil and one of our favourite companies Africa Oil Corp (TSX:AOI). Now as SWE investors, what we like is that the exact same JV partner, Tullow Oil, that struck it rich with AOI, is working with SWE. In case you are new to our site, we first called AOI BEFORE their oil discoveries in the EARS, in our Next Oil Rush Tip of the Decade . We called it around CAD$1.8 and has been as high as CAD$11.25 since – that's over 600%!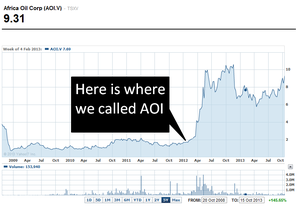 The past performance of this product is not and should not be taken as an indication of future performance. Caution should be exercised in assessing past performance. This product, like all other financial products, is subject to market forces and unpredictable events that may adversely affect future performance. AOI and Tullow just keep finding more and more oil – this latest discovery is to the north of SWE's Block 12B:

Tullow, SWE, and now CEPSA are hoping to make some big oil discoveries on par with the successful AOI / Tullow JV. SWE began 2014 cashed up and ready to explore their sprawling, high potential holdings across key African hot spots. Now SWE is going full steam ahead and ramping up its hunt for big oil & gas in Africa. Seismic acquisition has just been completed in Block 12B (that's the SWE / Tullow / CEPSA JV in Kenya), with positive preliminary results. Reprocessing and interpretation will now occur. Meanwhile at Pangani (Tanzania), now that the seismic contract has been awarded, work should be underway shortly. In early 2015, SWE are aiming to drill. In addition to all the company news, Old Park Lane Analyst Barney Gray has placed a price target 85% higher than today's levels in his latest report :

Whilst analyst reports arent the only pieces of information we use when making an investment decision, they can be good sources of research. We're going to run through all of the latest developments for SWE and why we have invested in SWE as a long term hold. There are so many catalysts in play for SWE over the next year, on multiple, high potential blocks, that it's making our heads spin! SWE's latest investor presentation has just come out and we have gone over it with a fine tooth comb. To save you time, here's a quick glance:
SWE's African oil grand plan
The bottom line is SWE is hunting big oil & gas deposits in Africa. The best place to find them is along the East African Rift System (EARS), a huge and ancient geological formation that crosses borders along the eastern side of the continent. SWE is focussing on three nations within the rift or with offshoots inside their territory – Kenya, Tanzania and now Zambia. In Zambia it's just won an exploration license to explore a block in the south of the country. In Tanzania it has two large blocks which may hold oil and gas basins waiting to be explored, drilled and tapped. In case you were day dreaming in your high school geography class, Zambia sits to the south of Tanzania, and west of Mozambique, and Block 44 is the acreage SWE were recently offered: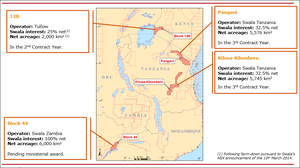 In Kenya, SWE's Block 12B is highly prospective for oil and being explored in a JV with Tullow Oil – a true oil major with a market cap over 7 billion GBP, and now CEPSA, the recently revealed player backing SWE to the tune of $36M. Now the Tullow part of the equation is where it gets really interesting for SWE investors. Tullow is also a JV partner with Africa Oil Corp (AOI), that first mover within the EARS with a strong focus on the Lokichar Basin in Kenya – an area that's analogous to SWE's Block 12B . AOI went from a junior on the TSX to a multi-billion dollar behemoth – all because it successfully struck oil in Kenya, with JV help from Tullow. It has continuously struck big oil discoveries in the Lokichar and in 2012 its share price went from $2 to over $11 – a vertical leap of which Michael Jordan would be envious. Do we need to show you the chart again?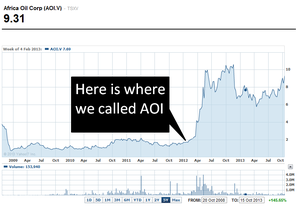 The past performance of this product is not and should not be taken as an indication of future performance. Caution should be exercised in assessing past performance. This product, like all other financial products, is subject to market forces and unpredictable events that may adversely affect future performance. The Lokichar is all well and good – and we have done very well out of AOI, however in SWE we see similar potential – SWE bears striking similarities to AOI, pre oil discovery . SWE's Kilombero is potentially analogous to AOI and Tullow's Lokichar. Tullow will be transferring all the skills and knowledge picked up on their Lokichar discoveries, and applying it to their JV with SWE at Kilombero.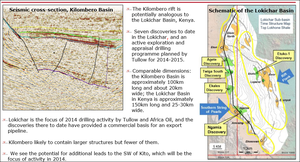 SWE has some of the best prospects in Africa in its grasp – a JV with Tullow in Kenya and the growing support of the governments of the nations in which it operates. The question in all investors' minds is – can SWE repeat AOI's success? With the same JV partner, exploring analogous basins in Africa – it's not impossible...
SWE secures first exploration license in Zambia
In addition to Kenya and Tanzania, SWE has just added Zambia to its list of oil and gas ventures in the East Africa. Swala Energy (Zambia) has been offered hydrocarbon exploration rights over an area in the south of the country known as Block 44.

Block 44 has been on SWE's radar since 2011 when the company first entered Zambia as an explorer and applied for a licence there. It also has its eyes on Block 31 near Lake Tanganyika and Block 42 in the Luangwa basin – fingers crossed they will be added to SWE's growing portfolio soon. Block 44 covers an area of 6,000km2 on the margins of the Karoo-aged Kariba Basin. The Karoo Supergroup is a stratification layer around 120 million years old that covers at least two-thirds of the African land mass and holds vast amounts of oil – the billion dollar question is where exactly is the oil? SWE investors are hoping Block 44 might hold the key: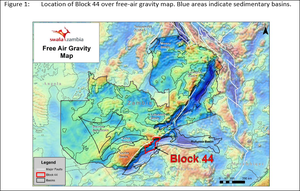 Historical gravity and seismic data suggest the basin has a thick sequence of Karoo-aged sediments. The basin was explored by super major Mobil in the late 1980s and a large volume of 2D seismic data was acquired at the time although no wells were drilled. SWE will reprocess and reinterpret the legacy seismic data as part of its work programme and try to confirm the basin's prospectivity. SWE do have the option to pull out of exploration after each of the first two years of the contract if the work it conducts fails to confirm the basin's prospectivity. Block 44 has expanded SWE's bulging acreage across a couple of major oil hotspots in Africa. Zambia is fiscally stable, and importantly, has a large energy demand that continues to grow. SWE don't plan on stopping in Zambia at only Block 44 – They are expected to enter the next licensing round for Block 31 also. If SWE manage to prove up some oil or gas resources it would be met with big interests – in the surrounding areas and nations, there is significant demand for energy. Block 44 is close to the borders with Zimbabwe, Mozambique and Angola and south of Zambia's capital Lusaka which imports most of its energy from Dar es Salaam in Tanzania through the TAZAMA pipeline: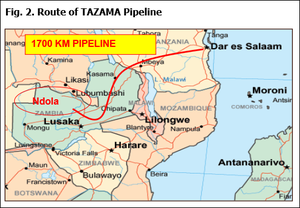 A huge amount of oil and gas is imported into the rest of Zambia so the opportunity to develop a significant energy source in the south of the country at Block 44 is a tantalising prospect. So alluring in fact, that a frenzy of Zambian land grabbing is underway with several major energy companies securing interests alongside the area SWE will be working in. Tower Resources is moving to acquire Rift Petroleum and will pick up the company's Zambian assets as well as its significant plays in Kenya and South Africa.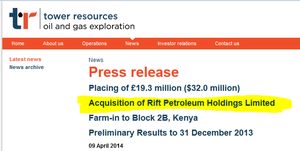 The African focussed Bowleven (capped at 110 M GBP) has also applied for exploration rights at three blocks in Zambia around the Luangwa Rift Valley to the north east of SWE's Block 44 and been told its application was successful:

Confirmation of the licenses for the Scottish company by the Zambian government is expected soon. All this activity demonstrates the potential and market for the development of oil & gas resources in Zambia. Zambia quite rightly are desperate for someone to make a discovery within their borders, and companies are stumping up big cash to take up positions – we are hoping that SWE will be the ones to strike oil. The offer to SWE was 100%... so the other big question remains – when and for how much might SWE farm down?
Our Track Record
Regular readers of our sites will be familiar with our long-standing interest in high potential stocks. To note just a few:
The past performance of these products are not and should not be taken as an indication of future performance. Caution should be exercised in assessing past performance. These products, like all other financial products, are subject to market forces and unpredictable events that may adversely affect future performance.
More seismic for SWE's Tanzania play
SWE is also pushing ahead with its acreage in Tanzania where it's circling in on drill targets. SWE's main focus is on two licenses, Kilosa-Kilombero and Pangani – both of which lie within the massive Kilombero Basin – that's the one considered analogous to the Lokichar Basin where AOI has been discovering millions of barrels of oil. The location of SWE's two licenses are in red on the map below: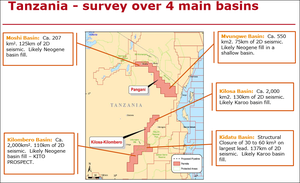 A 2D seismic survey of both SWE's licenses was completed in 2013 and covered five basins within Kilomebero and identified what's has been dubbed a 'string of pearls' – multiple areas that are prospective for oil and gas. Mouths are watering for SWE's Kito Prospect. Independent assessment indicates Kito holds a gross, best (P50) estimate, net resource to SWE of 39.3 million barrels: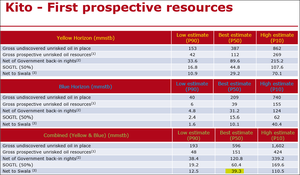 Experienced Argonaut Energy Analyst Dave Wall reviewed the initial seismic surveys and reported that just one successful drill at Kito could add $2.75 to SWE's share price .

Remember – this kind of share price appreciation is dependent on drilling success and a myriad of other factors – sometimes Analysts are wrong. However this kind of coverage is always nice to see when it's related to our investment. The Kito prospect is just one prospect in this very large area of Tanzania where SWE is operating in. Now SWE is shooting more seismic as it moves toward drilling. It's already awarded a new contract to Polaris (Tanzania) Limited, the same company who completed the 2013 2D seismic survey.

Both the Kilosa-Kilombero and Pangani licences will have more areas 2D mapped by Polaris, with 500km of 2D seismic over the Kilosa-Kilombero and a further 200km of 2D seismic over the Pangani licence. The main targets are in the Kilombero basin in Kilosa-Kilombero and in the Moshi basin in Pangani where a Neogene basin has been identified – a good sign of oil and gas in the ground. The Kito prospect and its best (P50) estimate of 39.3 million barrels net to SWE is a nice start – just imagine if they find more... We are hoping that the string of pearls could one day be a string of "confirmed oil reserves".
2D seismic complete for SWE's Kenyan oil play
Back in Kenya, SWE just finished the 2D seismic work on Block 12B. If you can recall from earlier in this article, as well as new funding partner CEPSA, SWE is developing Block 12B with its JV partner Tullow Oil plc (LSE:TLW). That's right, the same JV partner AOI had during their big oil discoveries of 2012. We'll spare you the AOI chart this time... Tullow and AOI, are multibillion dollar companies finding oil and gas in the exact same regions and geological systems SWE is working in. Not content only with SWE's block and the oil finds with AOI, Tullow hold vast acreage in the region which they will be penetrating furiously with the drill rig over this year and next. The map below shows all the wells near SWE marked by blue dots, whilst the big green dots are the oil discoveries – there are so many to the north of SWE's block that it's become just a giant green and blue blob – oil is practically oozing out of the screen:
As evidenced by the hive of activity and numerous oil discoveries, Block 12B is prime oil exploration land. With the recent $36M deal up its sleeve SWE is on schedule with its 2014 exploration programme. Positive preliminary results have been found on the Block 12B seismic work:

What caught SWE's eye in the results was the large scale faulted structures across the entire basin, and the presence of 'shallow volcanics' – this is a feature of the East African Rift System... Initial results suggest a Neogene basin, with possibly 3000m of sedimentary fill – there may be strcutural traps within and at the edges of the basin – hopefully the perfect place for oil to accumulate... Here is a map of Block 12B showing where the siesmic was shot: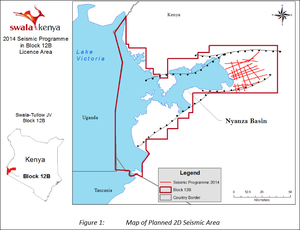 Block 12B lies in the Neogene Nyaza Basin which is an offshoot of the East African Rift System, the continental area that Tullow has successfully found oil in with prospects in Uganda and Kenya. SWE is confident there is oil in 12B. It just needs to find it. Now that the seismic results are in, SWE and its partners will complete the reprocessing and interpretation of the data before making a decision to proceed. Just 50km of low quality seismic data was recorded back in 1989 but SWE reprocessed this meagre data and found a possible Tertiary basin. This finding was further supported by Passive Seismic work carried out by the JV in 2013.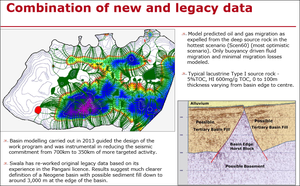 The just completed seismic programme went back over the historic areas and peered deeper and clearer, as well as expanding the exploration boundaries over the block. The original seismic figure was for 700km, but SWE cut that down to 350km, a far more focussed effort enabled by the company's clever work with the historic data. All the while SWE is closing in on drilling targets for next year's campaign. The hunt continues for more mammoth oil discoveries...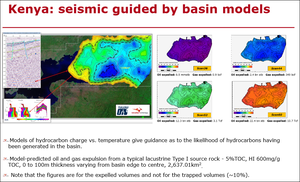 The Next Oil Rush is hopeful of some juicy drilling targets so we can look forward to the 2015 drilling campaign.
What's next for SWE?
The next couple of months will be a very busy time for SWE as it continues to explore its East African holdings spread across Kenya, Tanzania and now Zambia. Hard work, yes, but it's just a warm up. As each month goes by, SWE moves ever so closer to high impact drilling events in 2015: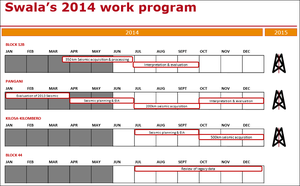 In Zambia we expect to see SWE announce its findings on Block 44 based on legacy seismic data so it can prepare its own exploration programme there. Reprocessing and interpretation of the Block 12B seismic work in Kenya is now underway, SWE should release findings as soon as they come to hand. Who knows, could we see some juicy drill targets sooner rather than later? The expanded 2D seismic programme in Tanzania will get underway shortly now that SWE has re-engaged Polaris to continue the work it carried out in 2013 that uncovered the Kito Prospect, independently assessed to hold an gross, best (P50) estimated net resource of 39.3 million barrels And that's just one prospect... for now. By the end of the year, drilling targets and prospective resources will hopefully start to pile in as SWE continues its exploration across East Africa. We wouldn't want to be on the sidelines in the race for the next big East African oil discovery...
---