Sink your talons into this North Sea oil junior
PUBLISHED: 13-03-2019 10:59 a.m.
It's not the size of the dog in the fight, it's the size of the fight in the dog.
Mark Twain was onto something here, at least when applied to today's ASX energy junior and if all goes to plan, it won't have been the first ASX junior to leverage its expertise and determination to turn the tide and deliver a payday to loyal investors.
One that comes to mind is PIPE Networks and its founder, Bevan Slattery, one of Australia's great entrepreneurs with a history of engineering transformational changes.
Years ago, I sat across the boardroom table as Slattery explained what he would do with the $12 million PIPE Networks telco. Then, he did it. He turned the company around and saw it bought by TPG Telecom for $373 million.
Slattery was an innovator, not a follower. A guy that could sense opportunity, surround himself with the right people and execute his strategy.
Operators like Slattery aren't easy to find, but there is a common denominator that sets them apart.
And in my view, this is exactly the type of immeasurable value that today's energy junior possesses.
Introducing,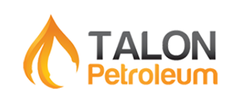 Talon Petroleum Limited
ASX:TPD

Here's why I like them.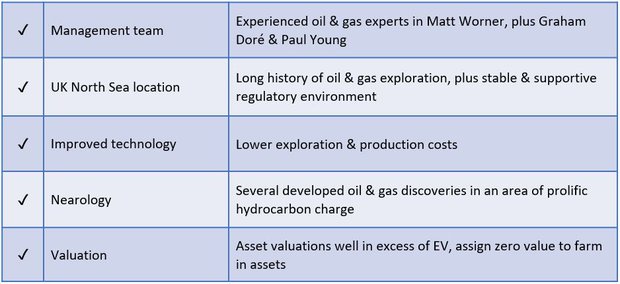 Talon Petroleum Ltd (ASX:TPD), with its tiny $4.4 million market cap, has its eye on North Sea oil and is rapidly advancing its presence in the area.
Talon will acquire EnCounter Oil, the owner of two UK North Sea licenses. The Talon management team, led by managing director, Matt Worner, will then team up with EnCounter Oil founders, Graham Doré and Paul Young.
Worner brings a wealth of knowledge and expertise in his own right as an experienced oil and gas executive who has worked with ASX and London listed energy companies. He is an entrepreneur with true grit in building businesses from the ground up and enhancing established organisations.
Worner has managed multiple asset acquisitions and divestments the world over, and has significant experience dealing with joint venture partners and regulatory authorities.
He also brings strong capital markets experience in Australia and London, including ASX and AIM IPOs and capital raising activity, important yet uncommon experience to find in a company as small as Talon.
Combine his talents with those of Doré and Young, and you have a formidable team. The latter pair has demonstrated an uncanny knack for identifying early stage opportunities, maximising value then timing their exit to maximise shareholder value.
Here are some of their achievements: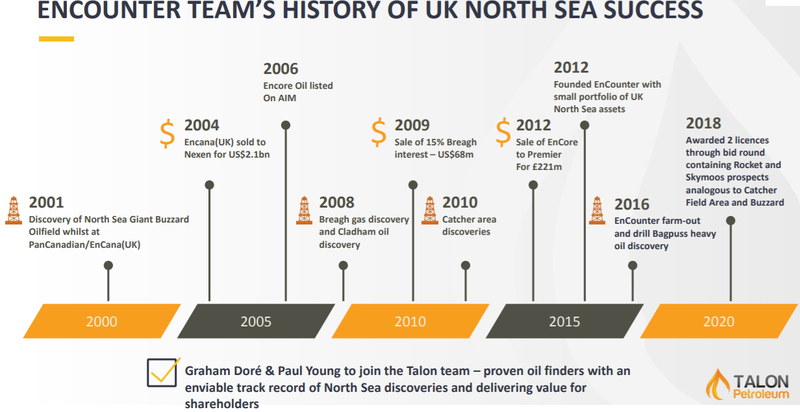 Talon has a similar game plan, and its early stage, highly prospective assets are located in the world class North Sea oil province that's well-known to Doré and Young.
Based on data from the United Kingdom's Oil and Gas Authority (OGA), this area has produced approximately 43 billion barrels over a 50 year period. And judging by the active bidding being seen for new acreage, it would appear there is plenty more where that came from.
The acquisition of EnCounter delivers Talon 100% ownership of Licences P2363 (Skymoos Prospect) and P2392 (Rocket Prospect); a significant Prospective Resource, and the highly credentialed North Sea technical team with an exceptional track record of success.
The EnCounter transaction complements Talon's farm-in for a 10% interest in License P2396, which houses the 45mmboe (2C) Curlew-A discovery (4.5mmboe net to Talon). Appraisal drilling of Curlew-A is scheduled by Operator Corallian Energy for the third quarter of 2019, with Talon's 10% interest giving it low cost exposure to an established discovery – with potential upside in a second anomaly in the deeper Forties Sands.
With the acquisition of EnCounter Oil, as well as the farm-in to license P2396, which contains the Curlew-A disco very, this is what Talon's UK North Sea territory looks like: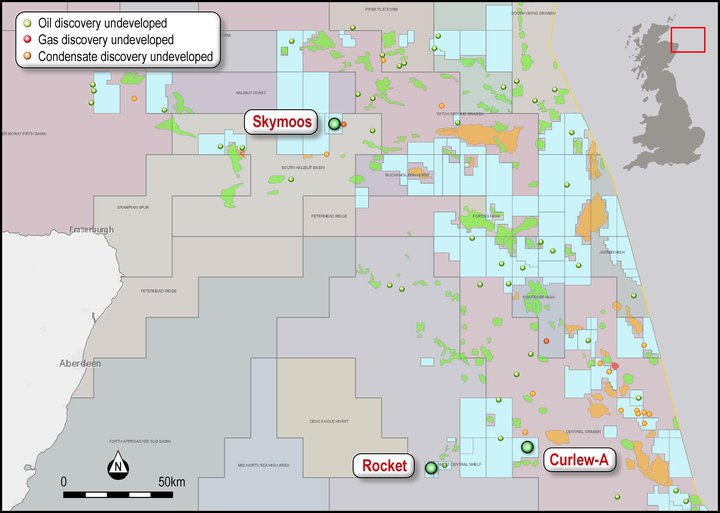 It is worth bearing in mind the nearology aspect of Curlew-A. It's in a pretty good neighbourhood with the blocks immediately to the west (light blue) owned by Shell.
As indicated above, the Shell territory is also only a few kilometres to the east of the Rocket Prospect, which has a best estimate prospective resource of 27 million barrels of oil.
From a broader perspective, it borders to the south of the Catcher, Varadero, and Burgman discoveries, which were all made by the EnCounter team while at EnCore.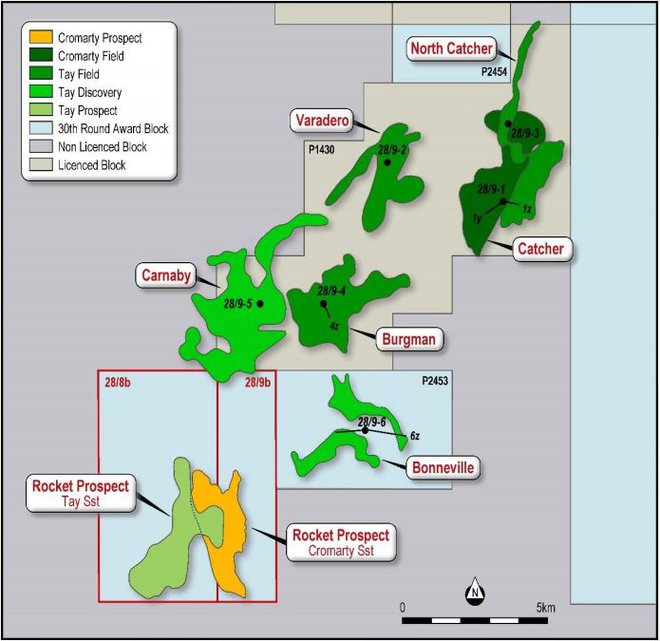 The Rocket Prospect is analogous to Catcher Area fields to the north, and the greater Catcher Field Development Area is now producing at a rate of 70,000 barrels of oil per day.
North Sea oil
Over half a century ago, in 1964, Chevron's joint venture operator Amoseas (American Overseas Petroleum Ltd.) drilled the first North Sea well, 165 miles offshore the United Kingdom.
Though it was dry, the well broke new ground in offshore operations, proving the capability of drilling year-round in the North Sea's harsh environment.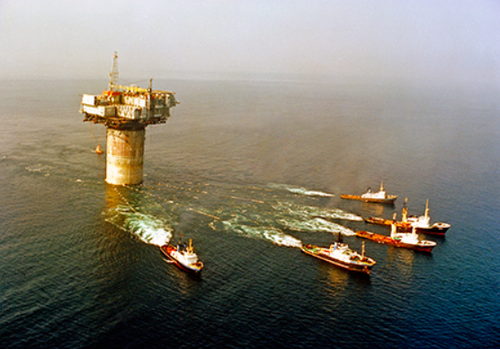 Recent OGA data suggests that the current recoverable resource potential at the UK North Sea is in a range between 10 billion and 20 billion barrels of oil equivalent, with 5.4 billion barrels of oil equivalent supported by existing reserves.
While there is plenty of talk about new fields off the west coast of Africa and in some other remote regions, the North Sea is a low sovereign risk jurisdiction with a stable and supportive regulatory environment.
Further, as a region that has evolved over a period of 50 years, substantial infrastructure is already in place providing Talon with facilities to tie into nearby networks, delivering oil to the high-demand UK market where oil and gas are the primary sources of energy.
Having access to infrastructure and easy transport to end markets will provide the group with robust margins, even with the current Brent oil price of approximately US$65 per barrel.
Dramatic reduction in exploration costs
With regards to the economics of conducting exploration in the North Sea, the OGA reports exploration costs in the region have dropped from an average of US$9.00 per barrel in 2014 to just over US$1.00 per barrel last year.
Improved technology has played an important role in lowering costs.
Exploration data is much more reliable, leading to easier and quicker identification of targets, and oil companies are achieving better strike rates in terms of realising commercially viable resources from predetermined targets.
Likewise, where producers are employing improved technologies they are achieving lower costs of production.
On this note, it is this improved level of data which has led to the identification of Talon's Rocket Prospect which lies in water depths of around 90 metres, and can be drilled relatively easily using a jack-up rig.
The chance of success is rated between 20% and 30%, and a farm-out process is underway, with resultant success likely to be well received by investors.
While Talon is a smaller player, with a market capitalisation of just above $4 million, it is punching above its weight.
This is certainly the case when it comes to valuing its assets, given the group has cash of approximately $3 million which translates to an enterprise value (EV) of $1 million.
Consequently, it is worth crunching the numbers to see what you get as a shareholder for $1 million...
Valuations highlight Talon's market cap potential
The best estimate margins applicable for production from Curlew-A are in a range between US$30 and US$35 per barrel, based on a Brent oil price of US$65 per barrel.
Should the well produce 45 million barrels of oil, 4.5 million barrels would be attributable to Talon.
This provides an implied price cash flow of US$135 million across the life of the well based on a margin of US$30 per barrel.
In Australian dollar terms this is approximately $190 million — quite a lift above the $1 million EV.
Peer comparisons are another way to determine value. A useful example is Jersey Oil and Gas plc (LON:JOG) which has an 18% stake in Verbier, a North Sea well with gross recoverable resources of between 25 million barrels and 130 million barrels of oil equivalent.
Interestingly, the low point of this resource estimate equates to 4.5 million barrels attributable to JOG, and a conservative low case estimate indicates that the group's stake is worth £31 million (A$56 million) on an NPV10 ( net present value at a 10% discount rate) basis.
Further, adopting either of these valuations implies that zero value is attributed to Curlew-A and the Rocket prospect.
However, the story only gets better with the group's other asset, the Skymoos Prospect, and its 107 million barrels of oil best estimate.
It was also awarded to EnCounter in the October 2018 bid round, and the fact that this is the first time two adjacent blocks have been licensed together for several decades enhances the chances of success.
Nearology also speaks volumes for Skymoos (shown below in red) as it is on trend with several developed oil and gas discoveries in an area of prolific hydrocarbon charge.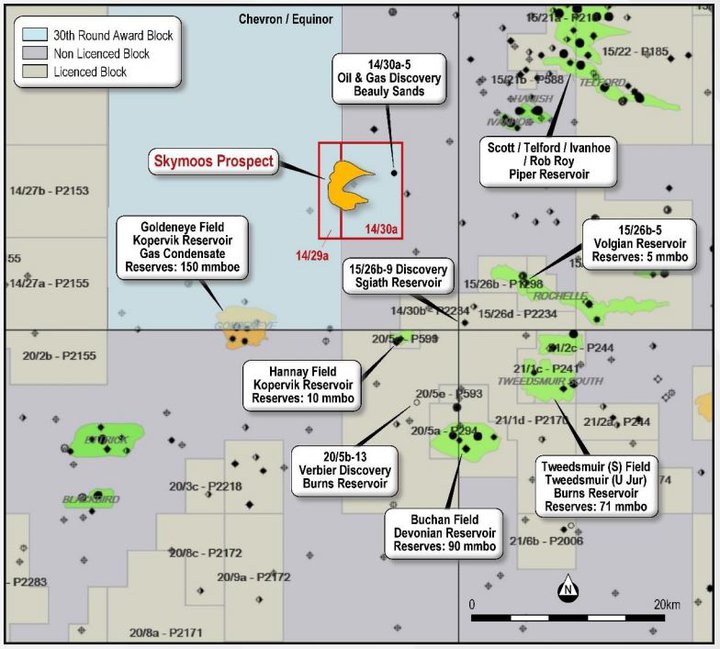 It is worth noting that the large light blue area was snapped up recently by global oil giant Chevron.
In particular, it is analogous to the giant Buzzard Field discovery made by the EnCounter team at Pan Canadian when Doré and Young were with the group.
The chance of success at this prospect is estimated to be between 20% and 30%, and once again Talon will immediately seek to reach a farm-out agreement.
The final word
There's a lot to like about Talon. Its entry into the North Sea is a big step in itself. This is a prolific area where giants such as Shell are within cooee of the company's recently acquired assets.
The nearology is a story in itself, however the impressive, highly experienced management team brings a lot to this play, including, as discussed, a knack for identifying early stage opportunities, maximising their value and exiting at a time that would maximise shareholder value.
Talon will fast track its exploration activity and as we progress through 2019, I wouldn't be surprised to see its $4.4 million market cap undergo a significant lift.
---