PVD: Offshore African Oil Steal
PUBLISHED: 09-04-2014 17:44 p.m.
This does not add up. How can a company be valued at just $56 million – when it boasts:
$27 million cash in hand, and;
Be free carried to a value of USD $215 million worth of deep water drilling in the next 12 months, targeting 1.5 billion barrels of oil?
It just does not make sense. Oil explorer Pura Vida (ASX:PVD) has early mover status in Morocco, Gabon and Madagascar – three high potential offshore oil and gas regions that are seeing intense activity over the next few years.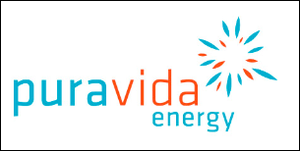 PVD continues to stack up very well against all competitors – and the large potential upside remains. Analysts continue to ascribe high price targets on PVD – one prominent analyst has even weighed in on the potential upside that exists – if all goes well, PVD might one day be worth $25 a share! This is a very bold prediction, and it's worth noting that analyst predictions don't always come true. The Next Oil Rush has been following the PVD story since our original article from August 2013: Why has this stock got analysts predicting four thousand percent gains? As analysts continued to back PVD strongly, we featured them again in December 2013: Broker predicts 440% rise for Cashed up Junior: Morocco, Gabon and now Madagascar. Is it a brave prediction? 2014 is shaping up to be an exciting year for PVD, they will be watching keenly the extensive drilling activity offshore in Morroco and Gabon – all nearby PVD's very own high potential acreage. Any big oil finds nearby will impact the PVD share price. PVD is cashed up relative to its peers with $27 million in the bank – and is currently hopelessly undervalued with a market cap of only $56 million. PVD is free carried via a farm-in agreement for USD $215 million in drilling over the next 12 months , with two offshore wells in oil hot spot Morocco over the next 12 months. The first well has a gross resource target of 1.5 billion barrels , with potential discoveries in the billions of barrels of oil.
20 x Upside on Morocco alone?
A March 2014 report from Edison Research on oil explorers in the region marked PVD as consistently in front on various characteristics. Edison's research takes into consideration a range of criteria including resource size, geological and commercial risks, funding constraints and fiscal terms. It concluded that PVD has an upside of 20 times its current market capitalisation (even on a risked basis) from its Moroccan activities alone:

Remember that this upside is just potential . The big tick item for PVD is the cash in the bank – funding is crucial for small cap players in the East African oil industry, especially for offshore activities. Having a healthy cash balance of $27 million, plus multi well free carries on their acreage is a huge plus for PVD. In a recent interview on BRR Media , PVD Managing Director Damon Neaves explained the Edison report as a strong vindication of the company's direction and the case it offered for shareholders: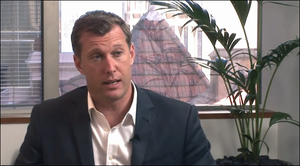 The Edison report comes hot on the heels of other reports from leading analysts strongly backing PVD.
Potential $25 share price for PVD?
A number of analysts have placed impressive price targets on PVD. Before we list each price target, just remember, analysts sometimes get things wrong – PVD may never reach the price targets laid out below. Numerous factors impact the share price that sometimes no one can predict. The Next Oil Rush never uses an Analyst price prediction as the sole reason for investing in a company. Now, whilst some of these predictions that we are about to show you definitely caught our eye, we always keep in mind that oil exploration is high risk investing and not for the faint hearted – there are high potential rewards but there is also a big chance we could lose our cash... So what exactly are the analysts saying? Hartley's Energy Analyst Simon Andrew recently covered PVD, placing a risked valuation of $2.02 . That would be almost a 440% gain from today's share price:

Morgan Analysts Krista Walter and Roger Leaning have placed a $2.85 price target on PVD . That would be a 660% gain from the current share price.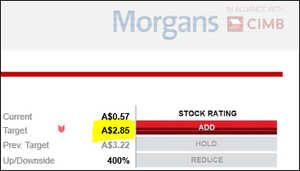 Prominent Energy Analyst Dave Wall continues to be bullish on PVD, maintaining a price target of $2.07 – that would be a 450% gain from today's levels.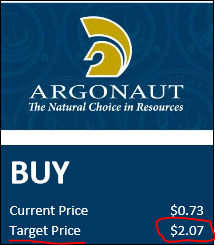 Mr Wall goes on further to illustrate the blue sky potential that PVD represents – if the free carried drilling on the Toubkal prospect proves successful, it may add $25 to PVD's share price – creating a lot of very happy PVD investors:

A $25 PVD share price is a pretty lofty prediction – we would be very impressed (to say the least) if we saw a price like this. However, we are also aware this may not happen – this would be the case only if everything goes right for PVD.
Drill Rigs Secured
In Morocco, PVD recently took a step forward in the future drilling campaign by securing a drill rig for two wells in the Mazagan permit – a strong sign progress is being made here:

The first of these is slated for the Toubkal-1 well and is expected to commence in January 2015 , whilst the second will begin drilling in the second half of 2015 . These deep water wells will allow PVD to really find out the value of their permit.
PVD surrounded by high impact offshore drilling in 2014
Major drilling campaigns have already commenced in both Morocco and Gabon – two areas where PVD have high potential acreage. PVD investors can sit back and watch the drilling campaigns of others in the vicinity targeting similar plays. If there are positive results, this should impact positively on the PVD share price as well. Technical director David Ormerod explains in detail this activity in this BRR interview . Morocco – Drill activity in 2014 and 2015 Over the past 2 years, majors have been fighting over themselves to buy into offshore Morocco – Chevron and BP recently both took up large acreage in blocks next door to PVD. The map below shows who owns what in the region, with PVD's acreage marked in orange. Upcoming wells are marked in blue: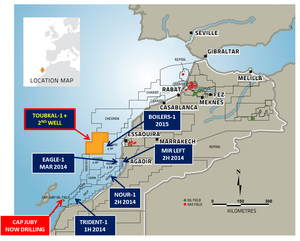 The following table shows the timeline of events planned by companies in the region over the course of the next few years:

The most important will be the two Kosmos wells targets Cretaceous fan plays which is are also the PVD targets. PVD investors will be watching all the news on drill results as they come to hand – any big discoveries are likely to have a positive impact on PVD's valuation. Gabon – Drill activity in 2014 and 2015 Gabon is shaping up as an exciting play for the company, with several industry heavyweights moving into the area around PVD's acreage – PVD are in orange in the map:
Ophir is currently drilling the Affanga Deep prospect just to the northwest of PVD's block, with the result expected in the next couple of weeks: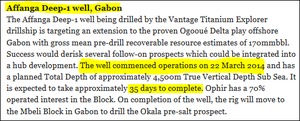 While Exxon/Tullow/Perenco will spud the Sputnik-1 exploration well in the block next door (marked on the map as Arouwe). One or more large oil discoveries in any of these areas could give a huge re-rate to PVD's acreage and a bolster to its share price. The share price may also re-rate once more value is ascribed to the Gabon holding and the company can conclude further farm-outs of its permits.
PVD in 2014
PVD are currently evaluating their options for a Gabon farm out this year. Last year's bidding round was extremely competitive, with the Gabonese government awarding 13 offshore blocks to 11 companies. Notably missing out on the round was BP, Shell and Total. Is it possible they might be interested in PVD's acreage? PVD will also look to undertake a prospective resource estimate for Gabon this year. As well as the action in Morocco and Gabon, PVD will undertake a 3D survey on their newly acquired Madagascan asset later this year. In the meantime millions of dollars will be spent targeting the blocks around PVD – any big oil discoveries should impact PVD and ascribe new valuations on their acreage.
---