Oil Flowing as Tiny AKK Plots Path to $400M Revenue
PUBLISHED: 23-08-2016 09:38 a.m.
How do you find acreage which hasn't been drilled before in the US? More to the point, how do you find undrilled ground that is right next door to a productive oil field?
Furthermore, how do you do that as a micro-cap upstart from Australia?
Well, it helps if you're Austin Exploration (ASX:AKK).
Today, we're going in-depth on Pathfinder, one of the more distinctive opportunities in the oil world right now.
It's an opportunity which could see AKK net upwards of $10 million by the end of 2017 after drilling 10 wells with a target of 1000 BOPD at $45 a barrel.
Beyond that near term target, the company has outlined a pathway to $400 million in revenue for the project, assuming productive wells and a steady increase in the price of oil, moving up to $65/barrel over a 10 year period.
Of course, these are revenue estimates based on a number of assumptions, and should not be taken as guaranteed. Always consult a professional and do your own research before deciding whether or not to invest.
We're going to talk a lot about numbers and projections in this piece, but the thing is that a well drilled at Pathfinder is already producing oil and it hasn't even been completed for production yet.
We've got the video to prove it as well...
So here's the rundown, before we go more in depth.
AKK has virgin acreage in the world's second oldest oil basin, with 15,282 acres showing significant expansion potential. It is next door to a project which has delivered 15.5M barrels of oil in the past.
It has a fully funded three-well program underway, with oil already discovered in one well which has thus far been drilled AND intersected a very large 790 feet column of oil (drilling at the second well has already started).
Importantly, AKK is debt free and has created a robust business plan that is driving operational costs down and could see it profitable at US$30 per barrel.
That's a good situation to be in considering the price of oil is currently above US$45 a barrel and climbing.
AKK has managed to bag what could be an unprecedented opportunity in the US oil and gas space, one of its key wells is already bringing up oil, and a success case has $10 million in the offing by 2017 and potentially $400 million in 10 years if everything goes its way.
How did this micro-cap pull off the feat?
Re-introducing: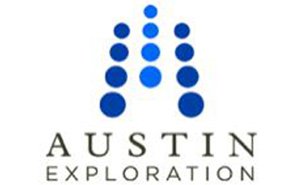 Austin Exploration

Finding its path
There are very, very few remaining opportunities to drill almost fresh acreage in the US, but AKK has managed to find a way to do just that.
We have covered AKK before and you can find a bit more background on this plucky player in AKK takes the field: Oil Drilling Underway with Results Due in Weeks and AKK to Unlock 350 Wells in Coming Weeks?
What we found in those previous articles is that those running AKK are working hard behind the scenes to be good stewards for their shareholders and are putting in the hard yards to make sure this company is a success.
Here is CEO Tim Hart and Executive Chairman Guy Goudy doing the hard yards on site at its Pathfinder project:
While AKK has other projects on the slate, we're focusing our attention on its Pathfinder project in Colorado – as it offers up the most promise and is the scene of active drilling.
Pathfinder is right next door to acreage which has produced about 15.5 million barrels of oil in the past.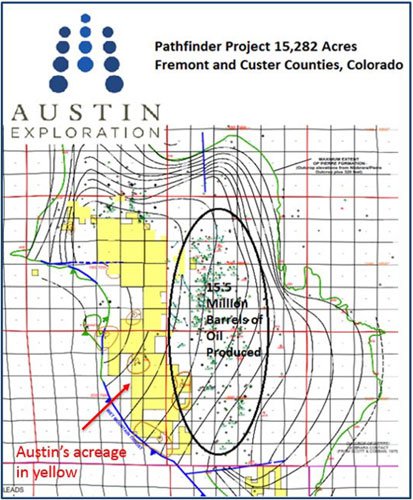 Above, you can see AKK's acreage in yellow, but not so many small black dots which indicate the wells drilled.
In the US, land of the free and home of the expert oilers, there is a patch of land which exists right next door to a multi-million barrel field which simply hasn't been tapped .
In fact, fellow ASX-listed company Comet Ridge Energy (ASX:COI) drilled 22 wells to the east of Austin's untapped property from 2008 to 2012.
The 22 wells went on to become producers with the daily production from these wells reaching an average 35,000 barrels of oil per well produced so far.
The estimated recoverable reserves from this field have been put at 75,000 barrels per well, a demonstration of the scale AKK could be looking at.
Not bad when you consider Austin can drill these wells for $500k, which can pay back in just 6 months.
The question is why haven't seasoned US oilers looked at the patch AKK now have 100% ownership of, right next door to a producer of 15.5M barrels of oil in the past and pass it up?
Well, until AKK came onto the scene... no one could get their hands on it.
The difference between AKK and others is the connections key personnel at AKK have – in this case the presence of Dr Mark Hart on the AKK board – which turned out to be a major advantage.
For the last 150 YEARS, AKK's acreage has been held for coal and gold mining which locked out the oil drillers.
However, AKK's Board of Directors is stacked with world class energy Executives. These very capable and accomplished individuals leveraged their years of deep rooted industry contacts to help make AKK the first company in 150 years to have access to this property for drilling...and the game is ON!
AKK now has a historic opportunity to do what no other oiler in the history of the US has ever done.
It's off to a fairly good start, as well.
The holy trinity?
Right now AKK is in the middle of drilling three wells which could ultimately expand to the drilling of over 350 wells in untapped territory immediately adjacent to a proven oil field.
Needless to say, AKK is hoping this opportunity becomes a company maker.
It's a big claim, but for now AKK is starting with Magellan, Marco Polo, and Columbus-1.
Much like these explorers found their promised lands, so too AKK hopes these wells will be rather earth-shattering.
Well, at least they're off to a good start – they're actually getting oil flow from the first well already.
The following table gives an indication of just how this three-well program is tracking.

Note, at the moment AKK has designed all three wells as deviated wells, meaning they're not straight up and down.
The first well, Magellan-1, has not yet been completed in the target Pierre formation and already it's sitting with a column full of oil.
Getting oil from a vertical well is a pretty damn good start.
This tells AKK immediately that the Pierre formation is full of oil across the entire field.
We should point out that there's no guarantee of substantive oil flow – you should always consult a professional before choosing to invest.
Right now AKK is drilling the deviated sections of the wells, after which they'll get to flow-testing, which is the sexy part of the whole operation.
That will be when AKK will have an idea of how wells drilled like this will produce.
They've already got a rough guide because of the wells drilled next door, but you never know until you sink the well if it will work or not.
Of course, these wells and the Pierre formation could be just the start of things...
Going deeper
One of the more interesting things about this particular play is that while the Pierre formation offers up proven production potential, there's even more at depth.
As you'll see from the simple diagram below, the Pierre shale is destination number one for AKK and drillers in the neighbouring Florence field, as its natural fractures make oil a very real possibility.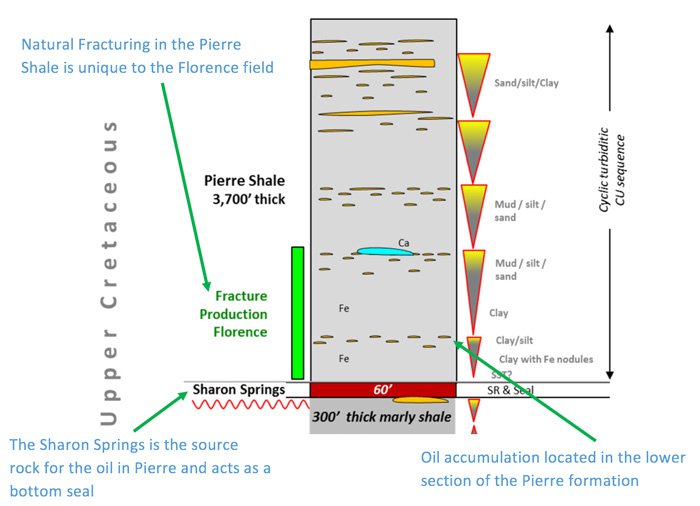 So the Pierre Formation is stop number one for AKK – as it's naturally fractured and relatively close to the surface (although the oil does pool towards the bottom of the formation).
The sharp-eyed among you may have noticed the layer in red.
This is the Sharon Springs formation, and it acts as both a source rock and overpressure seal on the formations below.
The fact it's a seal means that there's more than likely something below....
And here it is:

What lies beneath is the prolific Niobrara shale, which has made oilers in Colorado millions over the years.
The fact there's an over-pressure there in the form of a source rock is even better.
A little bit of Oil-101: oil is formed as a function of organic matter (plants, dinosaur bones) being crushed by the Earth's forces over millions of years.
Where there's a geological setting being squeezed, there's a fair chance of oil...
The reason why AKK isn't going after this target right now is simply a matter of economics at this stage, but the rocks aren't going anywhere and when the timing is right (oil price rebounds), rest assured that they will attempt to turn this into shareholder value as well.
What could AKK become?
Right now, AKK is in the middle of drilling three deviated wells in to the Pierre shale.
These three wells aren't the be-all-and-end-all, but they could tell investors a lot about whether AKK is onto something – and potentially something big...
One thing is for certain, this field is full of oil and the AKK team is hot on its trail.
The first check mark is any kind of oil flow, the second is stable oil flow on a limited choke, and the third is commercial flow.
If AKK pulls this off, then they might possibly be the darlings of the oil field at a time when most are struggling to survive.
Oil drilling can be a matter of deduction, with companies testing the best methods for production from each particular shale.
Already though, AKK has put out some numbers on what full field development may look like.
Investors should note that this is some way off though, and should always consult a professional before electing whether or not to invest.
Over the past couple of years, AKK has been working hard to keep its cash costs down, and it's made very impressive progress on that front to date.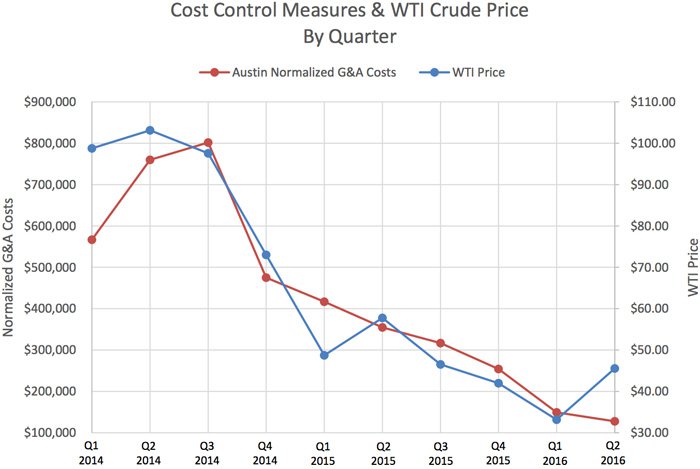 As you can see AKK has worked hard to get its cash rate down below the rate of decline of the price of WTI (West Texas Intermediate – a grade of crude oil) meaning should WTI go back up (as many analysts are tipping), then AKK will be in a great position to capture the widening gap between costs and WTI price.
AKK has also put some numbers out regarding what full field development could look like, the most bullish of which has AKK making over $400 million over a decade.
So, how did it get to that?
Well, it has assumed that the number of producing wells at the project will reach over 120 over the 10 years, then it's gone ahead and plugged in an oil price (steadily increasing over the period) and different flow rates on the wells.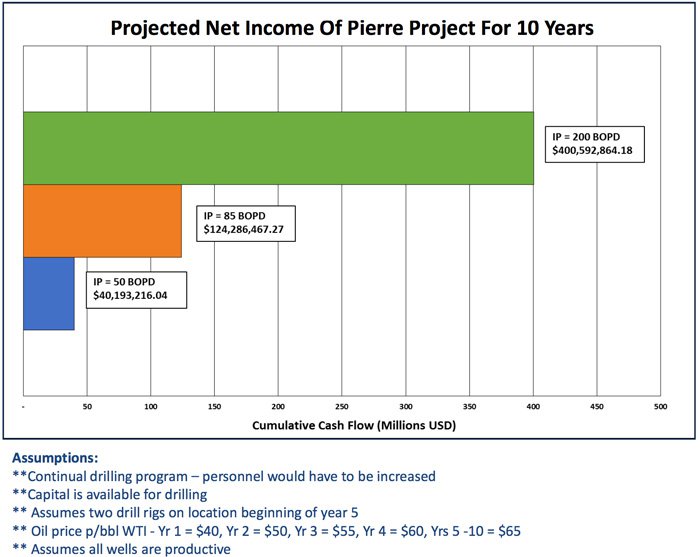 Even at $40M over a decade, this project will turn out to be a handy little money-spinner for AKK and its shareholders. In the near term, AKK has set a figure of $10M by the end of 2017 based on 10 wells at 1000 BOPD and $45 a barrel.
AKK isn't just confined to Pathfinder.
It has production in Kentucky to look forward to and there's always the possibility that should AKK start steady production from Pierre, it could look to dip into the mergers and acquisitions (M&A) market for a few distressed assets.
In any case, we'll start to get more of an idea of the production potential and profile of Pierre at Pathfinder as soon as the first three wells in the program are flow-tested.
The Final Word
AKK is on a three well journey right now that could kick off something very special – but it's not make or break at this stage.
If they produce, great. It could unlock hundreds of wells and $400 million worth of revenue to the company over ten years.
If they're not a success, AKK will know what not to do at Pathfinder – and it isn't in the hole because it's only three wells.
AKK has a fair idea that there is oil at Pathfinder, whether from the Pierre formation which is producing right next door or from the deeper Niobrara Shale.
In either case, it has oil at Pathfinder – it just needs to find the best path to it.
---