Oil Discovery in Canning Basin: REY to Drill Multiple Wells in Coming Weeks
PUBLISHED: 02-09-2015 10:31 a.m.
A 23m oil column was just discovered in the Canning Basin – reigniting interest in one of the few remaining onshore areas in Australasia that is underexplored for oil and gas.
The oil column was encountered on the Praslin-1 well – just one of Buru Energy's five to seven well drilling programme in 2015 which is focused along the Ungani Oil Trend.
Flow testing is still to be completed, but Praslin-1 has all the hallmarks of a repeat of the Ungani oil discovery...
Discovered in 2011, the Ungani Oilfield is now producing commercial quantities of oil at a current rate of 1,250 bopd. However, Buru have longer term plans to ramp up to 5,000 bopd and is looking to convert their contingent reserves over to proven and probable classifications.
The current round of exploration wells seeks to unlock new parts of the trend, and the next two wells could be company making for one of our companies.
It's time for Rey Resources (ASX:REY) to hit the spotlight, as this little oil explorer shares 25% of the next two wells
Its JV partners Buru and Mitsubishi (MC) have the rest.
Buru is moving the drill rig to REY's ground now, where the Victory-1 and Senagi-1 wells will be drilled next.
REY's Victory-1 well is on track to be spudded in the coming weeks...
Followed in October with the Senagi-1 well
Like any oil exploration, success is no guarantee here, however it's shaping up to be a big couple of weeks and months for this explorer: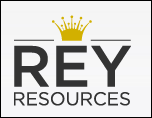 The Next Oil Rush has identified Rey Resources (ASX:REY) as an emerging oil and gas explorer standing in the epicentre of not just one, but two emerging onshore petroleum provinces in Western Australia – the Canning Basin in the north, and the Perth Basin to the south west.
We have been following REY for a while now, and you can read our article from earlier this year which sets the scene for the company's plans this year: Multiple Drilling Events in 2015 for REY: One on the Same Oil Trend as Recent Discovery
All the focus is on the Canning Basin right now, as REY's JV partner and operator chomps through the Ungani Trend with its drill rig...
The next two wells are going to be closely watched by REY investors – who, if the drilling is successful may have a stake in a whole new commercial oil and gas field, transforming this $45M capped company.
Part and parcel of all small oil explorers, to cover their share of drilling costs, its expected REY will likely need to raise more funds to undertake the drilling – however with strong cornerstone investor support, this is unlikely to cause too much of an issue.
And as we edge closer to spudding, REY's wells just got a whole lot more prospective thanks to the 23m column of oil hit at Praslin-1...

REY's JV partner on the oil hunt in the Canning
To date the Canning Basin has been a hard nut to crack for onshore operators, as its remoteness and the lack of availability of key equipment such as drill rigs means they have been on the go-slow for a while now.
After years of hard work, Buru looks to have cracked the code and is now expected to be producing at 5000 barrels of oil per day at peak capacity, with Japanese giant Mitsubishi on board as a joint venture partner.
The key message from the start of production is simply this: it can be done.
Buru, once a micro-cap explorer taking a punt on hard to drill but prospective targets had become a producer and started to deliver cash to their investors. Momentum in the basin means two things:
Number one, the eyes of the oil investment world will start to shift toward the Canning Basin; and number two, any parties who are partnered with Buru in the Canning Basin could have a fun time as Buru beefs up its production volumes – and REY is one of them.
The canny Canning Basin player
REY has always been a silent partner in the Canning Basin, allowing others to do the heavy lifting whilst maintaining significant stakes in strategic exploration ground – which is the smart play in the region.
Drilling in the Canning Basin can be both a blessing and a curse, as those of you who have looked at the basin would know.
While the gameplan for oil exploration is usually to hold a high interest in the permit and then farm-out interests, it's a smart move for a smaller explorer like REY to partner up with the likes of Buru/Mitsubishi to drill.
It's done just that at Canning Basin exploration permits EP457 and EP458, where it has a 25% stake with Buru and Mitsubishi taking a 37.5% stake each.
Crucially, the next two wells Buru drill will be on REY's ground – the Victory-1 well and the Senagi-1 well
There are two vital things in the partnership for REY:
Buru is the operator – this means it has all the expertise of a locally experienced and successful oil explorer which has taken oil from exploration to production in the same basin.
It has an 8.3% free carry to production, meaning that its costs are being kept down until the oil is actually flowing.
Both are solid leads to work off, but by far the most interesting thing about REY's EP457 and EP458 blocks are their location.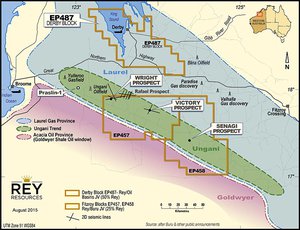 Source: Rey Resources
Did you spot it yet?
That's right, the two permits are smack-bang in the middle of the Ungani oil trend and also sits within the highly-prospective Laurel gas window.
The canny among you may have spotted the small symbol to the north west of the Ungani Trend, the Ungani oilfield. That's the original discovery which kicked off Buru's production.
All the ingredients are there, but there's no real point having great real estate in a fantastic address if you don't do anything with it.
That's why this quarter is shaping as an exciting time for REY.
Buru, as operator of the permits, will drill the Victory-1 well in EP457 and the Senagi-1 well in neighbouring EP458, and REY is leveraged to both.
Near term drilling
Victory-1
Victory-1 will be drilled right into the Victory prospect, which is a large regional high in a similar setting to Ungani.
It's a wildcat well, however it's on the Ungani trend.
If successful, it could transform the true nature of the Ungani oil field overnight. At the same time, drilling for oil is always a speculative endeavour, so caution should be applied if considering an investment.
Buru Energy has just finished drilling Praslin-1 in a neighbouring permit, also on the Ungani trend, and is believed to be a similar well to Victory-1.
Praslin-1 hit a 23m oil column, and while the well is yet to be flow tested the presence of an oil column on trend from Victory-1 is a positive development.
While there is absolutely no certainty in life and even less so in oil drilling, that's a fairly good place to start.
The well will also go through Laurel carbonate, which means REY will be hoping to hit both oil and gas by drilling down to a target depth of 1,750m to 2,400m, which means it is aiming to hit both Ungani and Laurel carbonate.
The rig is currently being moved and the well could be spudded within a week...
Senagi-1
The Senagi target is a bit more of a straight-forward oil target but no less prospective.
It will be drilled to a shallower (less than 800m) target, which means the drilling will cost the joint venture less, and is based on an old mineral bore hole.
Back in the day, the Camelgooda-1 well was drilled within EP458 but it wasn't looking for oil. It hit oil anyway, but given the company involved wasn't an oil company, it moved on.
The well essentially hit what looks like an Ungani Dolomite reservoir equivalent with about 6m of oil in the core, throwing up the strong prospect that it could be sitting on an oil resource. So Senagi-1 is being drilled up dip of Camelgooda-1, where the oil should be pooled.
We'll know more soon enough, as the well is slated to be drilled in October – not long now, and in quick succession after Victory-1.
On the same permit, Buru is beavering away on interpreting some seismic data which should firm up any additional targets while new seismic is planned on a couple of new prospects.
An interesting lead which could come out of the seismic is that of the Rafael prospect, which is just on the northern edge of EP457. It's being teed up as a gas target which is currently slated for drilling next year.
REY, being an early stage oil explorer, is a speculative stock and success is no guarantee.
But all in all, it's going to be a very interesting few months for REY investors with some potentially company making events on the way.
Elsewhere in the Canning
Meanwhile to the north, REY is involved in the EP487 permit – and this one has a bit of history.
Previous joint venture partner Backreef Oil was in dispute with current 50% permit holder Oil Basins back in the day.
A long story short, REY was able to swoop in to take a 50% stake in the permit in return for settling a $391,000 past costs, a 3% royalty upon production and paying $2 million – again upon production.
This essentially means that REY was able to step into a 50% ownership of a highly-prospective 5,000sq.km permit for $391,000. Not a bad bit of business that.
A seismic survey over key targets in the permit is due to be conducted in the back part of this year, with an eye towards a farm out in 2016.
Oil Basins can farm out a 50% stake in the permit, with both REY and Oil Basins to hold onto a 25% stake.
With the likes of Mitsubishi and Buru in the region and investors getting a full look at production in the area and further exploration, the time could be right for a partner to come in.
It's not just the Canning...
There are two onshore hydrocarbon provinces which are getting the attention of investors at the moment.
One is the Canning Basin, but the other is the Perth Basin which is getting attention thanks to its proximity to a major gas market and recent exploration in the area.
REY has a 43.47% stake in EP437, which covers a coastal area from Geraldton down to Perth.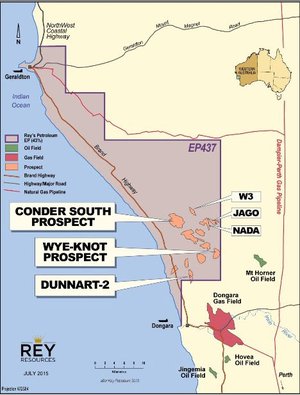 In the second half of 2014 it drilled the Dunnart-2 well, targeting the Bookara sandstone, which was flow tested in mid-2015.
Previous drilling had identified oil in the sandstone, but the joint venture, which includes Key Petroleum (as operator) and Caracal Exploration, wanted to see if oil could be brought to the surface.
Unfortunately it didn't, but the well did flow at 400 to 600 barrels per day of formation fluid which means if they do find moveable oil in the Bookara in the future, it should flow pretty easily.
Previous exploration work done by the joint venture has identified no less than 10 leads, so it has plenty of work to go on with.
However, the joint venture has been given cause for pause with the results coming in from AWE just to the south.
In July, AWE announced that it had finished drilling the Waitsia-2 well, and with it had encountered gas shows from the Kingia and High Cliff Sandstones, along with the Carynginia Shale and Irwin River Coal Measures.
The High Cliff Sandstone is of particular interest to the joint venture, given that vintage 2D seismic had identified the sandstone as a particularly interesting target at the Wye area in the EP437 permit area...
The joint venture is currently looking at that seismic combined with the data from the Dunnart-2 well to see whether it can define a drillable target.
It's also done an interesting deal with fellow Perth Basin explorer Norwest Energy. The explorer, best known for drilling the Arrowsmith wells, welcomed REY onto its register with a 4% stake for $250,000.
The deal was done pursuant to both parties exploring potential farm-in opportunities around the Perth Basin, which could be one to look out for as both parties continue to talk.
REY in a nutshell
While oil prices are in the doldrums at the moment, oil bulls may want to take a sneaky look at REY.
It has a position in two of the most prospective oil and gas basins in WA, a state which has traditionally been friendly to oil producers.
In the Perth Basin, it has exposure to nearby drilling by AWE Limited and others close to potential markets while in the Canning Basin it is teaming up with market darling Buru to unlock more oil.
The Canning Basin itself has been called one of the most prospective unconventional petroleum basins in the world – not country, but world.
The US Energy Information Agency has estimated that the entire basin has a risked recoverable resource of a whopping 235 trillion cubic feet of gas .
To put that into perspective, the LNG plants under construction in Queensland at the moment have a combined processing target of 16.5Tcf per annum.
And that's three projects.
Nobody's suggesting that REY has its foot on LNG-ready quantities of gas, but it's not in a bad neighbourhood at all...
The best part is, investors won't have to wait long for potential company making newsflow, with not one but two high impact wells to be spudded in the Canning Basin in September and October...
---