Neighbour to Drill in Weeks: TANGIERS' New Alaskan Play
PUBLISHED: 08-12-2014 10:34 a.m.
Tangiers Petroleum Limited (ASX:TPT, AIM:TPET) has hit the reset button and secured a new oil play in the heart America's most prolific oil producing region – Alaska's North Slope.
Introducing...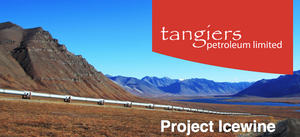 This is the news we've all been waiting for.
After TANGIERS' unsuccessful Moroccan well back in August, Managing Director David Wall has been charging ahead, looking for a new project to put the company back on track.
TANGIERS has just won a bid for an 87.5% working interest in Project Icewine.
It's a strategic piece of land, secured at ground floor prices of $30/acre, in the heart of Alaska's North Slope.
The ground covers 100,000 contiguous acres with multiple objectives.
Given the size of the acreage, the Project is large enough to get the majors interested, and the large working interest gives TANGIERS' the flexibility to farm down to a bigger partner and still retain significant upside.
TANGIERS have teamed up with a world renowned unconventional oil gun – he was responsible for ConocoPhillips early mover advantage in the Eagle Ford, and directed that major to invest in over 300,000 acres there. ConocoPhillips now claim 2.5 billion barrels of oil in place in the Eagle Ford.
This shale expert has seen some striking similarities between this Alaskan Project and those lucrative Eagle Ford sweet spots – nice for TANGIERS to have him on their side now.
It's very early days for TANGIERS in Alaska, but what interests us the most in the immediate term is that Great Bear Petroleum are just a few weeks away from drilling right next door to TANGIERS' ground.
Three wells are planned by Great Bear in the coming months, and they could all make a material difference to the value of TANGIERS' assets, without TANGIERS lifting a finger...

Tangiers Petroleum (ASX:TPT, AIM:TPET) are currently capped at under $4M and have spent the last few months picking up the pieces following the unsuccessful drilling event in Morocco.
The company is now emerging from this unlucky event and is now a player in the North Slope – where you'll find the 13 billion barrel Prudhoe Bay oil field, America's largest producing oil field.
This field is connected to the south via the Trans Alaskan Pipeline System (TAPS) and the Dalton Highway – both critical pieces of infrastructure to Alaskan oil – and they cut right through TANGIERS' Icewine Project.
TANGIERS are targeting an untested, unconventional liquids-rich shale play in a wider area with the potential to yield over two billion barrels of recoverable oil – a huge potential upside.
In fact the same source rocks that house Prudoe Bay oil can be found at TANGIERS' Project Icewine.
There's also a shallower conventional play in a high porosity, deepwater sand complex. This play is now the hottest play on the slope and ranked in the top 3 exploration plays globally. Great Bear is testing three very large prospects in this play on adjacent acreage starting in January. Success rates using 3D seismic in this play are greater than 60% – Great Bear has the 3D seismic...
This entry into Alaska has been well timed by TANGIERS – Lawmakers in the state have just lowered production taxes to encourage more investment in their oil industry and the royalty rate of only 16.5% is a considerable advantage compared to oil production in other US states.
So the stage is set.
At ground floor prices, TANGIERS has secured a strategic oil asset well served by modern infrastructure in the heart of America's most prolific oil producing region.
It also has an elite joint venture partner riding shotgun – more on that later – and a dominant 87.5% share with potentially over two billion barrels to be found.
Great Bear's Countdown to Drill, Three Imminent Wells Near TANGIERS
Privately held Alaskan exploration company Great Bear Petroleum are set to drill to the north of TANGIERS in the coming months. These drilling events will be ones to watch for TANGIERS' investors – any success by Great Bear may materially impact the value of TANGIERS' ground.
The upcoming three well series will kick off in just a few weeks' time, and follow on from two exploration wells drilled in 2012, Alcor-1 and Merak-2, that hit the Hue, Kingak and Shublik shale formations as well as making a small unplanned conventional discovery.
Their locations are marked by pink dots on the map below: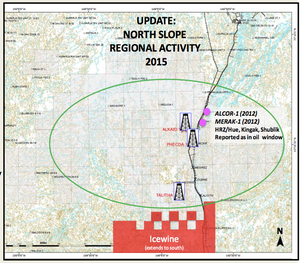 Great Bear's three new exploration wells are indicated by the three oil wells in the map, and run southward towards TANGIERS' Project Icewine.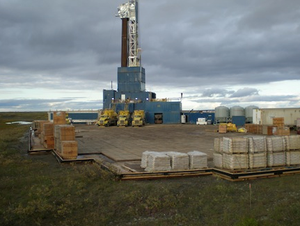 All three of these wells – Alkaid-1, Phecda-1 and Talitha-1 – will be drilled in 2015, to appraise both conventional and unconventional targets.
Talitha-1 is just one and a half miles from the TANGIERS' Icewine boundary...
What Great Bear finds in the coming weeks and months could materially transform the value of TANGIERS' acreage, and improve considerably TANGIERS' attractiveness to potential farm in partners. With an 87.5% working interest in the Icewine Project, tiny TANGIERS may be in the box seat for negotiations.
Another positive sign for TANGIERS is that Great Bear is being heavily supported by the US oil services giant Halliburton, who reportedly paid for a 596km 3D seismic survey to earn a 25% interest in 510km.
It's not just Great Bear drilling in 2015 in Alaska – Repsol the $24BN capped major and Armstrong have partnered on the North Slope, and are planning three exploration wells in the Qugruk area, targeting the Brookian conventional play...
It's all laid out on this map: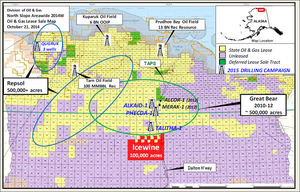 So while TANGIERS busy themselves with 2D seismic processing,geological studies and farm-out discussions, they will also be keeping a close eye on all the Alaskan drilling activity in 2015...
Eagle Ford Shale Oil Whisperer: Now Working with TANGIERS
TANGIERS' partner in this new venture is Paul Basinski, the man who spearheaded ConocoPhillip's entry into Eagle Ford shale in Texas, where it's just raised its estimated resource base to 2.5 billion barrels of oil place .
Whilst working with ConocoPhillips, Basinksi's geological concepts allowed him to predict the Eagle Ford sweet spots – so much so that the oil major went on to lease over 300,000 of the best acres at Eagle Ford.
He will apply a similar concept in Alaska with TANGIERS.
Basinski calls himself a ' billion barrel oil finder ', and as the first mover in the Eagle Ford, he has the track record to prove it: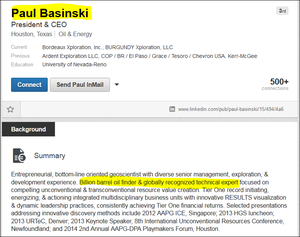 If you want to hear Basinski talk Eagle Ford shale, this presentation gives you a good idea of the calibre of the guy and an insight into his expertise:
Basinski has spotted something similar up in Alaska at Project Icewine – just like the Eagle Ford sweet spot, Project Icewine appears to be in a high-liquids, vapour phase shale sweet spot.
And just like at Eagle Ford, he is moving early in Alaska on this shale play, and taking TANGIERS' along with him.
Same Source Rocks as 13BN Barrel Prudhoe Bay oil field
Basinski and his crack team of geologists identified the potential of this ground by a thorough examination of the shale complex source rocks.
TANGIERS' primary objective at Project Icewine is the HRZ part of the Hue shale formation.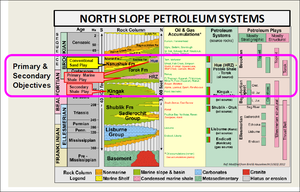 It's an unconventional liquids-rich play in the same shale complex that sourced the largest oil field in North America – Prudhoe Bay with its 13BN barrels of recoverable resource.
The HRZ part of the Hue formation may hold over 2 billion barrels of recoverable oil, but it's never before been tested with a drill bit...
Back in 2012, Great Bear drilled two wells to the north of TANGIERS' acreage – good oil shows were found – over 180m with organic matter levels up to 8%, over 4 times the cut off for an unconventional shale play.
They also discovered that the HRZ section is within the oil window, plus the ground was highly brittle – which would lend itself to easier fracking...
Basinski and TANGIERS believe that the HRZ member of the Hue formation at Icewine may intersect the liquids rich vapour phase – presumably this is what piqued their interest in the project.
The plan for TANGIERS is to spend $2.1M in CY2015 reprocessing and re-interpreting the existing 2D seismic data, and we should start to learn more and more about the potential of this ground in the coming months.
Ultimately this may allow TANGIERS to select targets for pilot hole drilling in late 2015 / early 2016, most likely testing a conventional target at the same time. Great Bear's upcoming drilling will also play a big part in TANGIERS strategy.
The bonus at Icewine is the second primary objective in conventional oil.
Two undeveloped discoveries next to Icewine have given cause for further inspection here. TANGIERS will be targeting shallow Nanushuk sands – a high porosity reservoir that is seismically identifiable... once again, we should find out a lot more about this objective over the coming months.
All you need is a road and a pipe
It would be an understatement to say that Alaska is difficult country to work in. Its freezing winter temperatures and lonely remoteness mean to get things done you have to be organised, resilient and very, very tough.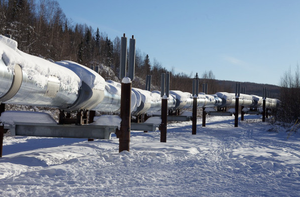 The picture above is of the Trans-Alaska Pipeline System (TAPS). As you can see, the snow doesn't stop anything in Alaska. It just makes it look pretty.
The oil keeps flowing year round, except if production falls below 300,000 bopd (barrels of oil per day) – a big problem for Alaskans, and why such high fiscal incentives for oil explorers and producers exist.
TANGIERS' big advantage in Alaska is that TAPS runs right through their acreage:

The green line above is TAPS – which is a handy thing to have on your property when the time comes to pump out oil. TAPS is currently operating with 1.5 million bopd spare capacity – so if TANGIERS can find something, it would be more than welcome.
The other key bit of infrastructure is The Dalton Haul Road – once again it runs straight through TANGIERS' land: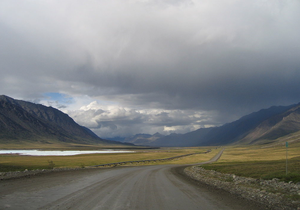 Having this road run through TANGIERS' project gives access all year round, and deliveries of components, workers and supplies will be made much easier.
Alaska Loves Oil
Alaska is the USA's largest oil producing region – here are some quick fire facts and figures that will give you a good idea of the ground TANGIERS is now working in: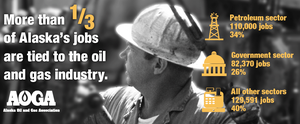 But despite its huge reserves, quality infrastructure, and large, highly skilled work force, oil production in Alaska is falling and has been for some time.
As we mentioned above, the Trans-Alaska Pipeline System (TAPS) that runs through TANGIERS' acreage is only operating at one third of its capacity. Alaskan production peaked at two million bopd in 1988 and has since declined 68%, producing around 600,000 bopd now.
The Alaska Oil and Gas Association blames high state production taxes, saying they make investment in other oil producing states such as North Dakota more attractive.
Luckily for TANGIERS, it's timed its entry into Alaska just as production taxes are being cut :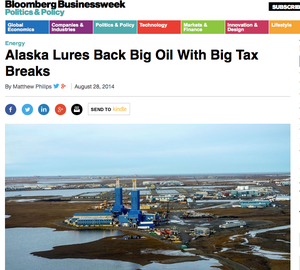 Now that lower taxes are now in place for Alaska, oil investment is rising.
BP has just upped its capital budget for the state by 25% and ConocoPhillips, Alaska's largest producer, boosted its budget by 50% from 2013 levels to $1.7BN.
Alaska could be set for an oil production revival and TANGIERS has secured a strategic asset smack bang in the middle of the North Slope, the prime oil and gas-producing region of Alaska.
In order to boost oil production, Alaska has provided cash rebates for any company that is exploring for oil in CY2015 – up to 85% of exploration drilling expenditure can be refunded by the Alaskan government. For shooting seismic, companies will see a 40% cash rebate.
Given the desirable tax incentives in Alaska, it's possible to attract mezzanine funding facilities which assist in juniors like TANGIERS executing more exploration work than in other regions of the world.
Coming down the pipeline
So as you can now appreciate, TANGIERS' Alaskan play has certainly grabbed our attention as shareholders.
TANGIERS has just secured a significant acreage with a liquid-shale play right in the middle of the North Slope, an acreage crossed by TAPS and the Dalton Haul Road, a great mix of opportunity and infrastructure.
State production tax has recently been lowered; so major oilers like BP are sinking more money into Alaska, fuelling a potential new shale oil boom in the region.
Having a crack geologist that unlocked so much value on the Eagle Ford shale by TANGIERS' side only adds to the story.
Over CY2015 TANGIERS are budgeting $2.1M for the purchase, reprocessing and re-interpretation of existing 2D seismic, in addition to well planning activities.
Over the medium term, here is what TANGIERS are working towards: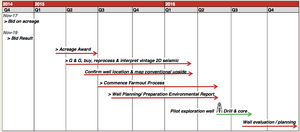 This may all culminate in the drilling of a pilot well in Q2 of 2016.
As long-term investors in TANGIERS, it's good to see TANGIERS back with a new project in Alaska that ticks many boxes and could set it up for a very bright future.
In the near term, let's see what kind of interest Great Bear can provide in the coming weeks...
---