MPE Drilling Now: Results Imminent From US$6BN Potential Gas Resource
PUBLISHED: 27-11-2017 09:01 a.m.
Magnum Gas and Power (ASX:MPE) has mobilised the drill rig and is drilling as we speak at its Tulainyo 2-7 gas appraisal well in California's Sacramento Basin.
The Ensign Rig 587 was mobilised to site on November 16, with drilling commencing a few days later.
The well is planned to a total, measured depth of approximately 1700 metres.
Drilling is expected to take less than a month and results will flow shortly after.
This is a significant moment for MPE.
The $9.6 million capped company has a 20% stake in this project, but the size of the potential prize to the company could be $1.2 billion.
This is a high-risk, high-reward play that could be a company maker. Certainly, MPE is hoping so.
However, we don't know your personal circumstances or your risk profile. So as a high risk investment, seek professional financial advice first.
In the following video, MPE executive chairman Nathan Featherby discusses the lead-up to the drilling, its high impact partners, and how MPE came about Tulainyo:
As soon as early to mid-December, we could have some solid results with which to gauge whether or not this project will be a success.
All eyes are now on the drill program, so with results to come in what could be a matter of weeks, let's catch up with:

Magnum Gas & Power

Drilling commences
ASX gas explorer, Magnum Gas & Power Limited (ASX:MPE), has commenced drilling at its Tulainyo 2-7 gas appraisal well in northern California's Sacramento Basin.
The Ensign Rig 587 is onsite and things are now moving along quickly.
Over the past few days, the rig equipment was tested and pre-spud safety procedures carried out.
The well is planned to a total, measured depth of approximately 1,700 metres (5,600 feet), and drilling operations are expected to take less than one month to complete.
The Tulainyo Gas Discovery structure is a well-defined large anticline, with up to 91 square kilometres closure. It has a strong surface expression, gas seeps, and gas has been encountered here during historic drilling.
This fact alone bodes well for the drilling campaign, and we should have results shortly.
Though we can only speculate what those results might be, so investors should take a cautious approach to any investment decision made with regard to this stock.
MPE will be hoping to repeat the history of its JV partner, which has already experienced significant success in the Sacramento Basin...
The Gas Fields partnership
MPE's 60% owned subsidiary, Gas Fields LLC, is earning up to 33.33% (20% net) in the Tulainyo Gas Project via a joint venture with the project operator, California Resources Production Corporation (NYSE:CRC).

CRC was born from Occidental Petroleum (NYSE:OXY). It operates in 4 producing basins in California: the Sacramento Basin, San Joaquin Basin, Ventura Basin and the Los Angeles Basin, and has 135 fields producing 129mboe/d spread across these basins.
In 2015, CRC produced 44 million cubic feet of natural gas (or 7,000 barrels of oil equivalent per day) in the Sacramento Basin, which could supply all the homes in the City of Sacramento for nearly two years.
CRC will be doing most of the heavy lifting here as it looks to identify a giant scale resource in one of the most prolific oil and natural gas producing regions in the world.
MPE's other partner is Cirque Resources LP, a private company based in Denver, Colorado, led by two-time Wildcatter of the Year, Peter Dea.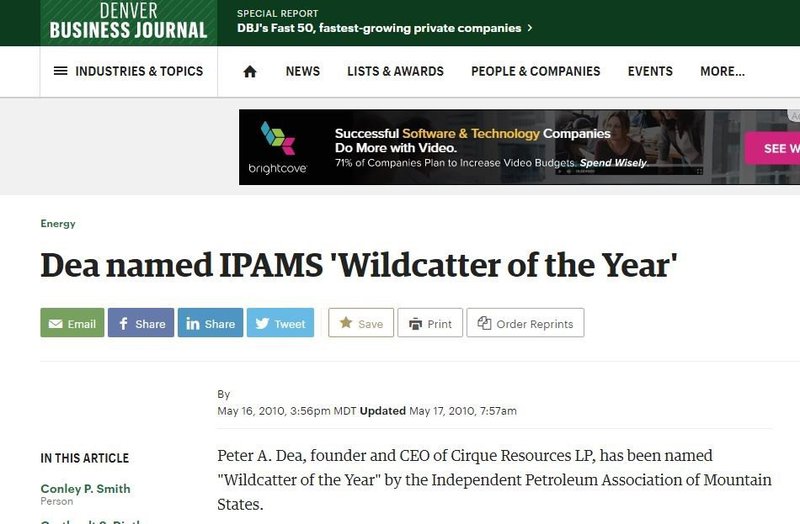 According to DJ Carmichael analyst, Michael Eidne, the key to success at Tulainyo will be well control, indicating that drill techniques will include use of an oil-based drilling mud vs a water-based mud , higher mud weights and increasing the number of casing points .
You can read Eidne's full report here for more information about these drilling techniques, which have been used successfully in the past.
Why the Sacramento Basin?
You may have gathered by now that MPE has entered the Sacramento Basin because it is a prolific natural gas province, and is rich in infrastructure that will enable rapid commercialisation of any gas discovered.
MPE has access to California's hungry gas market via a comprehensive gas pipeline network running through the state — a direct pathway to monetisation.
Overall, the Sacramento Basin has been a significant gas-producing province for decades, yielding more than 11 trillion cubic feet of gas.
As mentioned, the Tulainyo Gas Discovery structure comprises a large anticline with up to 91 square kilometres of closure. It has a strong surface expression, gas seeps, and gas encountered by historic drilling.
The Basin looks like this: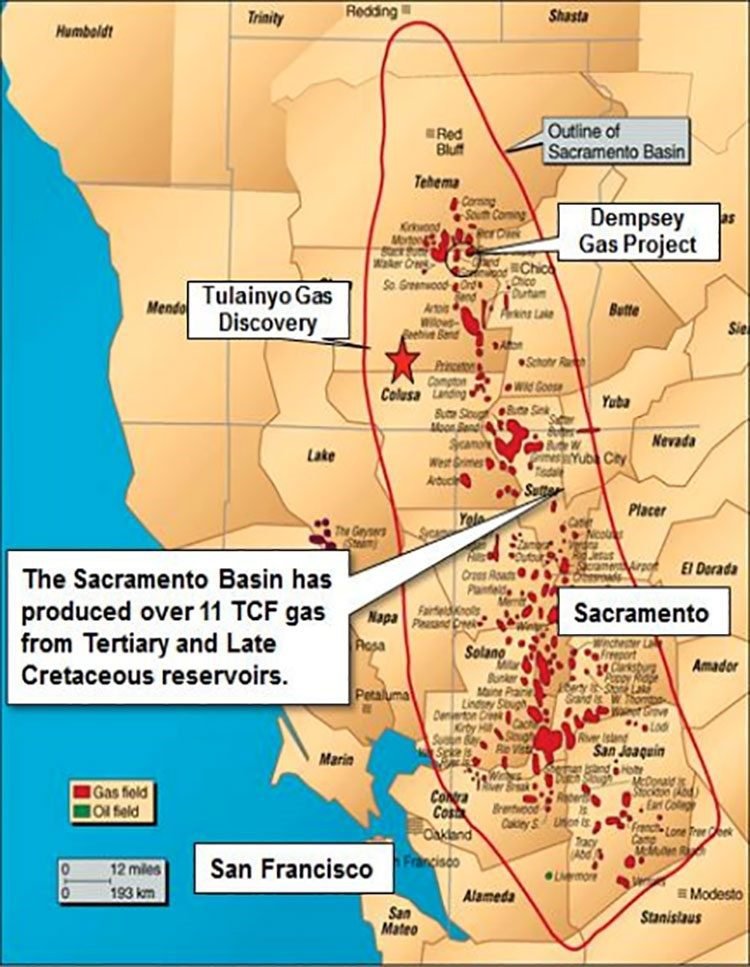 In terms of scale, Tulainyo is reminiscent of, but significantly larger than, the Dempsey well, which is also situated in the Sacramento Basin, and has gross unrisked best estimate recoverable prospective resources of 1 trillion cubic feet.
For a more in-depth look at the Tulainyo-1 discovery well and the drilling that has been undertaken in the past, take a look at our previous article, The Countdown Begins: ASX Stock Days Away from Drilling US$6BN Potential Gas Resource .
The basics, however, are these...
High gas shows of 1,000 to 5,000 units were recorded against elevated mud weights.
Although the sands could not be tested, historic drilling, including the most recent well, indicated that the entire anticline could be gas charged.
Tulainyo-2 will be a 'proof of concept' well to evaluate and flow test the gas sands penetrated at depths less than 1,700 metres by the Tulainyo-1 discovery.
MPE is now aiming for substantial gas production to supply the considerable 2.5 trillion cubic feet per year demand of the California gas market...And with drilling now underway, it shouldn't be too long before we find out of this target is realistic.
The macro outlook
Based on current prices, the Tulainyo project has a potential in ground value of US$6 billion, of which MPE has the ability to earn $1.2 billion.
California only produces a sixth of its annual gas demand, and is expected to import 98% of its natural gas requirements by 2025. A massive jump in supply is needed here to meet this growing demand and to mitigate the state's current energy supply deficit.
The following report lays out the current situation in California and the importance of new gas discoveries: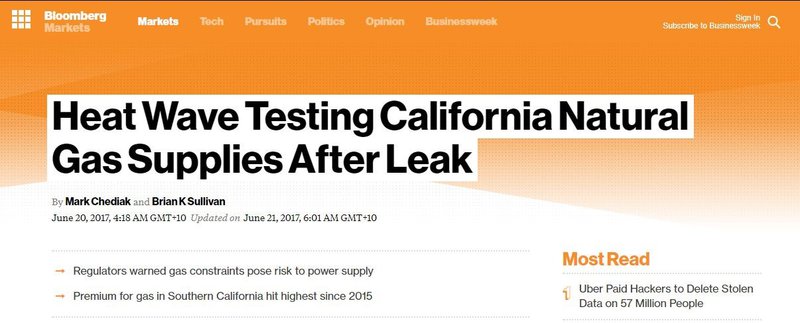 Given this, if MPE manages to strike large, commercial gas quantities at its appraisal well in the coming weeks, it could very well stand to emerge as a significant disruptor in terms of these uneven supply-demand dynamics.
It should be noted though that MPE is a highly speculative stock, high risk stock and investors should definitely seek professional financial advice if considering this stock for their portfolio.
Also boding well for MPE are upwardly moving energy prices. Oil prices are lifting substantially, and this leverage is expected to lift gas prices in turn. This is where oil is currently sitting...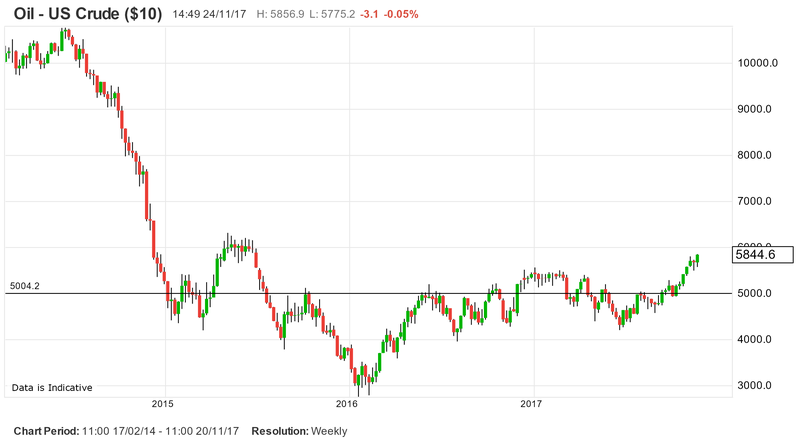 ...and it's anticipated that gas will follow suit.
What now?
MPE has the contractual rights to earn into 33.33% of the Tulainyo Project — a 6 trillion cubic feet prospective resource — and a multi-billion dollar net value to MPE if confirmed.
With drilling now underway, we will soon find out how just strong MPE's investment into this project will be.
The company is well funded, yet remains at a market cap of just $9 million.
We are now just weeks away from knowing whether this company's value will dramatically increase... and precisely just how blue this blue sky really is.
---