Maiden Well Spudding Imminent for RLE's Red Hot Cooper Basin Gas Play
PUBLISHED: 15-08-2014 08:55 a.m.
The papers have been signed. The drill rig is on its way. The target: large quantities of gas in the Cooper Basin – Australia's prime oil and gas producing region. Real Energy Ltd (ASX:RLE) is gearing up for its maiden drilling programme that will see it spud its very first well in the 2 million acres of land it holds there. This is just the beginning – and the timing of this giant step for RLE is right at the confluence of some major events in the Cooper Basin. An international bidding war continues over another Cooper Basin junior, Ambassador Oil and Gas, valuing Ambassadors acreage at $184/acre. Both Ambassador and RLE are at a similar stage – no wells drilled yet, a large in place resource, same play type, and their neighbours wells have good quality data... But RLE's acreage is valued at under $15 /acre. That is more than 12 times less... And now RLE is about to start drilling – in just a few weeks. There must be some cashed up eyes on RLE, given it is the last remaining ASX listed junior with 100% ownership of its projects and its valuation is so low. So we have a maiden drilling programme for RLE coming on strong while an M&A feeding frenzy is churning up the red dirt of the Cooper Basin. International investing attention is focused on the Cooper Basin and the huge valuation figures allocated to Ambassador's acreage. If RLE can unlock further prospectivity in the current drilling campaign, it could be a prime takeover target right when prices have been pushed sky high by the bidding war for Ambassador....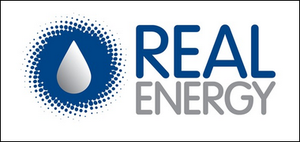 Real Energy Corporation Limited
We originally covered RLE's Cooper Basin play in the article International Feeding Frenzy In Australia's Hottest Shale Gas Region Puts Undervalued Junior On M&A Radar . Since that time, RLE has impressively gained in value, as high as 40% since we called it, and they haven't even started drilling yet:

The past performance of this product is not and should not be taken as an indication of future performance. Caution should be exercised in assessing past performance. This product, like all other financial products, is subject to market forces and unpredictable events that may adversely affect future performance. At The Next Oil Rush we always do our homework before we invest in any company and we recommend you do the same. RLE has a lot of moving parts but the most important thing to understand is that its land holdings within the Cooper Basin are the very last prospects 100% owned by an ASX-listed junior . RLE is the last man standing – and with a large cash backing it's now using this solid footing to drill down into the Cooper Basin's highly prospective ground and look for a huge Basin Centered Gas play. If commercial quantities of gas appear within reach then RLE is sure to become takeover target number 1 – or a big gas player in the Cooper with 100% control of its destiny. Either way, RLE stands on the cusp of a stream of catalysts that, with a bit of luck and lots of thorough geology, soon make its current $45M market cap look like chicken feed. Fosters Analyst Haris Khaliqi recently initiated coverage on RLE, allocating a price target of $0.75 – that would be a 170% gain for current levels: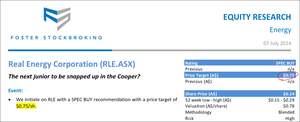 Just in case you can see that price target:

We don't soley rely on Analyst price targets – they can get things wrong, and it's only one tool we use when making an investment decision. Mr Khaliqi highlights the maths of the Ambassador deal and uses it to show the possibilities for RLE. Under the terms of Drillsearch's (ASX:DLS) offer to Ambassador (ASX:AQO), Ambassador is valued at $55M for a company that owned only 47.5% of its project – much higher than RLE's current $45M market cap. That is a significant premium when you consider that RLE is being traded a valuation of around $15 per acre and the offer for AQO is $184 an acre – 12 times more than RLE. Mr Khaliqi says RLE and AQO share many similarities – both have large in place resources, the same play type and what it says is good proximal well data. Yet AQO is valued much higher. Mr Khaliqi also notes that the average value being paid by acquirers or for farm in transactions in the Cooper is $493.80 per acre. RLE have a lot of growing to do! Remember – these valuations are only a guide – there is no guarantee the valuations or price targets on RLE will be met. In this article we're going to run you through all of the very latest news from the front lines as RLE seeks its fortune in the Cooper. Let's continue to drill down into the detail...
Our Track Record
Regular readers of our sites will be familiar with our long-standing interest in high potential stocks. To note just a few:
The past performance of these products are not and should not be taken as an indication of future performance. Caution should be exercised in assessing past performance. These products, like all other financial products, are subject to market forces and unpredictable events that may adversely affect future performance.
Maiden drilling programme for RLE's Cooper Basin gas play
RLE has just taken a giant step toward becoming an oil and gas producer in the Cooper Basin. It's just inked a drilling contract with Ensign International – a top notch energy explorer – to spud the maiden well at its vast Cooper Basin holdings.

The well to be spudded is called Tamarama-1 and sits inside RLE's highly prospective and 100% owned ATP927P block. Work is slated to start in just a few weeks' time. Ensign's Rig 916 will be to be used to spud Tamarama-1 and the deal has the option for two additional wells – Avalon-1 and West Flynnes-1 – which will be drilled depending on the results of Tamarama-1. As you can see on the map below, all of the wells are in close proximity: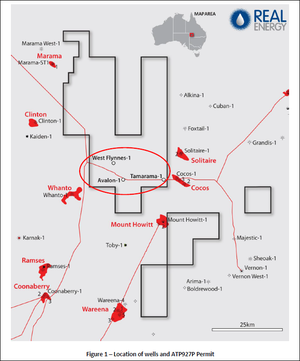 The ATP927P block that holds all of these prospective wells is surrounded by proven and producing gas and oil fields operated by the energy giant Santos. RLE's Tamarama-1 well is aimed at confirming the presence of gas in the Toolachee and Patchawarra formations within the block and testing whether there is enough gas in reservoir to support production. RLE's secondary objective of the Tamarama-1 well is to obtain samples from the Toolebuc Shale to further its knowledge of the potential shale oil play within the block. The well is expected to take two and a half weeks to drill and complete.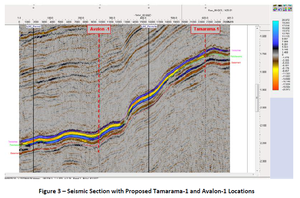 RLE is about to find out whether all of the blood, sweat and tears its sunk into the Cooper Basin may one day pay off. An independent geologist's report for RLE estimated that the Permian section in ATP927P and the neighbouring ATP917P block contains approximately 10.2TCF of Basin Centred Gas (BCG). Basin Centred Gas (BCG) is a type of unconventional gas resource that accumulates in a basin like trough underground. We'll find out soon if the theory matches the reality. If RLE can confirm the presence of a Basin Centered Gas play then it will join the ranks of all the other Cooper Basin players with more confirmed energy resources and much bigger valuations. However, a negative result in RLE's drilling shouldn't affect it too much. The drilling programme has been structured so that if Tamarama-1 disproves the existence of BCG it can be paused and other areas within RLE's vast Cooper Basin land bank can be tested for other forms of hydrocarbons. The next steps for RLE are to get the drill rig moved on site and for the spudding to take place. We expect to see regular updates from RLE about this work.
We think this is a big milestone for RLE. RLE is the last remaining junior explorer in the Cooper with 100% ownership of its projects. If RLE can confirm a big gas resource at ATP927P it will become a big takeover target – or a big gas player. Either way, at The Next Oil Rush we're happy we're long term investors in RLE who can come along for the ride.
Diplomacy goes out the window over Ambassador
In The Next Oil Rush's original article on RLE we said the 'yanks were coming' to the Cooper Basin after a leading Houston-based energy investment bank called Tudor Pickering Holt told its deep pocketed customers the region is one of the best shale prospects outside of America. Shale oil and gas is a colossal industry in America right now – US gas production from shale formations has risen 12 fold in the last decade and is expected to account for up to 45% of US production by 2030. So it looks like America's shale oil players are looking for a new game – and the Cooper Basin where RLE is operating is high on the list. In fact, a lot of American money is being thrown around in the Cooper right now and it's hitting the headlines too after a recent takeover war escalated between ASX listed oil explorer Drillsearch and US shale whale Magnum Hunter over the acquisition of Ambassador Oil and Gas. Some big number were being thrown around however now it appears that Drillsearch might have won out :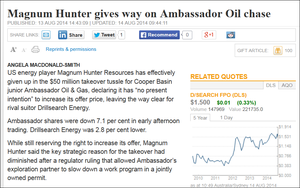 Takeovers are nothing new in the Cooper – there has been a flurry of M&A with every junior in the region being targeted in one way or another. But Ambassador's takeover bid has ended up erupting into a tug of war. Ambassador has an oil and gas project called PEL570 in the north-east of South Australia which taps into some of the thickest coal seams in the sprawling Cooper Basin. It's a hot project and giant company Drillsearch, capped at over $600M, a much bigger Cooper Basin rival to RLE, recently bid $50M to acquire a controlling stake in Ambassador. The latest update on the dueling companies fighting over Ambassador are as follows:
Drillsearch are offering $0.327 per Ambassador share
Magnum Hunter are offering $0.275 per Ambassador share
We are keeping a close eye on these events as they unfold. So what does this mean for RLE? Significant upside and strong growth – if the acreage valuations are anything to go by. Currently RLE's acreage is valued by the market at around $15/acre – Ambassador's is valued at $184/acre.... almost 12 times more. Remember, RLE is the last of the Cooper juniors with 100% control of its projects. For how much longer we don't know – the bidding war for Ambassador has surely focused a lot of attention to the Cooper Basin – especially with the involvement of a big American shale company – and RLE's assets appear to be getting more attractive. If Magnum Hunter was willing to bid so much cash and go to such great legal lengths to secure a share of just one Cooper Basin oil exploration play then how many other Americans are keen to get involved? Or British, or Chinese, or wherever. RLE has a huge position in the Cooper Basin and some American or other national's cash in the form of a farm-in partner or even a takeover offer would be a boon for its investors. This high profile bidding war could also have a knock-on effect for the valuation of RLE's assets. After all, they are only worth what someone is willing to pay for them. If $184/acre is a good figure to go by then we're off to a good start!
A quick guide to RLE's Cooper play
The very latest company presentation from RLE goes through all of the ins and outs of the company's strategy but we're going to run you through the main points quickly. We're long term investors in RLE and these are the stand out points for us: RLE's big goal in the Cooper is to certify 3P (Proven, Probable and Possible) reserves in excess of two trillion cubic feet (TCF) of gas in the Cooper Basin. That's a lot of gas – and with the management team in place who have runs on the board, we reckon RLE have a strong chance of doing it. After all, the company controls nearly 8,314km2 (nearly two million acres) of land in the Cooper Basin which is one of Australia's premiere gas regions especially when it comes to unconventional exploration. It owns 100% of every single project it has in the Cooper-Eromanga Basin.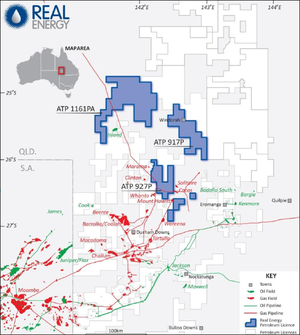 RLE is pursuing a basin-centered gas play while also developing conventional oil targets and shale oil and gas targets. If it's there to be exploited, RLE is all over it. If it can drive its assets all the way to production – without getting taken over first – then RLE will be in a great position. Prices on the east coast of Australia are high and the Cooper basin is crisscrossed with pipelines that connect its gas basins directly to the capital cities on the east coast. Plus, the growing demand for gas from Asia will snap up RLE's energy products too. In Queensland, there is a flurry of activity to build massive gas export facilities which will make Australia Asia's gas hub.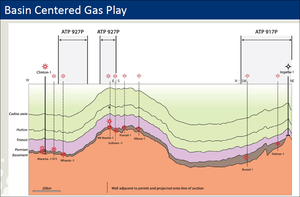 So that's the big picture. Now let's drill down into the operations RLE has underway on the ground. A good guide for this is RLE's latest quarterly report. The main focus for RLE right now is its ATP927P block where a large exploration effort is underway including its 2014 drilling programme. RLE owns two other huge blocks but they will only be developed once ATP927P is underway. Together, the three blocks are estimated to contain:
18.5BN barrels (best estimate initially in place) of unconventional oil in shallow formations
20tcf of P10 gas initially in place in deeper formations
21M barrels of conventional oil (best estimate of prospective resource).
That's a lot of energy resources; and the successful drilling of wells at ATP927P is crucial for RLE's future development. Three well locations have been selected at ATP927P which is at the heart of RLE's basin centered gas play. The wells are called Tamarama-1, Avalon-1 and West-Flynnes-1 and RLE has spent the quarter completing all the necessary permitting and cultural heritage surveys in order to commence drilling them. RLE has also mapped a number of Jurassic and Triassic oil prospects on the block after it reinterpreted seismic data accumulated over the years. The drilling programme focused on ATP927P and the Tamarama-1 well is RLE's main game right now and success there will unlock the potential of the rest of its huge land bank in the Cooper Basin. The idea here is to de-risk the assets there and get cash flow – then develop more wells and resources and keep repeating the process until the vast land holdings RLE controls are a huge oil and gas field.
Spudding and drilling and drilling and spudding
RLE says its maiden drilling programme at ATP927P will start in early September – that's only a few weeks away now. Target number 1 is Tamarara-1 – after that there could be two more – Avalon-1 and West-Flynes-1 depending on the success of the maiden drill. RLE is going after a huge prospect in the Cooper Basin – a Basin Centered Gas Play – and success could very well be the making of this company. Remember, RLE has three huge land holdings in the area so this is just the beginning. In the lead up to the spudding of Tamarama-1 we expect to see a lot of activity – the drill rig being moved into place, work crews being engaged and RLE telling the world about it. This company is the very last of the ASX-listed juniors operating in the Cooper with 100% ownership of its projects. If it finds a big gas resource then it will very likely become take-over target number 1. Ambassador is being fought over in an M&A tug of war between Drillsearch and Magnum Hunter with figures being thrown around like confetti. Just how much might someone pay for RLE's 100% owned Cooper Basin assets if it finds a big Basin Centered Gas play? The only way to find out is to drill and the countdown to RLE's well spudding has begun. Only a few weeks to go now. We can't wait to see the first results.
---