Which Junior Oil Company is Being Chased Around Africa by Woodside?
PUBLISHED: 08-09-2014 11:56 a.m.
Lately we've noticed an interesting trend in transactional activity in Africa. Energy giant Woodside Petroleum has been taking up acreage positions around Africa which closely corresponds to Australian junior Pura Vida Energy (ASX: PVD) . The similarity in Woodside's 'Atlantic Margin Strategy' and the acreage portfolio held by PVD is striking. Woodside have recently acquired acreage in offshore Morocco, Gabon, and East Africa – all areas where PVD holds an interest, and has done for quite some time. PVD is more advanced in their exploration efforts than Woodside, and when you compare PVD's tiny $60M market cap to the goliath Woodside's $30BN, it is easy to see which company is more leveraged to oil exploration success. These latest developments strengthen our view that PVD is emerging as a serious African oil explorer. As we await news on a farm-in partner on PVD's Nkembe offshore block in Gabon, a few weeks ago Italian oil major Eni announced a pre-salt discovery to the north of PVD's block. Eni plan to continue drilling to find out the size of their discovery – this follows on from other discoveries offshore Gabon, which we will go into detail later. Another two exploration wells are being drilled right now to the south of PVD's Gabon block by ExxonMobil and Shell – we are following these drills closely – any discoveries may be a catalyst for PVD and should improve the value of their acreage. PVD has also announced a significant resource upgrade to their Gabon block – with the net mean prospective resource (unrisked) now 1,344 mmbbo. This new prospective resource (unrisked) was reached by PVD's technical team who scoured existing seismic data and found a fistful of stacked prospects right across Nkembe. PVD's Nkembe Block has gone from highly promising to highly prospective and PVD is now going to use this new data to attract top tier farm-in partners and then, fingers crossed, start drilling into some of Africa's hottest offshore acreage. So the pre-salt potential of Gabon continues to build, and PVD's own target resources have increased – this is all positive news for PVD during farm-in partner negotiations. A successful farm out in Gabon would likely include drilling to test multiple targets plus covering of PVD's past costs – which would be nice... Turning to Morocco, PVD are on the home stretch to drilling billion barrel targets – just five months away now. The drill ship is now en route to Morroco – you can follow its progress on the live map below. Soon we will witness the investment fervour of a huge drilling event – PVD are part of a JV holding a block of potentially 7BN barrels of oil (unrisked targets) – net to PVD is 1.6BN barrels. The first well will target a gross mean resource potential of 1.5BN barrels, with 23% net to PVD. That will be the first spudding of a two well, US$215M farm in deal PVD scored with Freeport McMoRan – two bites of a billion barrel oil cherry for PVD. PVD are free carried for both of these wells... As long term PVD investors ourselves, we are set now and are anticipating a pre-spud ramp up of share price as late investors pile in at likely premiums to current levels. It's shaping up to be an active summer. Not only are we looking forward to this drilling, we are expecting that news of a Gabon farm out to land any day now – surely before the end of the year... PVD had over $20M in the bank account with no debt at the end of the last quarter and are fully funded for upcoming work commitments all the way through 2015 – the chances of further dilution for us long term PVD investors in the near term seems unlikely. Throw in the upcoming seismic survey at PVD's Madagascan acreage and a flurry of nearby drilling activity over Africa, and we are set for some active upcoming months.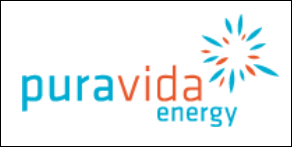 PVD is an African explorer with acreage in three highly touted offshore African oil regions: Morocco, Gabon and Madagascar. As PVD investors ourselves, we have been covering the PVD story for a while now, ever since our initial article: "Why Has This Stock Got Analysts Predicting Four Thousand Percent Gains?" When PVD added Madagascar to their portfolio, we updated readers: "Broker predicts 440% rise for Cashed up Junior: Morocco, Gabon and now Madagascar. Is it a brave prediction?" And in April 2014, we published PVD Offshore African Oil Steal ... highlighting PVD's severe undervaluation. Now we have edged closer to PVD's first high impact drilling event in Morocco – PVD's ultra-deepwater drill ship the Atwood Achiever is now en route to Morocco , you can track its progress here: [sd_shipping zoom='2′ mmsi='538004649′ imo='538004649′] In addition to the major drilling event in Morocco, PVD is taking giant strides at its other African oil projects in Gabon and Madagascar – this article will run you through all the latest news.
Our Track Record
Regular readers of our sites will be familiar with our long-standing interest in high potential stocks. To note just a few:
The past performance of these products are not and should not be taken as an indication of future performance. Caution should be exercised in assessing past performance. These products, like all other financial products, are subject to market forces and unpredictable events that may adversely affect future performance.
Why is Woodside following PVD?
As we indicated above, we have noticed an interesting trend in transactional activity in Africa. Energy giant Woodside Petroleum (ASX: WPL) has been taking up acreage positions around Africa which closely corresponds to PVD. The similarity in Woodside's 'Atlantic Margin Strategy' and the acreage portfolio held by PVD is emphatic. Consider the following:
PVD holds a 23% interest in the Mazagan deepwater block offshore Morocco (this is where PVD expects to spud its first well in January 2015... less than 5 months from now!).
Earlier this year, Woodside acquired a 25% interest in the Rabat Deep block, offshore Morocco.
In early 2013, PVD was awarded an 80% interest in the Nkembe block offshore Gabon.
This month Woodside announced the acquisition of a 40% interest in block F15 offshore Gabon.
The similarities don't end there. Across the continent in East Africa, Woodside recently acquired a 70% interest in the Lake Tanganyika South block in Tanzania . Again, PVD already has a huge (17,000km 2 ) acreage footprint in the East African region with a 50% interest in the Ambilobe block offshore Madagascar . Woodside has been hot on the tail of PVD and we see this as a strong endorsement of PVD's strategy and the quality of its exploration portfolio. Woodside has been making much of its global growth strategy focusing on Africa, but it appears this canny junior has got the jump on them. Woodside CEO Peter Coleman, said the following in their press release on the Gabon acquisition: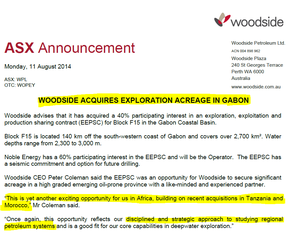 We like the African exploration strategy being pursued by Woodside and PVD, but we see PVD as the most highly leveraged African explorer in the Australian market, with a market capitalisation of around $60 million – versus Woodside's $30 Billion. PVD will be drilling deepwater wells of Morocco in January and September 2015 and their exploration efforts are well ahead of Woodside's. With a US$215m fully funded offshore drilling campaign, this little junior is quite an overacheiver – way ahead of the $30BN Woodside in terms of Moroccan exploration. The comparison with energy giant Woodside may seem a little far-fatched, but PVD is a serious explorer with a fully funded deep water drilling campaing targeting over a billion barrels next year. Whilst PVD remain a high risk exploration company, their potential is huge and the prospects for success are real, with $US30 billion US resources giant Freeport McMoRan partnering with them in the Moroccan drilling campaign.
Recent discoveries in Gabon prove pre-salt potential likened to Angola and Brazil
This month Italian oil major Eni announced the Nyonie Deep well had made a significant pre-salt discovery offshore Gabon to the north of PVD's Nkembe block. Eni announced that the well encountered a 320 meter gas/condo column and gave a preliminary estimate of 500 mmboe. Eni have already flagged their intentions for further drilling to delineate the scale of this discovery. Nyonie Deep is a significant discovery in the pre-salt and comes after a number of other significant positive news for the pre-salt potential of Gabon, namely:
The giant Rabi Kounga oil field (800 mmbo) which produces onshore to the east of PVD's Nkembe block with peak production rates of 230,000 barrels of crude per day;
The pre-salt discovery made by French oil major Total last year with Diaman-1B well to the south of PVD's Nkembe block;
The discovery in July this year by Tullow of a pre-salt field onshore to the east of PVD's Nkembe block with Igongo-1 well encountering 90 meters of net oil and gas pay.
The Eni discovery extends pre-salt play into northern offshore Gabon, meaning the pre-salt fairway runs right through PVD's Nkembe block. We understand Eni intends to bring the field quickly on-stream through existing infrastructure. The map below shows the pre-salt discoveries and producing fields around PVD's Nkembe block (shaded in orange):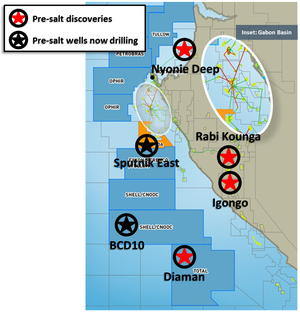 Source: Pura Vida Energy
This string of discoveries couldn't have come at a better time for PVD as they are currently seeking a farm-in partner to fund drilling on the Nkembe block. Gabon is running hot and we have confidence based on PVD's track record that they will achieve a good outcome. At the time of writing, two other exploration wells are currently being drilled to the south of the Nkembe block are being drilled by ExxonMobil and Shell respectively. In our view, a discovery from either of these wells will have a positive impact for PVD both in terms of its share price and the likely farmout terms/value management will be able to achieve. Gabon is looking like going the way of other significant pre-salt basis such as Brazil and Angola. The recent discoveries provide a strong endorsement of PVD's strategy to position itself in basins where there is play-opening drilling activity. The strength of the industry interest in Gabon is evident from the recent deep water bid round which saw over US$1 billion in investment made by the industry across 7 new licences. The Gabonaise government also announced signature bonuses of up to US$45 million per block. PVD has positioned itself in the heart of the oil and gas activity in Gabon and all signs point to another repeat of their success farming out Morocco which saw them secure a US$230 million deal with Freeport McMoRan.
Over $20M cash at bank
After a round of cost cutting, PVD had $20.4M cash at bank at the end of June 2014.

In addition, PVD has US$215 million in funding on its Moroccan project via the farm-out deal it has done with Freeport McMoRan. This will fund the two deep water exploration wells next year. This large sum of cash means that PVD is fully funded for the next 12 months of work – including the upcoming 3D seismic program in Madagascar in late 2014 which was part of the deal to allow PVD to farm into 50% of the Madagascan asset from Sterling Energy plc (AIM:SEY). As PVD investors, this high level of funds is a great positive, as it means that PVD is unlikely to raise any more capital anytime soon – so no further dilution for now. Plus, PVD is now debt free . The company recently paid $2.4M AUD in full and final settlement of the debt facility it negotiated to partially fund the acquisition of the Nkembe block offshore Gabon.

PVD has an 80% share of the block with the remaining 20% held by the government. PVD can now say it truly owns its share of this highly prospective block. Remember, PVD has just announced a massive upgrade for the net mean prospective resources (unrisked) at Nkembe from 815mmbo to 1,344mmbo based on new interpretations on recent seismic data. More on that below. The next catalyst we are looking out for in Gabon is PVD bagging a farm-in partner to help exploit the potential of this new oil lead. The big takeaway from the recent quarterly is that PVD's books are clear. Its balance sheet simply read $20.4M AUD in cash with no debts. PVD is fully funded on currently planned forward activities. The US$215M free carry for two deep water wells in its Mazagan Permit offshore on Morocco certainly helps things. Current well cost estimates are below this – approximately $70M and $90M for each one. So as it stands PVD is well covered under the $215M USD free carry deal, however if there are large cost overruns, PVD may have to fund its 23% share. PVD has no other obligations or other priorities – just explore, drill, and hopefully hit some commercial quantities of oil. At The Next Oil Rush we expect to see a slew of announcements from PVD in the coming months – hopefully saying it's got some top tier partnerships in the works for the Gabon acreage. Watch this space...
Oil Investing 101
Sentiment for oil exploration is currently low, creating good value investment opportunities – the fundamentals have not changed. Investing in companies like PVD is a high risk, high reward proposition. Exploration drilling results often lead to binary outcomes, with low chances of success. However if a significant oil discovery is made, large returns can be made. One find can lead to more, with fairways of oil being uncovered... It has happened before, and it will happen again. There are multi-billion dollar success stories out there. PVD is hoping to follow in the steps of some of these companies:
Cove Energy plc: Cove's market cap has increased from below 50 million GBP to in excess of 1 billion GBP in only two years. Cove put itself up for sale following their success, which culminated in a $2BN AUD takeover by PTTEP, who trumped Shell in a bidding war.
Kosmos Energy: Founded in 2003, Kosmos focussed on underexplored regions of the world, and in 2007, discovered the giant Jubilee Field offshore Ghana. In 2011 they went public, raised $500M on the NYSE and are now capped at over $4BN USD.
Hardman Resources: In 2000, Hardman had a market cap of just $27M – fast forward to 2006 and they received a takeover offer from Tullow Oil for $1.BN after finding commercial quantities of oil in offshore Mauritania.
Tullow Oil: Tullow listed in 1987 with just one exploration licence in Senegal – in 2007 it recorded its largest ever discovery, the Jubilee field offshore Ghana – they went on to make 17 discoveries from 22 wells drilled in 2008 – now they are worth close to $14BN.
The past performance of these products are not and should not be taken as an indication of future performance. Caution should be exercised in assessing past performance. These products, like all other financial products, are subject to market forces and unpredictable events that may adversely affect future performance. We invested in Africa Oil Corp (TSX:AOI) early and told you all about it in our Next Oil Rush Tip of the Decade – after making their big discoveries, AOI has been up over 600% since we called it: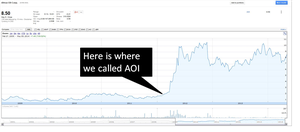 The past performance of this product is not and should not be taken as an indication of future performance. Caution should be exercised in assessing past performance. This product, like all other financial products, is subject to market forces and unpredictable events that may adversely affect future performance. PVD are in the high risk / high reward business of oil exploration – any oil discovery would make them a very successful company. But this may not happen. To mitigate risks as much as possible, PVD have a clear strategy, multiple assets in high potential regions, and will be drilling in a few months' time...
What are the analysts saying about PVD?
Recent analyst reports have given encouraging signs of the potential inherent in PVD. Hartley's analyst, Simon Andrew recently gave a 12 month price target of $1.14 /sh – that's almost a 150% gain from today's levels:

Just in case you can't see it: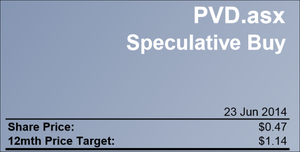 While seemingly very positive, analyst reports aren't the only piece of information we make an investment decision on – they are just one of many tools we use. Andrew goes on further with a 'risked' valuation of $2.29 /sh – almost a 400% gain from today levels:

Andrew also reiterates that PVD is a high risk, deep water offshore oil explorer. PVD may never reach these levels. Mirabaud's group of oil and gas analysts also recently ran the numbers on PVD, and found a price target of $1.04 /sh – that's 120% more than PVD's share price today: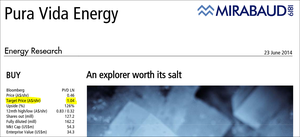 If the writing above is too small, here is the price target zoomed in: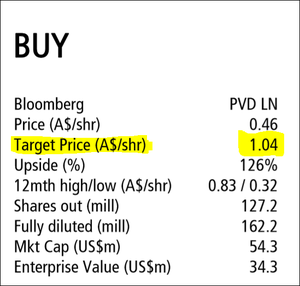 The UK Mirabaud oil and gas team are an esteemed group – but they don't have a crystal ball – so there's no guarantee this price will eventuate for PVD. In their report on PVD, Mirabaud also go into blue sky territory, speculating what might be if PVD was successful on the Moroccan drilling venture; if both wells found large quantities of oil, PVD may be worth up to $37.96 / sh – that's a gain of over 8,000% from today's levels:

Sounds almost too good to be true – the above price target is unrisked and completely blue sky – the chances of PVD getting to levels this high is extremely low! A recent report by Euroz analyst, Michael Skinner found a price target of $0.75 /sh, this represents a gain from today's levels of over 60%:

Skinner is another experienced analyst, but he can't say for sure what might transpire in the PVD camp – PVD may not reach these levels. Skinner also speculated on PVD's price if Morocco's drilling hit the bullseye, and vast quantities of commercial oil was discovered: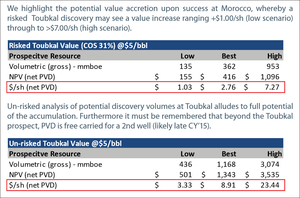 Unrisked, PVD could be worth up to $23.44 / sh by Skinner's calculations – almost a 5,000% gain. Once again, the chances of this are very low, and would only happen if everything went right into PVD's favour. Skinner also demonstrated the "period of opportunity" that PVD currently finds itself in. PVD's current share price appears very low and undervalued ahead of two major catalysts – the Gabon farm in and the first Morocco spud: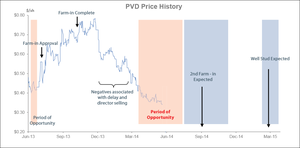 Given the major catalysts just months away, we aren't sure how much longer PVD can remain at these drastically low levels. The herd will catch on eventually...
PVD's Morocco drilling countdown
There are just six months to go before the first well at Mazagan is spudded. The approvals are complete, drilling is funded:

By the end of the year we expect a flurry of late to the party investors hopping onto PVD ahead of their Moroccan spud. It all stems from the farm out deal PVD struck with Freeport McMoRan last year to be free-carried for up to US$215M of exploration work with a firm commitment for at least two deep water wells. So PVD investors have not just one well to look forward to – a second well is expected in Q2 of 2015. This will be done from this beast of a drilling machine, which has already been booked for PVD:
Here is that live map again, so you can track the drillship's progress as it heads toward PVD's drill site: [sd_shipping zoom='2′ mmsi='538004649′ imo='538004649′] The stakes are high in this deep water drilling campaign. Here on their Moroccan acreage, PVD are shooting for the largest target appraised by any junior ASX listed company. The table below shows the size of the prize – the Mazagan Block may hold up to 7BN barrels of oil – that's a gross unrisked prospective resource. PVD hold a 23% interest in this block – so net potential to PVD is 1.6BN barrels – a large number by anyone's standards: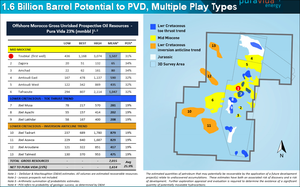 No one knows for sure how much is down there, we will have to wait and see once drilling starts in the New Year... To gain an idea of PVD's current market under valuation, this table created by Euroz Analyst Michael Skinner paints the picture of ASX company value vs best estimate well targets – you can see PVD way over to the right indicating it is the most undervalued of all its peers: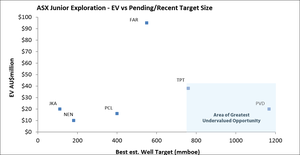 Note that this table assumes oil in the ground is worth $5/barrel, the AUD:USD exchange rate remains 1:0.92 for the long term, and PVD have $21.5M cash and zero debt. Also note that the above table is based on one Analyst's calculations and opinions, his undervaluation of PVD may not be correct. PVD's Mazagan Permit is in an area of Morocco said to be geographically similar to the Gulf of Mexico where billions of barrels of oil are sucked up from the seabed.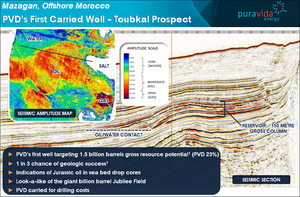 The Mazagan Permit is surrounded by acreage owned and operated by major oil and gas companies, and many have drilling events coming up – positive results from any neighbouring project will de-risk PVD's Mazagan play by providing valuable information and evidence of oil trends. The below map shows where PVD's acreage sits in relation to the other plays off the shores of Morocco. The orange block is PVD's: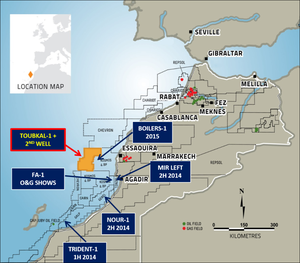 The key result PVD investors will be looking for will actually come in after PVD spud their first well. This is Kosmos' Boilers-1 well which is targeting a 4 way dip structure in the Cretaceous, a secondary objective for PVD. There are about five months to go until the anticipated start of spudding out at Mazagan... in the meantime we are looking forward to some action in Gabon...
Even More Billion Barrel Targets in PVD's Portfolio
815M barrels to 1.344BN barrels. That's quite a jump – over 60% – and PVD has just made it out at its Nkembe block in Gabon (those values are for a net mean prospective resources, unrisked).

PVD has an 80% net interest in their Gabonese block, which is within a proven hydrocarbon province. Remember, PVD investors are hanging on for a farm out announcement in Gabon – this would likely mean payment of back costs of US$16M to add to PVD's bank balance, plus a third well to PVD next year.... The boffins in PVD's technical team have uncovered what they're calling a 'pre-salt carbonate play analogous to significant discoveries offshore Brazil and Angola'. Pre-salt is the big prize in oil exploration off the coast of Africa and South America. In a nutshell, millions of years ago a massive layer of petroleum formed and was then covered with an immense layer of salt during the break-up of the super continents. The pre-salt layer can be found on the continental shelves and the most prominent area for its exploration is off the coast of Brazil where Petrobras estimates reserves of 50BN barrels of oil in the Santos Basin. But the pre-salt layer is also being exploited in Gabon where oil exploration and production has been going on for more than 50 years. Onshore, you can find the pre-salt Rabi-Kounga field with 800mmbo and there is now the Diaman-1B deep water well tapping into the pre-salt layer as well. In fact, pre-salt has dramatically accelerated Gabon's production. Take a look at this graph: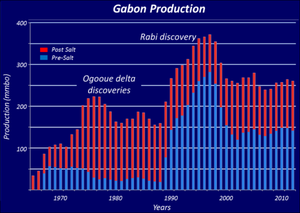 Major oil companies like ExxonMobil, Total and Eni are working to tap into Gabon's pre-salt potential with 10 wells planned for spudding soon. PVD's Nkembe project is fast heading towards being one of them. PVD's technical team reprocessed all of the existing seismic data that had been accumulated at Nkembe and identified a new play in the pre-salt layer contained in an area called the Syn-rift interval.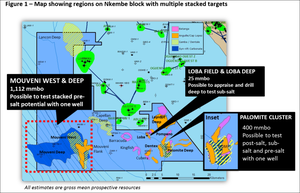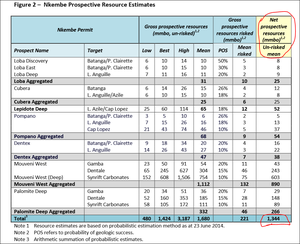 PVD says this new play could have carbonate Coquinas reservoirs – "rocks containing oil" in layman's terms. The inclusion of these newly identified prospects increases the total gross mean prospective resources (unrisked) on the block to 1,680mmbo with the estimated net prospective resources (unrisked mean) increasing from 815mmbo to 1,344mmbo. But it doesn't end there... PVD's technical work has also identified several areas which contain multiple stacked prospects in the Moveni region in the south-western part of the block. Think of an apartment building with each floor a new potential oil deposit – PVD can potentially drill from the top floor down and hit every one of the layers with just one vertical well... Intersecting multiple prospects are cheaper to drill and having a stack of them increases the overall chance of making a commercial discovery. Plus, in the event of success, one big deposit can be rolled in with a number of smaller ones. PVD says the Moveni region's stacked deposits signify that a single well at this location has the potential to test a combined net prospective resource of 890mmbo. Similar stacked prospects exist in the shallow water area at the Palomite cluster.

The bigger picture is that PVD has oil targets right across Nkembe which will go a long way toward attracting farm-in partners: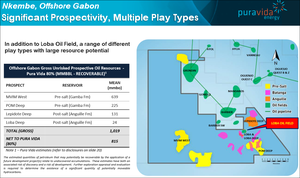 PVD has just shown the markets what it can do with a stack of seismic information – nearly doubling the potential resource it has at Nkembe with it. Imagine what's possible when a cashed up partner comes in and we get some 3D seismic going – then drilling. Surely a big player will step in soon and snap up the opportunity to hit a 1,344BN barrel (net prospective, unrisked mean) target... We would. But we're just common PVD investors, and we're happy enough with our long term position in PVD. As far as we're concerned PVD's current share price isn't reflecting the potential. To our investing minds this cannot last, especially when you consider the intensifying oil boom going on right now in Gabon...
PVD's Madagascar play accelerating
PVD has its fingers in many pies and another sweet one is that of Madagascar, the huge island off the coast of East Africa. PVD's oil play in Madagascar is called the Ambilobe Block and the company holds a 50% stake in the project. The other 50% is held by Sterling Energy plc (AIM:SEY). PVD will be shooting 3D seismic over its block, with the aim of dressing it up for drilling via a further farm out to a larger party... it's early days here but interest in Madagascar is rising following recent democratic elections and increased stability in the country. It's important to note that the funds for this seismic program are already in PVD's bank account. Madagascar is benefiting hugely from the accelerating oil projects onshore in East Africa where major oil companies like ExxonMobil, Total and Tullow are digging into the East African Rift System (EARS), a geographical band of oil bearing features spanning the region. Just have a look at all the dots on this map (red for gas and green for oil):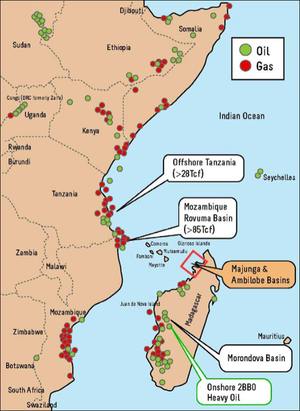 PVD's Ambilobe Block is on the north-west tip of Madagascar – the red square in the map above – inside a proven oil bearing basin. Ambilobe is right next door to the Ampasindava Block operated by ExxonMobil and drilling is expected there in 2015 :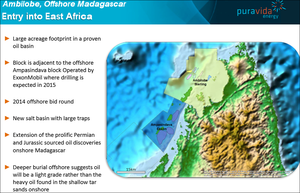 Even better than having a high profile neighbour is the discovery of a new salt basin in an area with large traps – all of it is an extension of the Permian and Jurassic sourced oil discoveries that are fuelling the oil boom onshore in Madagascar. PVD reckons the oil it has in Ambilobe is buried deep and is very likely to be light grade rather than the heavier stuff found on dry land – a much better proposition. Here's what PVD's initial seismic has turned up: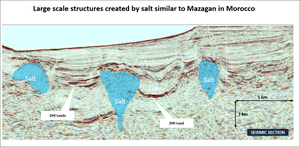 What attracted PVD to farm-in with Sterling Energy was the exploration potential revealed by the initial surveys, the position of the block, and the activity by the majors in the area. Sterling Energy holds the other 50% stake in the project. Part of the deal is that PVD will fund a new round of 3D seismic surveys over the block to the value of US$15M and we're expecting that to begin before the end of the year. Remember PVD have over $20M cash at bank right now – so there is no need for PVD to raise capital to fund this. So as you can now appreciate PVD is not a one-trick-pony. It's got three offshore oil projects on the boil – Madagascar, Gabon and Morocco – each of them surrounded by projects being spearheaded by some of the world's biggest oil companies.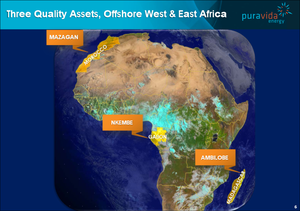 PVD is pressing ahead with major development work in each of its projects and the more we learn about each of them the better – and more potentially lucrative – they become.
Seven months of catalysts ahead for PVD
Three oil projects, three countries, one company that's moving fast toward some big drill targets. As PVD investors we are set up now for the likely pre spudding fervour – it's all ahead of us and we will be watching it unfold early next year, armed with the knowledge that we got in early. In Morocco , there's just six months to go before the expected start of spudding for one of PVD's free carried deep water wells. We expect a steady stream of announcements as we get closer to the start line. Don't forget PVD has also secured funding for a second free carried well in 2H 2015. In Gabon , PVD has set itself up nicely with a new resource evaluation that has almost doubled the potential for the black stuff in a pre-salt layer. The crucial next step is to get a farm-in partner who can help them drill it. With all the current drill activity, discoveries and attention on Gabon, we expect to hear something on that very soon... In Madagascar , PVD is funding a new round of 3D seismic surveys over the Ambilobe block to the value of US$15M and we're expecting that to begin before the end of the year. PVD's three oil plays in Africa are surrounded by neighbouring oil companies drilling and exploring. Any big discoveries offshore Morocco, Gabon or Madagascar could have a major impact on PVD – helping to confirm a wider resource it's may have a piece of, or making it more attractive to investors and building buzz for its own plays. PVD shares still trade at relatively low levels and that's left the door wide open for investors to get in at the ground level ahead of the pre-spud attention PVD will surely attract. The markets will only take more notice of PVD in the lead up to their first drilling event. We believe there are simply too many catalysts coming up for PVD to stay at these levels.
---