East African Oil - Hot Tip of the Decade!
PUBLISHED: 10-04-2012 18:12 p.m.
Africa Oil Corp
TSE:AOI
Chances are you are here because you have read my post on the start of the Great Oil Rush in East Africa and want to find out the red hot stock tip to capitalise on the once in a life time East African oil rush.
We are entering what is going to be a massive, decade long period of exploration and investment and lucrative takeovers by cashed up super majors trying to tap the Indian and Chinese markets – mind boggling fortunes will be made if played correctly.
I have been following oil and gas in East Africa for many years, and am familiar with the players and companies jockeying for position. I have taken positions myself in several promising explorers in the region, all the picks in my speculative stock portfolio have been scrutinised using my 16 crucial investment criteria. One East African explorer stands head and shoulders above the rest...
The following post will explain in detail which East African oil stock I have invested the most money in, and why I have chosen to make such a significant commitment to a single stock. I do hold a diversified portfolio, but this stock just stands out so much from anything else that is available that it was an easy decision to allocate such a significant investment to it. The stock has already risen over 100% in the last 12 months, and if my predictions are correct, an investment today should yield well over 1000% in the next 3 years... and I am being conservative.
If this stock does not go up significantly in the next 12 months, that I will be very depressed because I have put my money where my mouth is and I am in up to my eyeballs on this one!
So here it is – I promise, that if this plays out how I expect, this will be the best $4.50 you have EVER spent:
Great decision on buying the article and the tip! I am extremely excited about this company and have been for the last few years, all the action however is about to commence in the coming months. I should probably mention that I am just a guy writing about speculative stocks in booming sectors, and I am not a registered financial advisor, and the following post is information purposes only, please consult your investment advisor before making any investment.
Now that we have that out of the way, I predict that the super star stock of the next 3 years is going to be Africa Oil Corp (TSX:AOI, OMX:AOI). I hope you have purchased, read and understood my <a>16 crucial investment guidelines for investing in speculative stocks</a>. I am going to use these 16 investment criteria to analyse Africa Oil Corp.
But first let's get to the good stuff – entry price and exit strategy:
My average entry price is CAD$1.19 (price is CAD $2.07 at time of writing).
My exit target to sell 30% of my stock is CAD $3.90.
I plan to enjoy a free ride on the remaining 70% until AOI is taken over by a super major, and this is where I am hoping to bag a 1000% plus profit – more on this later.
An Introduction to Africa Oil Corp.
For those of you who have never heard of Africa Oil Corp:
Africa Oil Corp. is a Canadian oil and gas company with assets in Kenya, Ethiopia, Mali and Puntland, Somalia (through its equity interest in Horn Petroleum). Africa Oil's East African holdings are in within a world-class exploration play fairway with a total gross land package in this prolific region in excess of 300,000 square kilometers.
The East African Rift Basin system is one of the last of the great rift basins to be explored. New discoveries have been announced on all sides of Africa Oil's virtually unexplored land position including the major Albert Graben oil discovery in neighbouring Uganda. Similar to the Albert Graben play model, Africa Oil's concessions have older wells, a legacy database, and host numerous oil seeps indicating a proven petroleum system.
Good quality existing seismic show robust leads and prospects throughout Africa Oil's project areas. The Company is listed on the TSX Venture Exchange and on First North at NASDAQ OMX-Stockholm under the symbol "AOI".
This nice summary from the Africa Oil Corp website forgets to mention one important detail:
In September 2010, Africa oil signed a stunning farm out deal with large cap oil producer and experienced African operator Tullow Oil, Some details of this deal are as follows:
Tullow Oil plc takes 50% and operatorship in 4 AOI blocks in Kenya and one in Ethiopia.
Tullow will pay $10MM past costs and carry AOI for next $23.75MM of their share of costs.
Tullow is one of the most successful explorers in last decade and found the analogous
deposit in the Albert Graben of Uganda.
Tullow has drilled 35 out of 36 successful wells.
Tullow have a full operational team, particularly on the drilling side, that AOI would have had to build.
Tullow also will have a top notch G&G team who know rift basins better than anyone.
Tullow operates the Uganda export pipeline consortium and Africa Oil Corp will now have a front row seat at these negotiations.
Africa Oil and Tullow have set in motion an aggressive two rig drilling campaign from early Q1 2012:
3-5 wells in Kenya & Ethiopia Tertiary Basin
1-2 wells in Cretaceous rift basin
2 wells in Puntland-Somalia Jurassic rift basin through Horn Petroleum
1 well in Ethiopia Ogaden Permo-Triassic Basin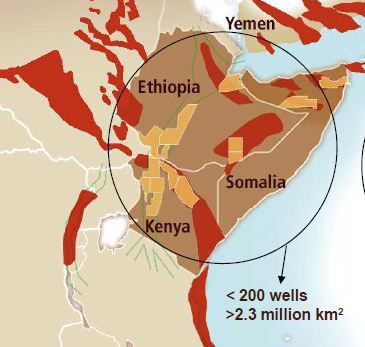 Net best estimate prospective oil resources are 5.3 billion barrels
Strong consolidated balance sheet with $118M cash that will fund all exploration activities through 2012
Now that we have finished our nice summary of Africa oil Corp, let's use the Next Oil Rush 16 crucial investment criteria to analyse Africa Oil Corp:
1 - Is the company operating in up and coming market sector?
Of course! The whole point of this blog is to analyse stocks operating in booming sectors, and nothing is about to boom harder than oil in East Africa!
Africa Oil Corp has spent the last few years consolidating its position in East Africa, snapping up all the most lucrative onshore blocks in Kenya and Ethiopia, and even Somalia.
You can't get more East African focused than Africa Oil Corp - definitely ticks the box of operating in an up and coming sector.
2 - Does the company have a small market capitalisation (< $200 million)
Well, it used have a market cap of less than $200 million... up to a few months ago the stock price started creeping up, and in the last month we saw the three following events occur, which have jolted upwards the value of every company operating in East Africa, including Africa Oil Corp:
2nd February 2012 - Tullow oil signed a deal with France's Total and China's CNOOC to sell two thirds of its East African assets in Uganda for $2.9 Billion:
Tullow Oil, Uganda sign asset sale deal
22nd February 2012 – Super Major Shell attempts a $1.6 billion takeover offer of Cove energy and its acreage in Mozambique and offshore Kenya, only to be blown out of the water by a $1.8 billion bid from Thai-PPT 48 hours later – The next move in this bidding war will be of great interest.
Thai PTT trumps Shell with $1.8 bln bid for Cove
23rd February 2012 – A conference is held in London to discuss Somalia - where "senior representatives from over 40 governments and multi-lateral organisations will come together with the aim of delivering a new international approach to Somalia" . Speakers include David Cameron and Hilary Clinton. The Guardian newspaper's "man on the ground" at the conference subsequently publishes the following articles:
(25th February) Britain leads dash to explore for oil in war-torn Somalia
(25th February) Somalia promises west oil riches as diplomats vow to defeat al-Shabaab
So we now see the market cap of Africa Oil Corp hovering around the $400 million mark, but considering the factors we will discuss in the rest of this article, $400 million looks very attractive indeed.
3 - How many shares are on issue? Are there any options or warrants?
Africa Oil Corp currently has 211.4 million shares on issue. There was a capital raising a few years ago which gave investors free attaching warrants with a forced exercise clause, but these were activated late in 2011, netting Africa Oil Corp a cool $56 million!
There are still 17.4 million warrants remaining – only about 8.2% dilution if they are exercised.
4 - Does the company have cash in the bank?
Africa Oil is cashed up! $118 million cash in the bank, nearly 25% of its market cap worth!
5 - What is the rate of cash burn? Will they need to raise capital before you top slice?
Africa Oil Corp is fully funded for the next 8 to 10 drills over the next 18 months. Their Joint venture partner and operator on the main blocks, Tullow Oil, paid $10 million of past costs as part of the JV, and will carry Africa Oil Corp for $23.75 Million
6 - What is the track record of management?
A few years ago, Africa Oil Corp (TSX.V:AOI) was just a dormant "shell" vehicle listed on the TSX.V that was majority owned by a prominent oil and gas dynasty out of Sweden – the Lundin family. The Lundins were waiting for a big project to park into this shell company. The Lundins own various resource companies around the world, most famously Lundin Petroleum, a multi-billion dollar oil company.
Over the next few years, Africa Oil Corp built up an impressive management team, and started acquiring oil exploration rights across East Africa, specifically Kenya and Ethiopia (and Somalia). It was clear that Africa Oil Corp was becoming the Lundin Families East Africa focused play.
The management team installed by the Lundins into Africa Oil Corp was the same team that engineered the creation, growth and eventual sale of Tanganyika Petroleum and Valkyries Petroleum. Tanganyika started as a 55c share minnow in 2002, and was sold to Sinopec for $31.50 a share in 2008. Valkyries started at 45c a share in 2002, and was sold in 2006 for $16 per share. Not a bad track record for this team, and if anyone can orchestrate monetising the oil in East Africa, these guys can. Here are some other plays produced by the Lundin's and their cohorts: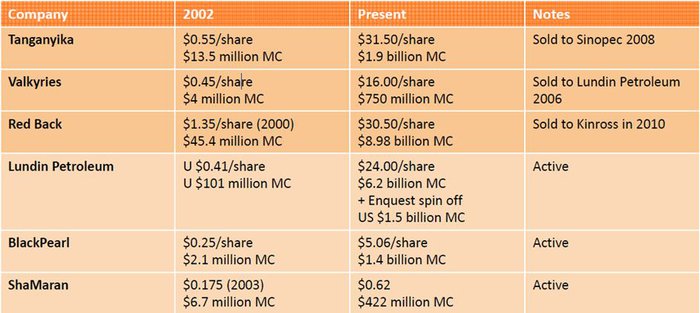 Africa Oil Corp spent the next few years snaffling up every bit of oil exploration acreage they could get their hands on in Kenya and Ethiopia, mainly by acquiring smaller companies holding acreage. This run of acquisitions was funded by various capital raisings. Lundin Petroleum (owned by "you know who") even sold some of their highly prospective Kenyan Acreage to Africa Oil Corp in early 2009.
Another key point to note for this criteria is that Tullow Oil is partner and operator in Africa Oils wells in Kenya and Ethiopia. Tullow Oil bring a mind blowing success rate of 97% on each of their drills.
7 - Does management own stock in the company? Are they buying on Market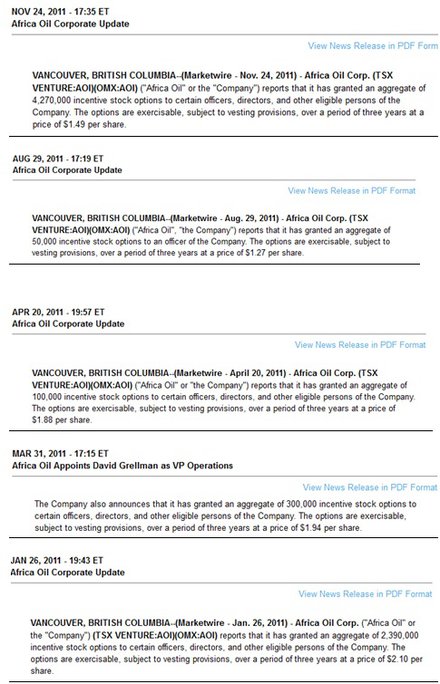 8 - What is the Long Term Company Strategy?
The previous companies that were run by the current Africa Oil Corp management team were eventually taken over by a major company at multiples of their original stock price, and I believe that this time will be no different.
The Operator of the fields, Tullow Oil, has just completed a sale of two thirds of its assets in Uganda to Total and CNOOC for $2.9 Billion, a strategy I believe they want to repeat in Kenya and Ethiopia with Africa Oil Corp.
9 - Are there any high profile investors or backers?
Africa Oil Corp is the play thing of the Lundin Family. AOI was created by the Lundins to act as their pure East African play. Africa Oil Corp is a member of the Lundin Group of Companies
The Lundin Group of Companies is comprised of individual, publicly-traded natural resource companies that are managed by the Lundin Family. The companies range from exploration stage to advanced development and production. The companies are involved in a variety of commodities and operate in over thirty countries worldwide.
The Lundins' approach to business is entrepreneurial and value driven. They seek large scale opportunities with further growth and development potential. Although they have no inhibitions about geography, challenging locations are nevertheless carefully evaluated in order to ultimately achieve shareholder value.
10 - Is there internet chat room hype? Has the "dumb money" arrived?
The level of activity on internet chat rooms regarding Africa oil Corp is minimal, which is a good sign. The stock has not become overly hyped yet.
11 - Has there recently been a pump and dump?
The last strange activity in the share price was a sudden rise up to $2.00 + late in 2010 which forced an exercise clause on the $1.50 warrants – details of this can be found in the following <a href="http://http/nextoilrush.com/index.php/attempting-a-127-profit-trade-in-60-days/" target="_blank">free article</a> if you scroll to the middle:
12 - Is there an upcoming catalyst for a price spike? Enough to top slice?
Africa Oil has a stake in two exploration drills that are happening right now. One Drill in Puntland, Somalia and one on block 10BB in Kenya. Both drills are targeting 300 million plus barrels of oil with drilling results expected on both in April 2012. I expect the stock price to creep up in the lead up to results, hopefully touching the $3.90 top slice target on early oil shows.
13 - Is the asset base diversified? Too much or too little?
I believe Africa Oil Corp achieves just the right balance of diversification for a "focused play" by spreading its acreage over three countries in the same region.
14 - Is there take over potential?
Africa Oil Corp is an East African focused play, and presents nice acquisition opportunity for a super major who would like exposure to East Africa – the whole point of Africa Oil Corp is to prove up oil fields and undertake the high risk part of the exploration cycle. This what the eventual takeover premium pays for.
15 - What are the long term prospects after top slice? What's the game plan?
A question that must be asked for every resource explorer is what happens after you find and prove up a resource? How much is it going to cost to dig it out of the ground, and transport it to a location where it can be exported to its target market. We are talking East Africa here... there is very little infrastructure in place so the costs may be prohibitive to potential suitors.
Not in this case, thanks to the situation in Sudan.
Land locked South Sudan has recently seceded from Sudan. South Sudan has all the oil but is land locked, and Sudan has the export facilities and access to the ocean and shipping channels. South Sudan is not happy about Sudan charging exorbitant amounts to export South Sudan oil, so much so that all oil exports have been stopped, eliminating 98% of South Sudan's income! South Sudan needs a solution, and fast.
One of the options being discussed is fast tracking the construction of a pipeline from south Sudan to the export facilities in Kenya. This pipeline just so happens to run right past Africa Oil Corp's fields. Reports are claiming that this pipeline is proposed to be completed in around 3 years.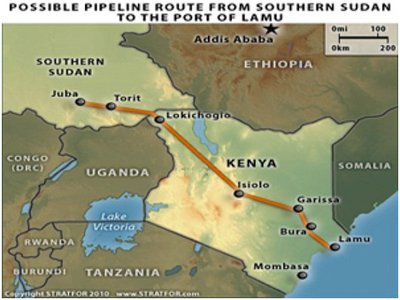 16 - What if there is some sort of change after I have invested?
As I always say, if there is any doubt GET OUT!
It's all looking great at the moment, but remember, this is speculative oil exploration in East Africa we are talking about here, all sorts of stuff can go wrong. Terrorism... nationalisation... drilling an empty well... the list goes on. I'll remind you again at this point that I am not a financial advisor and to do your own research and consult your financial advisor before making any investment.
Good Luck!
---