88E Bolsters Multi Billion Barrel Oil Resource: Farm Out by Year End?
PUBLISHED: 06-11-2018 20:00 p.m.
Investing in global oil majors such as Woodside (ASX: WPL) and Oil Search (ASX: OSH) is one way of getting exposure to the often-lucrative oil and gas industry, given both companies are producers and have multiple assets.
However, whilst not risk free, smaller oil explorers such as 88 Energy (ASX | LSE: 88E) can be much more leveraged to success given the potential payoff if they can discover large volumes of oil.
Currently capped at just A$100 million, 88E is exploring for large scale, multi-billion barrel oil resources across the North Slope, onshore Alaska, and the company is gearing up for a significant amount of activity over the coming months.
88E has just bolstered its conventional resource size at Project Icewine, and now has 2.2 billion barrels net (gross mean prospective resource) to its name – not counting its mammoth unconventional portfolio, which also runs into the billions of barrels of prospective resources.
When it comes to prospective conventional resources, 88E's 2.2 billion net gross mean prospective resource is more than any other ASX listed company that we could come across.
Given such a large prospect portfolio, 88E must be closing in on a farm out deal for its conventional asset at Project Icewine by years end.
Aside from Project Icewine, 88E has a stake in the Winx-1 well, slated for drilling in February 2019.
The drill target is immediately adjacent to and a direct analogue of the Horseshoe 1/1A oil well drilled in 2017.
Horseshoe is part of the billion barrel plus Nanushuk oil play fairway – one of the largest conventional oil fields discovered in the US in more than 30 years.
We will soon see if 88E and its consortium partners can contribute to yet another discovery on the Slope in February.
88E has a history of being able to deliver significant gains for investors when entering into a high newsflow period, regardless of broader market conditions – and with a potential farm-out by year end followed by high impact drilling, we think that history has a good chance of repeating....
The Alaskan North Shore is considered one of the most prolific petroleum provinces onshore USA.
The region has produced 16.8 billion barrels of oil to date, but in 2017, recoverable resources increased six-fold in previously ignored shallow formations, totalling an estimated 5 billion barrels.
Understandably, the North Slope is undergoing somewhat of an exploration renaissance lately and heightened M&A activity.
This interest is ongoing, but has already led to a number of major transactions including Oil Search's (ASX: OSH) $850 million entry to the North Slope, ENI's purchase of Caelus Energy exploration acreage (for an undisclosed sum) and ConocoPhillips' (NYSE: COP) asset swap with BP combined with exploration success and development.
Aside from 88E's own activity, seven exploration and delineation wells in analogous Brookian plays to 88E are scheduled for the upcoming winter season.
88E are vying to be the next company to make a game changing discovery on the Slope, and it appears as well positioned as any company to do so.
88E remains one of the few ASX listed stocks with exposure to Alaskan oil, and the same goes when looking at London's Alternative Investment Market, where it is also listed.
Across its four onshore assets, 88E's total resource potential runs into the billions of barrels of oil – and considering that potential compared to its current market cap of around $100M, it's easy to see how a successful find could ignite the company's share price.
With a very active exploration campaign planned over the coming months, it's high time we caught up with the latest at 88E.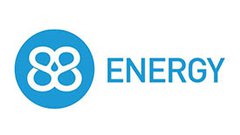 88 Energy
ASX:88E, AIM:88E
As we hinted at above, 88E is gearing up for a truly transformative period over the next year or so.
There are likely to be two farm-out transactions for its Project Icewine, for both the conventional and unconventional plays, with the conventional assets likely to be farmed out first.
A farm-out process for the conventional play is already well underway, with a deal targeted prior to 2018 year end.
Investors are also looking forward to the imminent drilling of the Winx-1 exploration well, set for February 2019, with 88E's share of drilling costs funded by its current cash position.
Meanwhile at the company's Yukon Gold leases, where there is a historic discovery well currently being evaluated internally, 3D seismic results are expected Q4 of 2018.
The company is punching well above its weight, benefiting from having multiple projects in train with exposure to large scale potential discoveries.
Each project is located in close proximity to some of the largest players in the energy industry, as well as being situated along similar trends to major discoveries on the North Slope of Alaska.
What's happening in the oil industry in Alaska?
88E was an early mover in Alaska and took prime exploration real estate at reasonable prices, anticipating the waves of M&A activity that we are seeing now.
As can be seen below, 88E's Western Blocks, Project Icewine and Yukon Leases are in close proximity to a mix of prominent discoveries and some sizable acquisitions that have been made in the last 12 months including Oil Search's (ASX: OSH) $850 million land grab in November 2017.
Most recently, major Eni (NYSE: E) set up in Alaska in August 2018, for an undisclosed sum with Caelus Alaska Exploration company, not too far from Glacier's Starfish 2018 exploration success.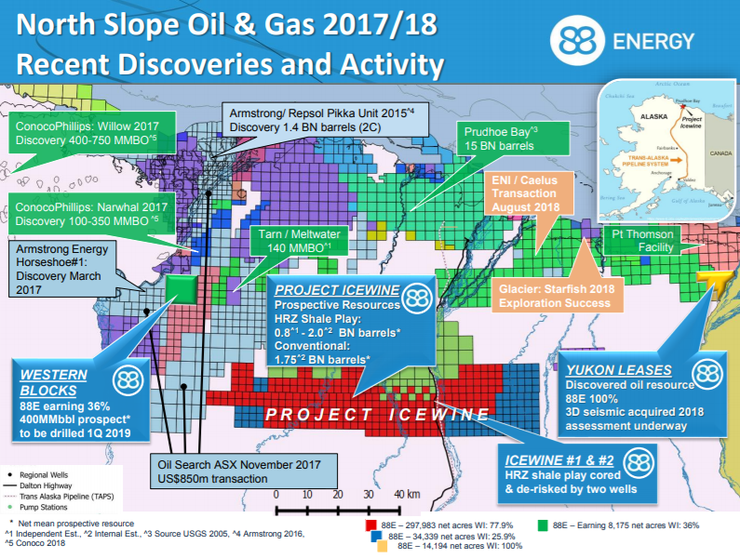 Onshore Alaskan acreage is in high demand, with the competitive tension for a position only set to increase given the rapid uptick in exploration activity over the imminent winter drilling season.
The first wave of transactions is happening now and is only set to pick up as drilling shifts into full flight across the Slope on multiple high potential exploration projects.
Further to that, beyond drilling activity, is the upside potential for all players on the Slope if another discovery is made — a scenario that would likely attract sluggish majors that have been late to the Alaskan party who would have to pay serious dollars to get a slice of the action.

This all plays into 88E's hands.
Fortunately for 88E, the oil & gas junior is ready and waiting with two large scale projects that are farm out ready.
Icewine Conventional Portfolio. Drill Ready. Farm Out Ready.
We could see a major transaction for 88E prior to the end of 2018 on the conventional play at Project Icewine with the farm-out process already well underway.
Over the past few years in the background, 88E have been steadily advancing the conventional leads at Icewine and converting them into firmer prospects.
Recently the company announced the processing of 3D seismic at Icewine has entered its final phase.
The most recent interpretation has resulted in an increase in gross mean prospective resource to 2.896 billion barrels (2.221 billion barrels net to 88E).
The announcement was reported by Finfeed.com: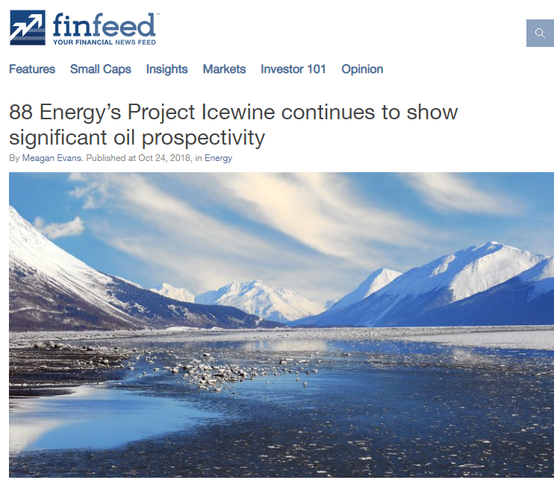 The increased potential has been quantified in two primary target zones:
- the Schrader, which contains a shallow topset play similar to that in which most of the recent large discoveries have been made on the North Slope, and;
- the Torok, where Project Icewine is favourably compared to where the recent USGS upgrade identified the core part of the Torok play, which remains largely underexplored on the Slope.
As the dataset becomes more robust with each completed phase of processing and interpretation, it only improves 88E's position in the ongoing farm out process.
Here is 88E's complete updated conventional portfolio prospects and leads list: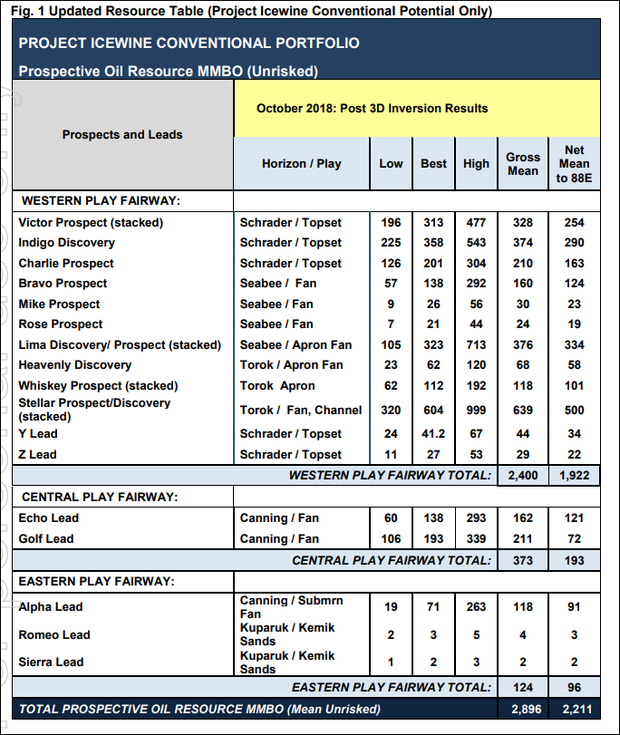 This is a project of a size and scale that would appear attractive to majors looking to take a position on the slope.
Project Icewine spans 504,000 contiguous acres with access to infrastructure like the TAPS (Trans Alaskan Pipeline System) to get discovered oil to market.
Given the work 88E has done on maturing the conventional Icewine prospects, it wouldn't take long for a farm in partner to swiftly look to drill and test what in some places shows stacked Brookian prospects.
With a pipeline of leads and prospects, the upside potential in a multi-year, phased exploration programme would no doubt be of interest to potential partners.
It might not be too long before we hear some firmer news on a farm out here from 88E.
88E Drilling in Q1 2019 – The Winx-1 well at Nanushuk
88E's interests in the North Slope include ground across the Nanushuk oil field, one of the US's largest conventional oil discoveries in 30 years and one of the largest globally in the last three years.
A recent IHS Markit report makes reference to the Nanushuk formation as a previously ignored shallow formation, which forms part of the multi-billion barrel increase in recoverable reserves in Alaska.
The Nanushuk fairway is exactly where Repsol and Armstrong Energy make the Horseshoe discovery, which extended Nanushuk and boosted the resource potential to at least 500 million barrels of oil.
A consortium of 88E, Otto Energy Ltd (ASX: OEL) and Red Emperor Ltd (ASX | AIM: RMP) acquired the majority of privately owned Great Bear's working interest in the four leases comprising the Western Blocks in the middle of 2018 marking the groups entry into Nanushuk.
Technical evaluation and 3D seismic interpretation of the Western Blocks by Otto Energy generated a large oil prospect located just seven kilometres east of the Horseshoe#1/1A Nanushuk oil discovery well drilled in 2017.
The prospect has a gross mean unrisked prospective resource volume of 400MMbbls (144MMbbls net to 88E) and a geological chance of success in the range of 25-30%.
88E are going to test this resource potential with the drill bit in Q1 of 2019 via the Winx-1 well.
88E will be earning 36% by paying 40% of the drilling costs of the Winx-1 well, estimated at US$15M on a dry hole basis, which is funded by the company's current cash position.
Note that the Winx prospect identified on 3D seismic with a similar amplitude signature to that seen at Horseshoe only seven kilometres to the east: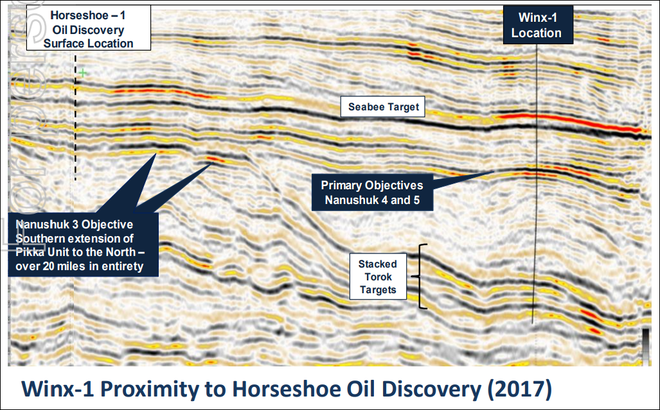 The consortium have selected the location of Winx-1 to test multiple stacked objectives within the proven Nanushuk fairway, so as the drill bit passes through each target, investors and other Alaskan oil explorers will be paying close attention to the results.
The Horseshoe oil discovery signalled the presence of an extensive previously overlooked hydrocarbon province on the North Slope, which is now attracting major development capital – and we will soon find out what 88E can unlock here early in the New Year.
Yukon Gold 3D Seismic Processing Underway
Another string to 88E's bow is the Yukon Gold leases, which contain a historic oil discovery. The discovery was made in 1993/4, with oil saturations indicating two intervals.
The Yukon leases cover a total of 14,194 acres, and 88E has 100% ownership.
Seismic data was acquired in April, and the company is currently assessing the volumetric potential of the oil discovery, as well as assisting in the identification and mapping of any additional prospects over the broader lease position.
The idea at Yukon is to work up the prospectivity with minimal spend, then seek a partner to move exploration to the next phase.
The discovery is close to the newly commissioned Pt Thomson infrastructure so any finds should make exporting the oil somewhat easier than other spots on the Slope.
We would expect 88E to mature the prospectivity up by year end including a resource assessment, and potentially select an appraisal drilling candidate.
Project Icewine Unconventional HRZ Play – Farm Out Targeted H1 2019
The unconventional potential of Project Icewine was the first project that attracted 88E to the North Slope, and it has spent the last few years de-risking this play via the drilling and interpretation of results of the Icewine #1 and Icewine #2 wells.
The HRZ shale layer is 88E's primary unconventional focus, and the Company has captured the sweet spot of the layer where there is an over pressured, low viscosity super-critical phase.
The play was generated by ex-ConocoPhillips exploration manager who spearheaded COP's sweet spot EagleFord acquisition, which was one of the largest shale plays in the Lower 48.
The HRZ play contains all the necessary ingredients for a commercial shale play, however additional data is required to advance it, and this could be easily done via a farm out.
The project was significantly de-risked via core/log analysis from Icewine #1, and the successful stimulation of Icewine #2.
The multi-billion barrel potential has not gone away, however further work is required to move the project forward.
That 1.4-3.6 billion barrel prize here would be worthy of strong consideration by a larger partner.
A farm out process is underway now for the unconventional assets, and 88E is targeting a transaction by the middle of next year.
Multiple catalysts on the horizon
Summing up, 88E has a number of potentially significant market-moving exploration events occurring across its Alaskan projects as we look forward to 2019.
88E was always an early mover in Alaska, and has spent years firming up its multiple assets.
Against a buoyant exploration scene in Alaska, it's perfect timing for 88E to be very active across its projects.
As industry activity continues to pick up on the North Slope over the winter drilling season, any significant discovery should see a (oil) rush to the region.
As can be seen below, there are numerous catalysts on the horizon for 88E as mapped out on management's planning schedule, and we will be keeping a close eye on these events as they unfold.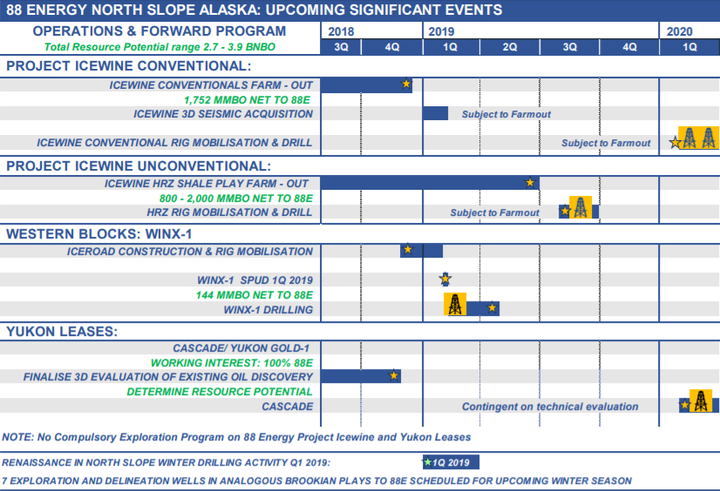 With 2.2 billion barrels oil net (gross mean prospective) at Icewine in conventional alone, a potential farm-out by year end, a drilling event in February, and backed by the strengthening oil price, it may not be long before 88E begins attracting increased investor attention again soon.
---