$ 20M to $ 5.6BN: Can He Do It Again? Multiple Catalysts In Weeks
PUBLISHED: 26-05-2014 07:47 a.m.
Young entrepreneurs are flocking to the US shale revolution to make their fortunes. Crusty old Texas oil barons are now welcoming fresh faced, upstart millenials to the game – a new breed of aspiring wildcatters, landmen, engineers, investors, entrepreneurs and future oil barons and are setting up shop across the US shale hot spots like Texas and Colorado. This rush of talent is a testament to how much potential lies in unlocking this vast pool of wealth. Unconventional oil and gas deposits are clearly the future for the US energy sector – this industry is forecasted to be worth at least $90 billion by 2017 . The ASX listed company we have recently invested in is currently capped at $22 million, and have high hopes to become the next billion dollar energy company – by proving up and developing a swag of prime shale locations across the USA. Near term catalysts are almost too many to list, and we love near term catalysts.
In the coming weeks, this company will know the flow rate of not one, not two, but three high impact wells . This company has 5,000 acres smack bang in prime positions at Eagle Ford, Texas, another 11,560 acres at Niobrara, Colorado, plus a whole suite of other positions in key shale hot spots. Eagle Ford and Niobrara are two of the three best basins in the US shale oil revolution. These are the company's main plays and the ones we'll be covering in this article, as all the drill results start to pile in one after the other...
The company's latest Eagle Ford well delivered a flow rate of over 1,000 barrels a day . This impressive result forced the operator and farm in partner, the giant $2.4 BN Halcon Resources, to order the next two wells to drilled at the same time – they couldn't wait to see what this company is sitting on. Back in 2008, the prime spots in the shale revolution at Eagle Ford, were selling for $15,000 to $20,000 / acre and only wealthy companies could afford them – but through this tiny company's forward thinking and research, they were able to snap up their Eagle Ford land for just $200/acre . It got the land by following the play and snapping up acreage before the prices went sky high. And in Halcon Resources they have a world class operator paying for a US$24-30M three well carry. Halcon knows shale oil in the Eagle Ford better than anyone out there. This company has potential to drill up to a 100 wells across their acreage. That's just in Texas. The company's huge, 11,560 acres in Colorado are located in the Niobrara Basin – another highly prospective unconventional gas play. This time they are going independent – so the revenue is almost all theirs – and has just spudded its first high impact well . That's another set of flow rates to look forward to in the coming weeks. That's two significant energy plays – both located in two of the top three oil producing basins in the entire USA.
This company boasts Richard Cottee as Chairman of the Board – the head honcho of Queensland Gas Company's rise from a $20 million market cap to a $5.6 billion sale to Britain's BG Group. Our latest portfolio addition is in that sweet spot, right on the cusp of hitting the big time. Currently on a path from being an explorer to an asset developer, yet still under the radar and undervalued. But this may not last long. This company recently raised $2.86M from sophisticated investors, and are now undertaking an SPP to existing shareholders, as they transition to a cash flow positive company. At the same time, work is underway to set up a $40M debt facility that will accelerate the drilling at Eagle Ford and also push forward its oil and gas play in Colorado. The debt facility is being managed by one of Japan's biggest banks and is aimed squarely at the sophisticated investors – it's likely only a matter of time before the smart money snaps this company up. So while this company is still within reaching distance, let's get acquainted: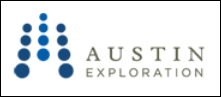 Are you an AKK investor and want to spread the word?
Get the message out there – make sure everyone knows about AKK and share this article by clicking the buttons below: [sd_share_article] Austin Exploration (ASX: AKK) , currently capped at $22 million, is an ASX-listed oil and gas junior that acquires, explores and develops unconventional oil and gas projects in the booming US energy sector. AKK's Chairman of the Board is none other than Richard Cottee – former Queensland Gas Company (QGC) chief executive. Started in 2000, QGC grew from a miniscule $20 million market cap to finally being sold for $5.6 billion in 2008-09 to Britain's BG Group – Richard orchestrated this sale. And now he is the Chairman of the Board of AKK...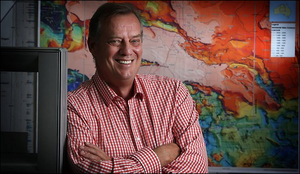 Here is Richard in The Australian , demonstrating the currently overlooked investment that is AKK:

The company is now working on a $40 M debt facility that will allow it to finance vast expansion plans and rapid commercialisation of the resources they are sitting on. AKK appears to be moving from "Explorer" to "Developer" – on the cusp of moving to cash flow positive territory and the associated investor rewards... After the current three well farm out program with Halcon, AKK will have to fund 30% of follow up wells. In order to keep up with Halcon's rapid development pace, AKK have gone to existing shareholders with a share placement plan. This placing will expire on June Monday June 2 nd . AKK built their company on lower risk, producing, conventional assets, raising equity to de-risk their unconventional prospects. Now the company is taking shape, they plan to use the debt facility, so that there is less chance of them going back to equity markets for funding. Back in 2009, AKK made a strategic decision to restructure and focus on, almost exclusively, US oil assets. Great move. Since then, the American energy sector has grown to a 24 year high not seen since the TV drama Dallas, about the Texas oil boom, was on the airwaves in the 1980s.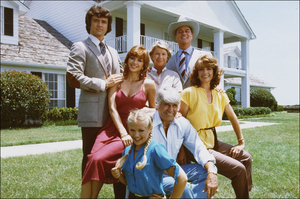 AKK has interest in around 20,000 acres of land across five states with proven hydrocarbon basins. A recent report from the US Energy Information Administration put Eagle Ford in Texas and Niobrara in Colorado in the top 3 largest oil basins in the USA. These two basins are the locations for AKK's two main oil and gas plays. AKK's are looking to generate revenue quickly by acquiring and developing unconventional oil and gas assets in the US, working with partners to bring them on stream while maintaining significant stakes in each. DJ Carmichael Analyst Edwin Bulseco has predicted a 2.5 cent price target for AKK – that's a 150% gain from today's level: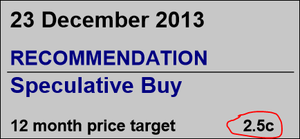 The Next Oil Rush doesn't invest based solely on an Analyst recommendation, however it is an encouraging sign. The Next Oil Rush has invested in AKK as a long term hold – we take our positions in our stocks for at least 6 to 12 months – for more information please see our Financial Services Guide and Disclosure Policy . Here is our purchase contract for AKK: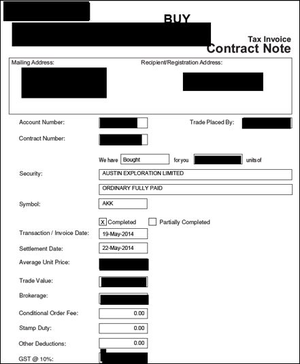 There are near term catalysts galore – AKK investors have three sets of flow rate results to look forward to. Anticipation is high at Eagle Ford, Texas, for two wells, plus the in progress first high impact well in Colorado. Not to mention their Mississippi holdings – AKK investors are also looking forward to another well, Bourke #5, to be spudded there. Add to that yet another well to be drilled on their Eagle Ford acreage by PetroMax which is due to spud later this year. AKK is focused on generating income quickly – no messing about – and with the sort of assets it has in its pockets you'd be moving fast too. AKK's main effort right now is to develop two promising assets – the Texas Birch Eagle Ford shale oil field and the Niobrara Pathfinder oil and gas project in Colorado. AKK's resources have been independently estimated by Gustavson Associates. P50 (50% probability) ultimate recovery estimates are for 31.28 million barrels of oil and a further 66.53 bcf (billion cubic feet) of gas:
The company aims to develop these resources quickly, make some sales, generate some cash, and go on expanding... Texas Birch Eagle Ford is a 5,000 acre holding with capacity for a minimum of 64 horizontal wells each with independent estimates 179,000 to 800,000 barrels of oil per well. That's between 11 million to over 50 million barrels of oil in total. AKK has signed farm-out agreements with two energy explorers to drill four wells at Eagle Ford, three with Halcon and one more with Petromax. AKK will not pay a cent in drilling costs on ANY of these wells – in exchange for this they give up a percentage of the profits.

Halcon has spudded two wells already – The Stifflemire #1H well is already pumping out 1,066 BOEPD (barrels of oil equivalent per day). The 30 day flow rate was recently released – 25,890 barrels of oil equivalent – with 86% oil and 14% gas:

After the third well is drilled AKK is required to participate in the costs of up to 30% for any additional wells – and with so much oil in the ground and with cashed up Halcon hungry for more, further wells are almost a certainty. To do that they are undertaking a share purchase plan in order to fund the next stage of their development – this is open to existing shareholders and expires on June 2 nd , 2014. Meanwhile in Colorado, Niobrara Pathfinder tallies in at over 11,000 acres with capacity for 100 oil wells with up to 500,000 barrels each. That's a total of 50 million barrels of oil. Not to mention an additional 76 bcf of natural gas in the ground. The Colorado project is twice the size of Eagle Ford, and AKK plan to independently develop the Colorado project with the help of the debt facility – this will ensure this larger revenue stream is entirely theirs. AKK recently raised $2.86M from sophisticated investors to fund the drilling of two wells in Colorado. The very first oil well at Niobrara Pathfinder has just been spudded , targeting the Pierre shale formations.

They also brought in a partner company, Gas Processing of America (GPA) , to extract and sell the heavy gases under the ground there:
Colorado and Texas are AKK's main plays and the ones we'll be watching very closely in the coming months as drill results come in thick and fast. AKK wants to get some quick, easy production runs on the board to start generating revenue as soon as possible. It's not looking to explore high risk wells that demand millions and millions of dollars and take years to drill. AKK are looking to become a cash flow positive producer as soon as possible – and in unconventional oil in Texas this can happen quickly. There are plenty of irons in the fire that have the potential to ignite AKK into one of the hottest energy stocks around. In this article, The Next Oil Rush will explain:
The imminent near term drill results in Eagle Ford to be released in the coming weeks – this could be the tipping point to re-rate AKK;
Who are Halcon Resources – and why having a $2.4 billion energy giant in AKK's corner is a huge advantage;
How AKK plan to fund the next stage of their development;
What exactly is going on in the shale energy boom of the USA;
AKK's other ace – gas fields in Colorado.
AKK is a fast mover so let's get started while it's still in sight!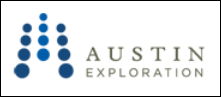 Our Track Record:
Did you see The Next Oil Rush report on Swala Energy (ASX:SWE)? SWE has traded as high as 150% since:

The past performance of this product is not and should not be taken as an indication of future performance. Caution should be exercised in assessing past performance. This product, like all other financial products, is subject to market forces and unpredictable events that may adversely affect future performance.
Drilling Results Imminent on Two Eagle Ford Wells
AKK and Halcon have already tapped a well at Eagle Ford called Stifflemire #1H.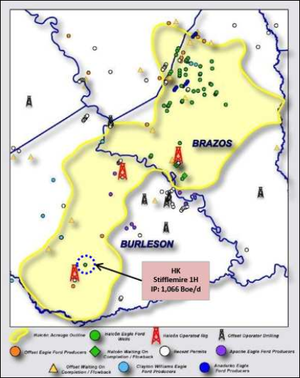 This well exceeded all expectations, with an initial oil and gas production rate of 1,066BOEPD with an 87% oil cut.

Even flowing back to a 30 stage frac, the flow is consistently over 1,000BOEPD. This well was drilled to a total depth of approximately 17,000ft with an 8,000ft horizontal leg into the lucrative Eagle Ford shale. The 30 day flow rate also surpassed expectations, delivering 25,890 barrels of oil equivalent – with 86% oil and 14% gas:

This has suddenly re-rated the value of AKK's property in the Eagle Ford – making it easier to negotiate follow up wells and possibly moving the resource size to a "bankable" one. Operators Halcon were suitably impressed, promptly ordering the final two wells of the agreement to be drilled at the same time . Spudding of both wells was announced on 23 rd of April 2014:

Further success here will be a great step for AKK as it seeks further financial backing and partners in the Eagle Ford shale game. Its holdings in Eagle Ford are called 'The Birch Project' and before Halcon came on the scene it drilled three exploration wells in the area: Birch 1, Birch 2 and Birch 3 yielding an independent reserve estimate of between 179,000 and 810,000 barrels for each horizontal well. Those fat results were like a magnet for bigger players looking to boost their production in this region. In 2013 AKK was able to quickly sign two farm out programmes to a total value of $53M. AKK brought in two top tier oil explorers to drill and exploit four new wells out at Eagle Ford. Three 10,000ft horizontal wells will be spudded by the $2.4 BN oil and gas behemoth Halcon Resources and one 10,000ft horizontal well will be taken care of by PetroMax. Each deal has left AKK a 30% working interest but the best part of AKK's farm out deal is that it is free carried . AKK doesn't pay a cent for the four wells which cost between $8-10M. AKK's Managing Director and Chief Executive Officer, Dr. Mark Hart, says there are at least 100 more viable drilling locations in the wider area and the quick success of the very first well at Eagle Ford gives a massive boost in confidence to its plans. "It proves the value we saw in this property," Hart says. "The success at Eagle Ford will generate the revenue needed to fund the further development of our projects." When Halcon has completed its three well drilling programme we expect to see PetroMax start spudding its single well and have it on stream by the middle of 2014. It's busy days out in the Texas sun for AKK and its partners, and in the coming months we hope to see lots of juicy oil results in the company's news feed.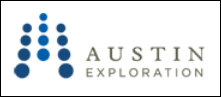 Our Track Record
Regular readers are well aware of The Next Oil Rush 'tip of the decade' – TSX:AOI – Back in February 2012 The Next Oil Rush called it at around CAD$1.8 and has been as high as CAD$11.25 since – that's over 600%!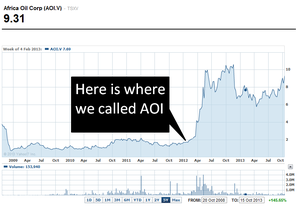 The past performance of this product is not and should not be taken as an indication of future performance. Caution should be exercised in assessing past performance. This product, like all other financial products, is subject to market forces and unpredictable events that may adversely affect future performance.
Halcon: A smooth operator in a rough trade
AKK have teamed up with Halcon – one of the best players in the game out at Eagle Ford. The $2.4 billion behemoth gathered all of that wealth through the acquisition, development and exploitation of some of the best oil and gas projects in the USA. Halcon's numbers speak for themselves: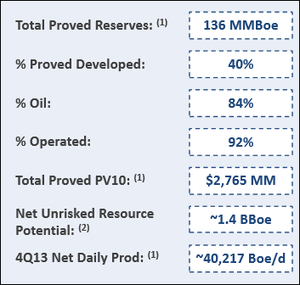 Halcon has net unrisked resource potential of about 1.4 billion barrels and currently produces over 40,000 boe per day. Halcon is heavily invested in the Eagle Ford basin and its farm in agreement with AKK is an indication of how much it believes in the viability of the region. The big advantage for AKK is that Halcon is an expert in unconventional oil extraction. To succeed in oil and gas in the USA these days you have to think and operate differently. Shale oil is the predominant resource being tapped right now in the states and Halcon has become an expert at extracting viable sources from this difficult environment. To get the oil out of the ground at Eagle Ford, AKK and Halcon can call on a number of unconventional methods including the so-called 'fracking' process and horizontal drilling. Horizontal drilling does what it says on the tin. If an oil deposit is shallow, as many are in the USA, you drill down to the level of the oil and then go sideways. This technique can open up oil resources previously thought unreachable or even tapped out and is becoming a widely used technique across the industry.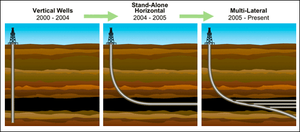 Fracking is the most famous unconventional drilling technique. Fracking works by pumping water and sand into an oil deposit contained within rocks, such as the shale found in Eagle Ford. The pressure then fractures the rock (hence the name fracking, the industry prefers the term 'frac') and the oil and gas huddled amongst the debris can be extracted.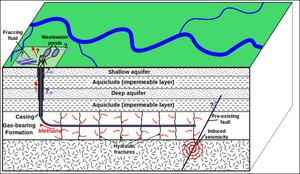 Halcon is an expert in all of these techniques and many more. It grew to its colossal size by being on the cutting edge of unconventional oil technology and smart acquisitions. AKK has done very well to attract such a strong partner. The three well programme Halcon is drilling with AKK is off to a flying start and could very well be the start of a long and lucrative relationship.
Our Track Record
Did you receive The Next Small Cap report on Core Exploration (ASX:CXO)? Since this report was released, CXO has traded up to 85% higher.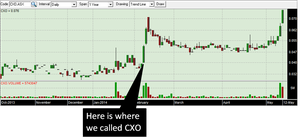 The past performance of this product is not and should not be taken as an indication of future performance. Caution should be exercised in assessing past performance. This product, like all other financial products, is subject to market forces and unpredictable events that may adversely affect future performance.
Eagle Ford has landed! AKK's in the middle of US Shale Boom
President Barack Obama has often promised he will make America more independent of foreign oil. Presidential promise or not, since 2008 America's domestic oil industry has been pumping out so much black gold European refineries are shutting down and there's even talk that producers in the Middle East and South America are in for a market fight.

Oil booms in Texas, Colorado and southern states like Mississippi have pushed American production to a 24 year high – in October 2013 , for the first time in nearly 20 years, the USA produced more oil than it imported:


Meanwhile young hot shots are trading a life in Silicon Valley for a life drilling for oil – in their minds it's the best way to make fast money these days:

It's no coincidence that AKK's main oil interests in the USA is in these boom states like Texas and Colorado. One jewel in AKK's US oil crown is its 5,000 acres in The Eagle Ford Shale basin in Texas – America's largest unconventional oil and gas producing area. AKK's idea in Texas is to set 'em up and let a partner knock 'em down, for a price.
AKK seeks debt to feed the beast
So now you know about the big quantities of oil AKK is chasing in Texas, the tier one partner it has in Halcon and the very lucrative wave it's riding in the US energy market. Now AKK need to fund their expansion plans. AKK has enlisted the help of Mizuho Securities to raise $40M in debt financing.

This whack of cash will go toward financing the future development of AKK's Texas Eagle Ford oil and gas project and independently develop its Niobrara shale oil and gas play in Colorado. At Eagle Ford, AKK has the farm-in agreement with Halcon to spud three wells and free carry the costs. But beyond the third well, AKK is required to fund up to 30% of the drilling fees for any additional wells. Considering the first well at Eagle Ford, Stifflemire #1H struck oil immediately and is flowing at 1,066 BOEPD we'd be stumping up extra cash too! AKK says there is potential for 300 additional wells at its Colorado and Texas plays so securing enough funding to make them happen is a crucial step. That's why so much hard work is being done now to drill and prove the resources on these two exciting projects. With each well drilled that is successful, their acreage becomes further and further de-risked. Now the doors are opening to large scale development and AKK is in a prime position to start ramping up its projects from small cap exploration to major energy production. AKK's exploration phase has been funded through shareholder equity. But the quick success of its drills has upped the stakes. Now in the next few months hopefully the debt-funding will take over, as AKK moves from Explorer to Developer. Mizuho Securities can act as the introducing broker and help AKK assemble a consortium of investors to raise up to $40M. A due diligence process has been initiated and AKK says it expects it will take between 90 and 120 days to complete. Mizuho Securities is the third largest bank in Japan and one of the largest financial institutions in the world with a market cap of $48 billion. It has 950 offices inside and outside of Japan with over 50,000 employees. This is an international bank with project financing as its core skill and a reputation for getting things done and done right. By enlisting such a high level international bank AKK is showing just how serious it is about developing its considerable assets in the USA. Investors take note, because in a short while the smart money will very likely be snapping AKK up as fast as Mizuho Securities can fill out the paperwork. Shouldn't take long with all those employees...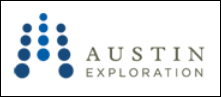 AKK's Share Purchase Plan
While preparation of the Mizuho Securities debt facility is underway, AKK have undertaken a Share Purchase Plan that will bridge the gap until the debt facility is ready. Funds raised through the SPP will provide the company with the necessary funds to keep a hand in additional wells at Texas Birch Eagle Ford and keep drilling in Colorado until the $40M debt facility comes on stream. The SPP is now being offered to existing shareholders and they can buy up to $15,000 of shares at 1.0 cent per share: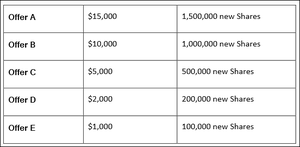 AKK are raising these funds as a stepping stone – the cash will allow the drilling of further wells beyond the initial 3 well Halcon free carry. The ultimate goal is to independently fund the Niobrara Pathfinder project in Colorado – this one is more than twice the size of the Texas Eagle Ford property. So there you have it – Texas sets 'em up and Colorado knocks 'em down. Let's see why:
Drilling at AKK's first shale oil well in Colorado underway
AKK is the first ever company to successfully drill through a shale formation called 'Pierre' in Fremont County, South-East Colorado. Now it's got a spudded well to go with that title:

The Pierre shale formation is notoriously difficult to operate in because of its fractured make up but AKK has persisted in its efforts there and has begun drilling a high impact oil well called C-18#1. The oil AKK is targeting at Pierre is close to the surface so no fracking is required. Evidence from the region points toward a cost of less than $1 million to bring a well in this region into production:

We're waiting with baited breath to see the initial flow rate... If it can deliver something substantial this will help de-risk the pro j ect and further facilitate the $40M debt facility – giving AKK the opportunity to independently develop the resource. The area it's drilling in was selected through a combination of promising geochemical prospecting and exploration geophysics that identified areas with indirect oil potential and dense natural fracture zone. Gustavson and Associates have also been enlisted by AKK to complete a reserves study of the Pierre Shale and hopefully add ' bankable ' reserves to the existing 47 million plus barrels of oil equivalent. The Pierre formation AKK is targeting sits next to the historic Florence oil field – the second oldest in the USA – which has produced over 15 million barrels from over 1,000 wells. Here are some old pioneers cashing in on the easy stuff in the Pierre formation: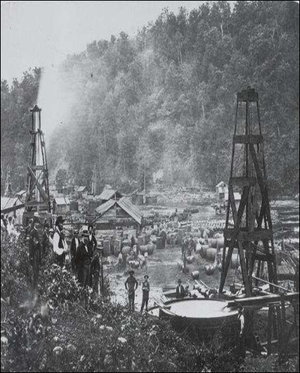 The Pierre formation is part of a larger formation, spanning four states, called Niobrara which is estimated to hold as much as 2 billion barrels of oil. AKK's project in Colorado is called Niobrara Pathfinder – and Niobrara oil is generating a lot of buzz even at this early stage: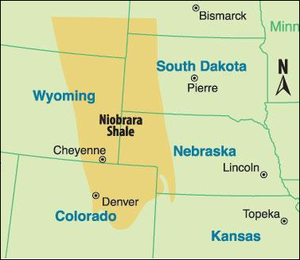 AKK now controls a 100% stake of an 11,560 acre holding in the Colorado section of Niobrara, having recently completed the buyout of the remaining 15% stake held by a private company with a 1.55% Overriding Royalty (ORRI).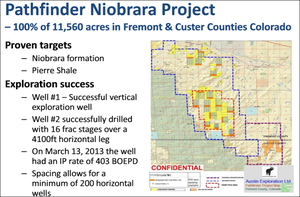 AKK says there's room for at least 200 wells with independent reserve estimates of between 200,000 – 500,000 barrels of oil per horizontal well. That's a total of up to 100 million barrels of oil. All of it now in AKK's grasp. It's already drilled two wells at Niobrara – the first a vertical exploration well and the second with 16 frac stages over 4,100ft horizontal. The latter well has an IP rate of 403 BOEPD. We're waiting for more flow rate results and for AKK to sink even more wells in the vicinity. This is a chance for AKK to create a stream of oil revenue at its Colorado acreage that will help it explore, develop and exploit more wells in the area. Another step in the right direction for AKK in Colorado is the securing of a gas processing agreement with Gas Processing of America Inc (GPA), a nimble player in the US energy sector:

AKK has finalised terms with GPA for that company to develop infrastructure at Niobrara Pathfinder to process and sell the heavy liquid gases (propane, hexane, ethane and butane) that will be coming from the project's wells. This will allow AKK to sell the methane as more lucrative pipeline quality gas. Revenue from the heavy gas sales will be shared but GPA will pick up the tab for building infrastructure such as a processing plant and compression facility. GPA will also act as owner/operator, gather and transport the gas, maintain the plant, and market and sell the gas. In a few months, once the infrastructure is complete, first heavy gas sales will commence. Before the GPA deal, AKK had been selling lower value, non-pipeline quality gas to an industrial market. All this new infrastructure will allow for more valuable gas sales and eliminate the need for uneconomic and prolonged flaring when a new well comes into production. Remember, AKK has an independently estimated resource of 76 bcf of gas just waiting to be tapped. Structuring up these deals is important early as it sets the stage for maximum revenue streams.
Our Track Record
Did you receive The Next Small Cap article on Segue Resources (ASX:SEG)? Since this article was released, SEG has been up as high as 130%.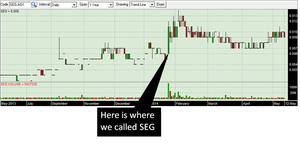 The past performance of this product is not and should not be taken as an indication of future performance. Caution should be exercised in assessing past performance. This product, like all other financial products, is subject to market forces and unpredictable events that may adversely affect future performance.
Patience and nerve pays off for AKK
So AKK's two main oil and gas projects, Eagle Ford in Texas and Niobrara Pathfinder in Colorado, are both racing along nicely. The Niobrara and Eagle Ford shale formations are now two of the hottest oil and gas tickets in the USA and a few years back energy companies were frothing at the mouth to get a piece of them.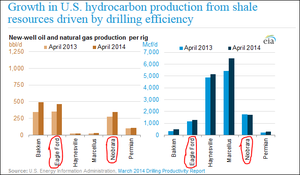 From 2008 on, the in vogue sweet spots were selling for between $15,000 to $20,000 / acre and only those with fat wallets could afford them. Towns and cities in Colorado that lie within the Niobrara region are filled with oil workers and their families have brought a new economic boom to the area . The same thing is happening in Texas where the roads are wearing out from so much oil rig traffic! At the time, AKK couldn't afford to invest in the prime spots. But it still wanted in. So the company spent a great deal of time identifying the next prime spots through research, exploration and plain hard work. It paid off. AKK picked up oil rich land for $200/acre . It has 5,000 acres in Eagleford, Texas and 11,500 acres in Niobrara, Colorado. That's a lot of land to play with for very little money.

AKK isn't afraid to look beyond the current play and is prepared to look for the next prime spot. As contrarian investors ourselves, we like AKK's nerve. And the potential upside they hold! AKK's Eagle Ford and Niobrara assets are only just beginning to be explored. With acreage in a number of other states – who knows what they'll find next?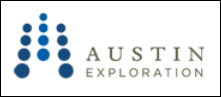 Our Track Record
Did you receive the Next Oil Rush article on WHL Energy (ASX:WHN)? Since this article was released, WHN has been as high as 80%: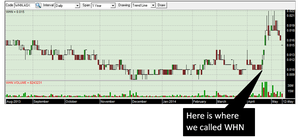 The past performance of this product is not and should not be taken as an indication of future performance. Caution should be exercised in assessing past performance. This product, like all other financial products, is subject to market forces and unpredictable events that may adversely affect future performance.
AKK's future pipeline
In the coming months we expect to see our inboxes clogged with ASX announcements from AKK as its oil and gas spudding in Colorado and Texas gains momentum. The three well drilling programme being carried out by Halcon out at Eagle Ford should be complete by the end of the first half of 2014. We expect to see flow rates for the second and third wells soon. After that, we'll likely see PetroMax start spudding its single off-take well. It's the same story at Niobrara Pathfinder in Colorado. The first high impact well targeting the Pierre Shale formation is being drilled right now and we should see results soon, as well as a steady drip of updates on work to build heavy liquid gas infrastructure with Gas Processing of America Inc. All of this activity could result in a market re-rating for AKK – the riches are coming on stream and with so many catalysts in the mix the markets are likely to take notice sooner rather than later. AKK's other projects in the USA, such as its Mississippi and Kentucky plays, will also be sending through regular updates on their development and future drilling. Above all, we'll be looking for regular updates on how AKK is going with its move to acquire a $40M debt facility with the help of Mizuho Securities. This will be a real test of market sentiment and hopefully AKK can lock this one away. AKK is progressively de-risking its assets and is proving them up with accelerated drilling programmes. These are signs of a confident company executing a well laid plan. With so many catalysts racing in over the horizon there is plenty of upside potential in AKK.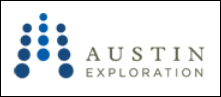 ---