1.4 Billion Barrel Drilling Event: PVD Spudding in Weeks
PUBLISHED: 01-04-2015 09:01 a.m.
It's been three years in the making...
Pura Vida Energy (ASX:PVD) is about to drill the most significant oil well of any ASX listed company this year by a large margin – and it's happening in the coming weeks.
Over 1.4 billion barrels are targeted (gross unrisked mean prospective), with a high case of over 3 billion barrels...
The drill bit will penetrate through 4, potentially 5, stacked targets offshore Morocco.
Confirmation of an oil discovery would be potentially transformational for PVD.
The company is currently capped at just $60M, with no debt and cash of around $22M.
Of course, this is high risk, high stakes oil exploration – there is every possibility no oil is found in this well. If this was to occur, the company and its JV partner are still budgeting for a second well in Morocco, and PVD also has assets in Gabon and Morocco that it's exploring.
US oil major Freeport-McMoRan is free carrying PVD for up to two high impact deep water wells in Morocco, and has committed to fund US$230M to earn 52% of the acreage.
This values PVD's 23% share at approximately $130M AUD – more than double PVD's current market cap. And this is without mentioning PVD's other high potential offshore assets in Gabon and Madagascar.
Last year we saw FAR Ltd, triple their market cap on offshore drilling success, and this growth spurt in company valuation happened almost immediately.
FAR is now capped at over $300M...
Hardman, Cove and Tullow all started out as small cap oil explorers just like PVD, and following successful drilling events have since grown to command market caps of over $1BN...
The past performance of these products are not and should not be taken as an indication of future performance. Caution should be exercised in assessing past performance. These products, like all other financial products, are subject to market forces and unpredictable events that may adversely affect future performance.
The inevitable pre spud ramp up for PVD is likely to kick in any day now... especially since the company is expecting handover of their drill ship imminently: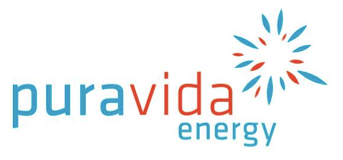 Pura Vida Energy

All the preparatory work for PVD is drawing to a close now – all that's left to do is pierce the sea floor at the MZ-1 well location, exploring the Ouanoukrim Prospect within the company's Mazagan Permit offshore Morocco.
The Atwood Achiever Drillship has arrived in the region and will be on its way to the MZ-1 well location any day now.
PVD's case to drill MZ-1 is strong.
MZ-1 has total gross unrisked mean prospective resources of over 1.4 billion barrels, with a high case of over 3 billion barrels.
Four stacked targets (with the option for a fifth) at MZ-1 will be tested with a single well.
This adds up to a drilling event that could set PVD on a course to potentially make a frontier oil discovery of large proportions.
The estimated well cost is US$136.6M including contingencies. PVD will be free carried up to US$215M for its 23% share by its $20BN Joint Venture partner, Freeport-McMoRan Oil & Gas LLC.
Commercial oil discoveries in this type of oil exploration have a very long productive life – 15 to 20 years – meaning less exposure to the fluctuating spot price of oil.
Of course being frontier exploration there is always a chance PVD won't find anything commercial – but in the pipeline of projects, after Morocco, PVD still has acreage in Gabon and Madagascar to explore.
PVD's Mazagan Permit is surrounded by offshore acreage owned by big name energy players like Chevron and BP – and all eyes will be on PVD when its first well spuds in the next few weeks...
It's this potential for transformational high impact oil discovery that first got The Next Oil Rush involved with PVD back in 2013 with the article Why has this stock got analysts predicting four thousand percent gains?
This article goes into all the detail about PVD's plans for developing big time oil and gas projects in Africa – but right now the company's focus – and ours – is the MZ-1 well offshore Morocco.
PVD Managing Director Damon Neaves recently spoke to Commsec about the upcoming drilling, which you can watch here:
And this new Investor Presentation released by PVD contains everything you need to know about this now imminent offshore Morocco drilling event: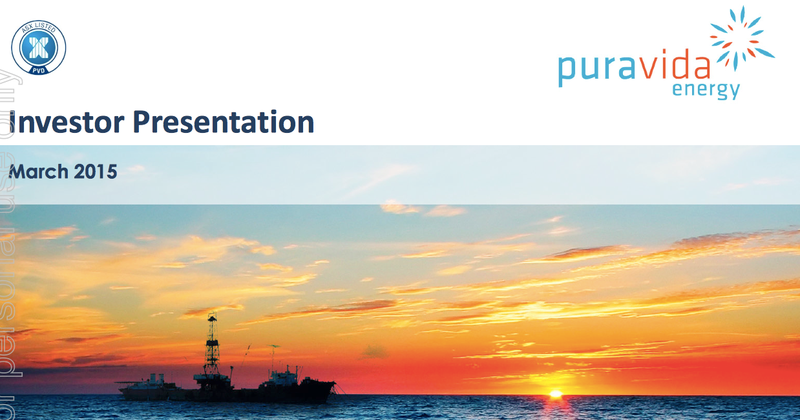 The MZ-1 well is PVD's maiden well, a milestone across their portfolio of African projects: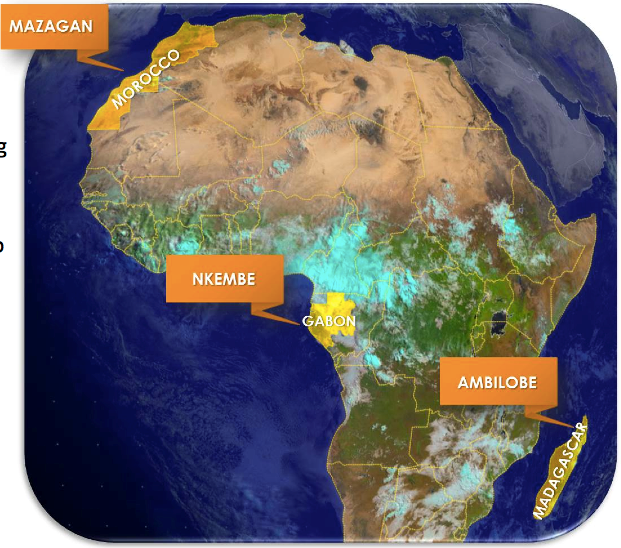 PVD's Gabon and Madagascan projects are still being developed steadily. PVD is currently seeking a farm out partner for Gabon, and is set to run 3D seismic across their Madagascan acreage.
But the one PVD project that all eyes are on is the offshore oil exploration play in Morocco – The Mazagan Permit :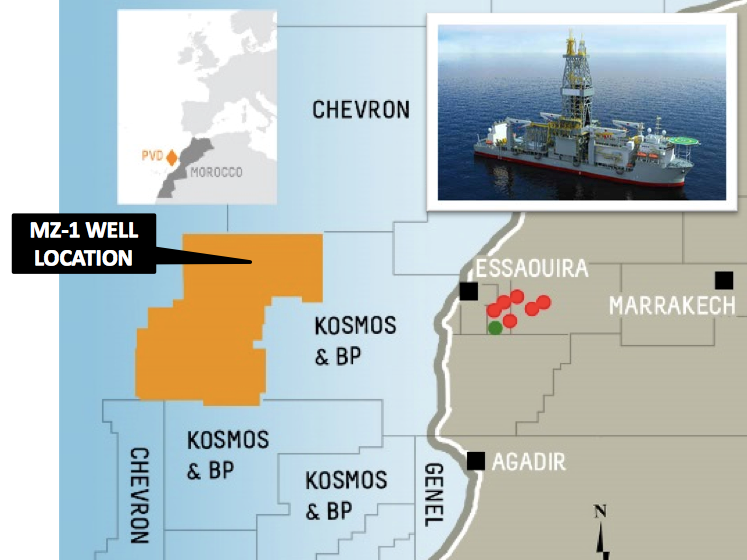 The story of how PVD came to the cusp of a drilling event with MZ-1 at Mazagan has a few chapters...
A few years back PVD secured one of the best farm out deals in Morocco with Plains E&P, which agreed to cover the cost of drilling two wells targeting 1.5 billion barrels of oil in exchange for a 52% stake – leaving PVD with a 23% cut and Morocco's government taking the remaining 25%.
Plains E&P was then taken over by $20BN Freeport McMoRan (NYSE: FCX), who valued the Mazagan Permit at US$4.1BN – equating to a $1.8BN valuation on PVD's share.
When government approval came for the new PVD-Freeport Joint Venture the market really started to catch on to PVD's potential – and we published Broker predicts 440% rise for Cashed up Junior: Morocco, Gabon and now Madagascar. Is it a brave prediction?
PVD and Freeport selected a well called Toubkal-1 as their maiden effort in the Mazagan Permit, leading to our next article PVD: Offshore African Oil Steal why is PVD still only valued at $56M? and as exploration there heated up we followed that with Which Junior Oil Company is Being Chased Around Africa by Woodside?
Then PVD upped the stakes.
It switched from a maiden well location of Toubkal-1 to MZ-1 – a deeper well targeting four stacked objectives and the option for a fifth – enhancing the overall chance of making a discovery.
We covered this new well location in detail in the article: Weeks Away From 5 Chances at Multi-Million Barrel Discoveries?
PVD's drill ship is about to be handed over – and then its time for PVD to get drilling!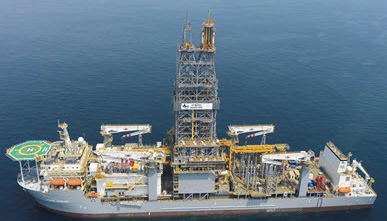 In this article we're going to run you through the preparations for the drilling, the potential of MZ-1 and the flush bank account PVD has got supporting its activities.
The Ouanoukrim Prospect – PVD's big chance
The Ouanoukrim prospect, where the MZ-1 will be drilled, is to the far north of the Mazagan Permit: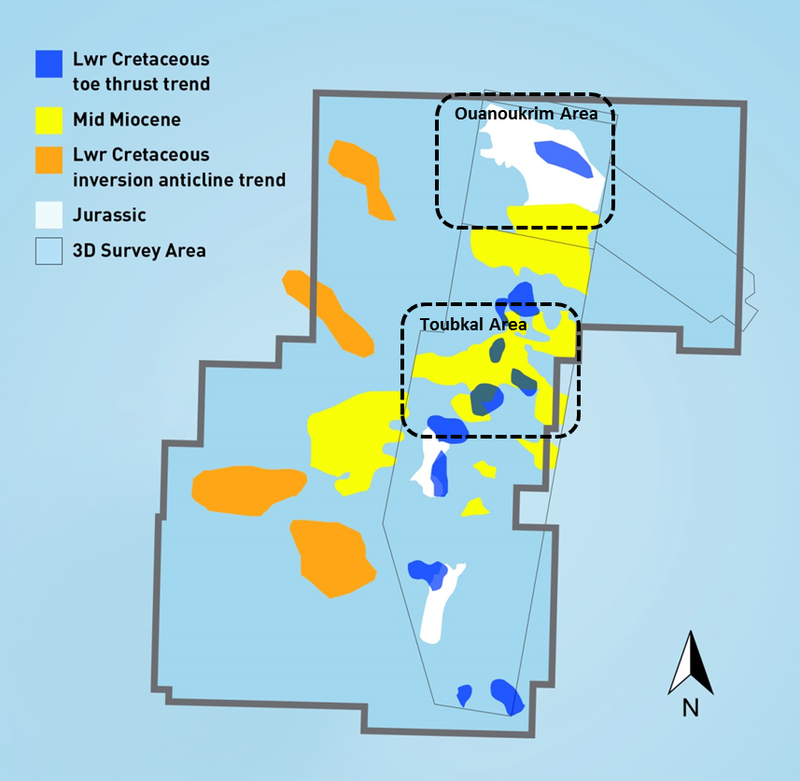 Source: Pura Vida Energy
The MZ-1 well that's about to be drilled there could unlock the value of the rest of PVD's acreage, and offers a better overall chance of success than Toubkal-1, the company's original drilling target.
Multiple stacked objectives will be tested in PVD's hunt for oil: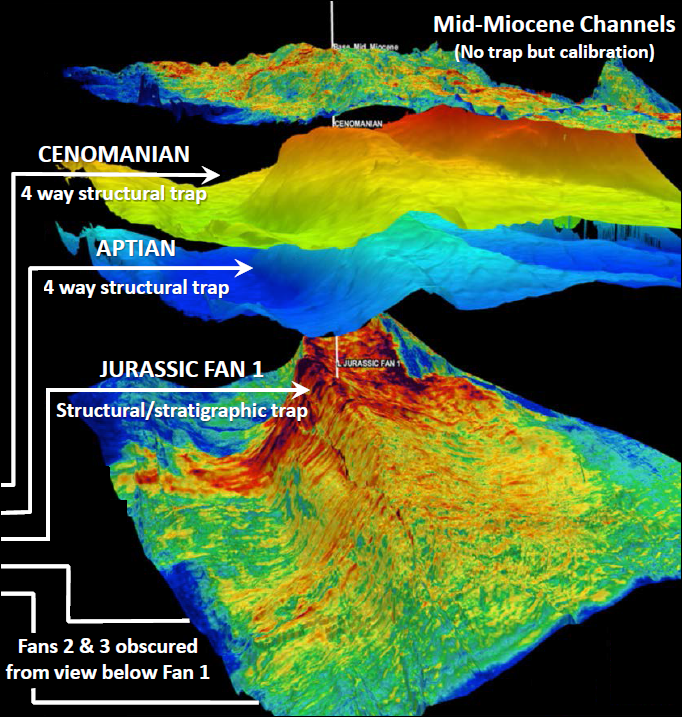 A single vertical well here can test the source rocks and traps of multiple plays – giving PVD much more bang for its free carried bucks.
The plan is to drill MZ-1 to a depth of 5,600m and potentially go even deeper to 6,150m. This will also allow PVD to evaluate the full stratigraphy of the Mazagan block and also help it work up new targets for future drilling.
MZ-1, will test total mean prospective resource of +1.4BN bbl; high case of +3BN bbl (328 mmbo net to PVD):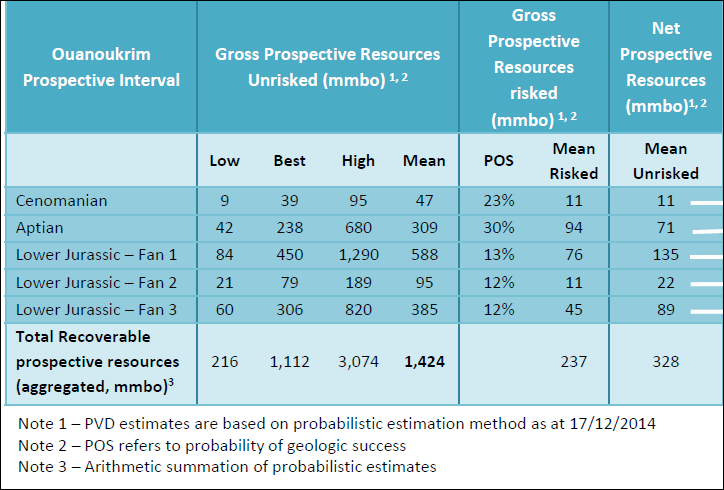 Remember, drilling on MZ-1 is scheduled to begin in April – we are standing by for news of the spud of the well.
And PVD is planning a second well in the permit either later this year or early next year (this could be Toubkal-1?).

So it's going to be a very busy time for PVD in the coming months, and we are strapping ourselves in for the ride!
Capital raising tops up PVD's war chest
PVD is being free carried for up to $215M by its JV partner Freeport for the drilling of MZ-1 on the Ouanoukrim Prospect, plus the option of a second well.
But of course PVD has its other oil and gas projects in Gabon and Madagascar to explore as well.
So it always pays to have money in the bank – and PVD has just raised $4M from institutional and sophisticated investors to support its 2015 exploration programme:

11,165,000 new PVD shares priced at $0.36 each have been issued to raise the $4M.
PVD now has approximately $22M in the bank account and appears fully funded for its 12-month forward work programme, well placed to pay its share of any future exploration activity and keep adding to the momentum it's gaining.
Drilling in weeks!
At The Next Oil Rush we're expecting PVD to announce in the coming weeks that it's given the green light to the Atwood Achiever Drillship to spud the company's first well offshore Morocco.
MZ-1 has total gross unrisked mean prospective resources of over 1.4 billion barrels, with a high case of over 3 billion barrels.
The estimated well cost is US$136.6M including contingencies and PVD will be carried up to US$215M for its 23% share by JV partner Freeport.
This is an event three years in the making for PVD, and we have been following the company's steady march toward this potentially company making well spudding.
All we can say now is – drill baby drill!
---