88 Energy (ASX:88E, LSE:88E)
The time has come for 88 Energy (LSE | ASX: 88E).
Drilling of the company's Icewine #2 well has begun, which is a follow up to the highly successful Icewine #1 well on the North Slope of Alaska.
On Icewine #1, 88E confirmed its target HRZ shale play has the right characteristics to evolve into the world's next major unconventional resource play, on par with the Eagle Ford.
It was a hugely successful well that catapulted the company to a much larger valuation.
Now it's a question of finding out if oil can be pulled out at commercial rates – which is what Icewine #2 is set to answer.
This is the next major uplift moment for 88E investors – and we will be watching those flow test results very closely in the coming weeks.
The HRZ shale play is a prolific source rock that generated about 30% of the oil in the 16 billion barrel Prudhoe Bay.
If the theory that 88E's technical team has is correct, there is likely to be billions of barrels more at Project Icewine, just waiting to be extracted.
The information on this page should not be the only trigger for your investment decision. Click on the links below for a more in-depth and informed examination of the company. We strongly recommend you seek professional financial advice whenever making financial investment decisions.
During the drilling of Icewine #1, 88E doubled down on its acreage, leasing a further 2.5 x the acreage across the HRZ sweet spot.
That makes the size of the prize significantly bigger than the 2.6 billion barrel gross prospective resource previously calculated by the company.
In fact, it's difficult to find an undeveloped oil resource anywhere in the Western world of this magnitude.
So in the coming weeks, as drilling is completed and flow testing begins, all eyes will be on 88E.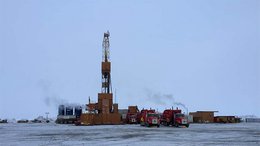 Can 88E Unlock the World's Next Multi-Billion Barrel Oil Play?
May 2, 2017
Can the multi-billion barrel 'potential' at Project Icewine be transformed into commercial flow rates over the coming months? That is the question on 88 Energy (LSE | ASX: 88E) investors' minds now that the company has begun drilling what could be a truly transformational well – the Icewine #2 production test well.
Related 88 Energy (ASX:88E, LSE:88E) articles